Pioneer Elite VSX-52 A/V Receiver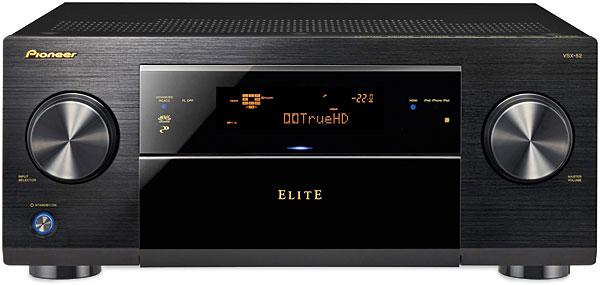 Price
: $900
At A Glance
: Elite build quality • AirPlay, control app, iDevice USB • Great sound for under $1,000
Do you prefer wine sold in a box or in a bottle? Boxed wine does have its advantages: It's available in a greater variety of package sizes, it's easier to carry to a picnic, and the lighter packaging reduces manufacturing cost, shipping cost, and carbon emissions. Yet most oenophiles prefer bottled wine for quality and selection. One is more practical, the other more aspirational. In theory, boxed wine can be as good as bottled wine—and here, as the knowledgeable oenophile is aware, our metaphor is in danger of breaking down over warring factors such as oxidation and shelf life. But in reality, the best wine producers and their most discerning and passionate customers prefer the bottle.
That brings us to Pioneer's two A/V receiver lines, one named Pioneer Elite, the other simply Pioneer. If shopping for an AVR is just a matter of ticking items off a list, you'll find a surprising amount of overlap between the Pioneer VSX-1021 ($550) reviewed in the August 2011 issue and the Pioneer Elite VSX-52 ($900) reviewed here. The resemblance is especially pronounced in Apple-related features: Both use AirPlay to turn on the AVR, select the right input, and stream wireless audio from an iPhone, iPad, iPod touch, or a computer running iTunes. Both supplement their remote controls with Pioneer's iControlAV2 app, which makes using the AVR not only easier but more fun. Both support the Air Jam app, which enables four Bluetooth-connected wireless devices to share playlists and playback. Outside the Apple sphere, both offer DLNA certification to grab media off a PC, the aforementioned Bluetooth capability, AVNavigator browser-controlled setup help and instruction manual, Sirius satellite radio, vTuner Internet radio—and no doubt I've missed a few.
The VSX-52 excels in build quality, rated power, and THX Select2 Plus certification—all of which have a sonic impact. Sure, the VSX-1021 sounds good. But the VSX-52 sounds better. The consumer who looks beyond features and aspires to higher performance will be more than willing to pay extra for the VSX-52, knowing that the Elite bottle is a leading indicator of the quality of the audible wine (and who doesn't love great-sounding wine?). The Elite brand also sells through a separate and more quality-oriented A/V specialty dealer network—as opposed to, say, discount warehouses or Internet merchants—much like the wine retailer you'll drive extra miles to patronize because you know he'll have the good stuff.
The Happy Medium
The VSX-52 falls somewhere in the middle of the 2011 Pioneer Elite line. Other models include the flagship SC-57 ($2,100, Home Theater, November 2011) and SC-55 ($1,700), both of which feature Class D3 digital amplification; plus the VSX-53 ($1,100), VSX-51 ($700), VSX-50 ($600), and VSX-40 ($450), with conventional Class AB amplification. As the top model under the psychologically significant $1,000 price point, the VSX-52 arguably might claim the most favorable price-to-performance ratio.
You may be wondering what distinguishes an Elite A/V receiver from a non-Elite of the same rated power. The bottle, I mean chassis, is 1 inch taller and 3 inches deeper. A brace reinforces the chassis at the top. The resonance-reducing honeycomb bottom has big isolator feet. Inside, you'll find a larger power supply, including a more fearsome bank of power capacitors, and a larger heat sink built symmetrically for even heat distribution and dissipation.
Pioneer further comments on the wine: "The design philosophy centers around minimal energy loss and minimum interference between circuits. The unique aspect of this design is a lowimpedance, high-current design, which minimizes impedance at the final output stage to most effectively maintain the original signal. The device is also sensitive to electromagnetic interference at the final output stage; this is where our compact circuit design dramatically reduces the size and distance of the final output loop stage. Lastly, we use a relatively new temperature compensation circuit to monitor the bias circuitry. Our mid-level amplifiers can best be described as extremely efficient for a Class AB design and are sound-tuned to be linear in frequency level output at 8 ohms with a quick response characteristic."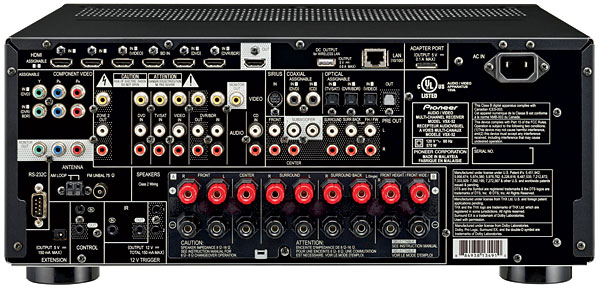 As A/V receivers go, Pioneer Elites have a rigorously simple and appealing look. At first glance, the front panel seems stripped of all controls except for the power button and generously sized volume and input select knobs. Only when you flip down the door do you find buttons that navigate menus and select listening modes. The Elite models' front-panel display is a confidently deluxe-looking amber as opposed to the plainer white of Pioneer's regular models. The remote control is nothing special, but for many users, the iControlAV2 app makes it irrelevant. In fact, the app can do things the conventional remote can't—like make quick, on-the-fly balance changes, front to back or side to side, with a tilt of the iWhatever.
This 7.1-channel AVR supports three supplements to surround sound's basic 5.1-channel array: backsurround, front height, or width channels. Dolby Pro Logic IIz does the processing for height, while the processing for width is a proprietary Pioneer mode (not Audyssey DSX).
On the video side, this A/V receiver features Marvell's Qdeo video processing. In addition to the usual conversion and scaling, you can adjust picture parameters for each source component. You can also optimize video output for the type of display: plasma, LCD, or front projection. See HT Labs Measures for more details.
In addition to the usual Ethernet connection, this AVR supports Wi-Fi with the AS-WL300 adapter ($149). Your Bluetooth devices can connect to the Pioneer via the AS-BT200 adapter ($99).Pioneer's auto setup and room correction is called MCACC, or Multi-Channel Acoustic Calibration. It's one of the most versatile non-licensed (meaning non-Audyssey) room correction systems and has improved steadily over the years. It takes a while longer than most to run, as it emits and processes separate rounds of test tones for speaker size, speaker level, speaker distance, standing wave compensation, reverb, and equalization. It also separates phase correction from response EQ, so you can switch phase correction on or off independently and evaluate the results. If you set different parameters before you run MCACC, you can create and save up to six variations and then select them as presets. I used the THX Speaker variation, which set my speakers as small with an 80-hertz crossover. This saved me the trouble of correcting these settings later.