Digital Foci Picture Porter Elite and SanDisk V-Mate Video Memory Card Recorder
What's the key to portable video? Lots of slots.
The problem with a moniker like Picture Porter Elite, classy sounding or not, is that it conjures up notions of a digital bucket of sorts, compatible primarily with still photos. That is far from true for this well-rounded portable media player. Its roots are in the realm of the memory-card reader, which began its life as a PC accessory and later became a freestanding device with its own onboard data storage. You could insert cards while out in the field and safely archive their contents onto the unit's built-in hard drive, thereby freeing up the precious removable media real estate so you could snap new pictures and/or lens new video. A small LCD let you interface with your multimedia content. To expedite the transfers, it displayed file names, file types, and so on. The Piture Porter Elite uses a bigger color screen and has the necessary decoding so you can view your images and movies. Throw in music playback just because everyone everywhere is listening to MP3s, and you begin to formulate a sense of what this device can do. It also connects to a video source and records content to play back on the go later. Or you can park the Picture Porter Elite next to an audio/video system, patch it in with the included cables, and view all of the content on your TV. You can zoom, pan, and rotate your photos or easily print them via a simple USB connection to a PictBridge-compliant printer. The FM radio has a bold, clever graphic user interface and is a nice bonus. (The included headphones serve double duty as an antenna.) There's even a voice recorder with an embedded microphone and a pre-loaded game: It's Tetris, even though they call it Matrix.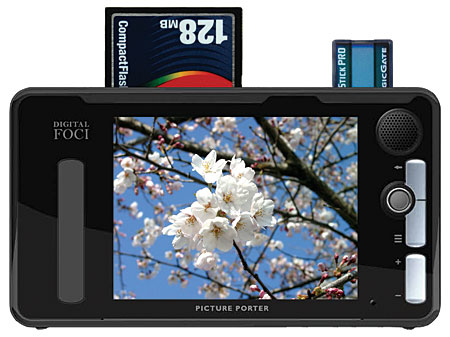 The Picture Porter Elite offers a welcome versatility not just in its list of accepted cards but for its vast file compatibility. (See the full array in the At a Glance box.) The Picture Porter Elite promptly recognized the cards I inserted, and a pop-up window asked if I'd like to back up the data. Then I just hit the control stud, and the copying started quickly and easily, if not 100-percent automatically. The transfer of data is a two-way pipeline, too. You can send files from the Picture Porter Elite to a card, as well as purge your little memory wafers to the hard disk. One thing it can't do is read USB flash drives (those thumb drives everyone has taken to carrying on their key chains), as there is no full-sized USB port here. But, when you connect it to a computer via USB 2.0, the Picture Porter Elite accesses a whole world of possibilities. The unit was plug and play under Windows XP on my PC, appearing as "HARDDISK," as well as two new "removable disk" drives for the card reader/writers. Transferring here was a familiar drag-and-drop to and from the self-explanatory system of file folders within the Picture Porter Elite. I reviewed the 80-gigabyte version, which offers extremely generous storage capacity, even for compressed full-length feature films. There are also 40-GB and 120-GB models. The small 0.5-watt speaker can fill in for missing headphones in a pinch, and, while the player can't display album cover art, it does generate thumbnails for videos. And it comes with an ample complement of accessories.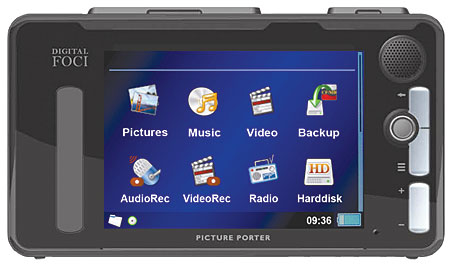 SanDisk
Sure, portable media players, PSPs, and cell phones can play video, but what if you want to watch something longer than a movie trailer or more compelling than a music video? What if, dare I say it, you could choose the content you watched while on the go? A product like the V-Mate Memory Card Recorder—which captures incoming video onto a memory card and has a programmable timer and the ability to change channels—harkens back to the VCR. But, in this digital age, SanDisk has made the experience far more graceful. Much of the work is already done, thanks to a series of onboard profiles for various playback devices. All you need to do is set the recording parameters according to the type, brand, and model of the player you'll be connecting the V-Mate to (rather than the individual file format). This frees Joe Cell Phone from worrying about the correct codec for his particular hardware.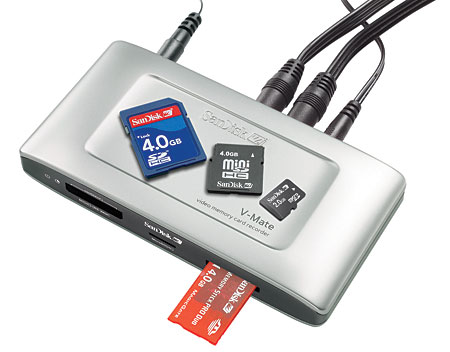 The Sony PlayStation Portable is a perfect match for such custom video-to-go content, but it requires you to file said videos in a specific spot within its folders for the operating system to properly access them. I was surprised to learn that the V-Mate performs these duties flawlessly so that I could simply pull the card out of the recorder, immediately plug it into the PSP, and begin viewing without ever having to stop at a computer. Moreover, you don't need to reformat your cards to work with the V-Mate, so any content already on there will be preserved. Strangely, as of press time, this device is not compatible with SanDisk's own popular Sansa media players, nor will it play back video recorded from any other source and copied to a card by other means. So, for example, you can't load a card at your computer, walk it over to the V-Mate, and watch the content in the living room.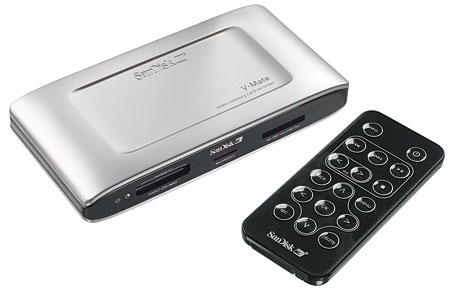 I was also expecting RF coaxial video cable to work with the output of traditional cable boxes, but this wasn't the case. The V-Mate effectively exploits the notorious analog hole of many audio/video devices, including cable/satellite boxes, DVD players, and even VCRs. I dropped the V-Mate into an existing home theater setup between a source component and TV using a set of composite video/analog stereo input cables, and I used another set for passthrough to the display. SanDisk includes an IR blaster to control the higher functions of supported components via the preprogrammed remote. Friendly blue onscreen menus guide you through the entire process. The image quality of the resulting files (each default-titled "V-Mate video") is definitely as soft as you might have imagined—but it's certainly enjoyable. Future product firmware updates from SanDisk, deliverable via USB 1.1, will support additional cell phones and portable media players. You'll also be able to read V-Mate videos on laptop and desktop PCs, as they are encoded in the ubiquitous MPEG-4 (Simple Profile and for PSP), as well as cell-phone-friendly 3GPP and 3GPP2 (H.263) standards. SanDisk has gone that extra distance to create a slick, elegant solution for feeding a multitude of devices. And so many of us have several these days; I personally own two LG cell phones that work nimbly with the V-Mate. SanDisk has not only delivered a hot new product in its own right, but they've helped to make the grander promise of mobile digital entertainment a reality.