Acoustic Sounds Launches High-Resolution Music Site Featuring DSD Downloads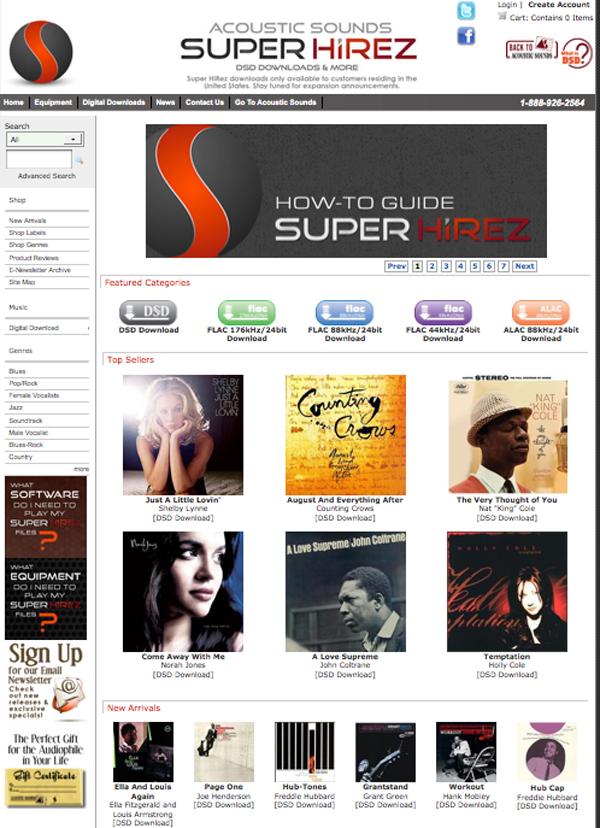 Acoustic Sounds, the Salina, Kansas-based company that sells audiophile recordings and operates the vinyl reissue label Analogue Productions, has launched a music site that offers music downloads in a variety of high-resolution formats, including Direct Digital Stream (DSD). The company recently signed a deal with Sony Music and has begun making back catalog DSD recordings available.
Nearly 100 albums are currently available as DSD downloads at Acoustic Sounds Super HiRez with 300-400 expected by the end of the year. Current titles include August and Everything After by Counting Crows, 1965's A Love Supreme from John Coltrane, Come Away with Me by Norah Jones, the Cat Steven's classic Tea for the Tillerman, and Patsy Cline's Greatest Hits. Prices start at $24.98.
"We're excited to be the first company to offer mainstream albums from leading music companies using the DSD format on a Website that's optimized for simplicity and ease of use," said Chad Kassem, founder and CEO of Acoustic Sounds. "Those who haven't heard the music they love in this high-resolution format are going to be amazed by the experience."
With 64 times the resolution of audio CDs, DSD technology puts music as close to the master recording as possible, with deeper bass, reduced distortion, and an overall higher dynamic range, according to Kassem. The albums can be downloaded to any PC or Mac with the help of an intuitive graphical user interface and a tutorial is available to assist first-time users.
LATEST VIDEO