Onkyo TX-NR828 A/V Receiver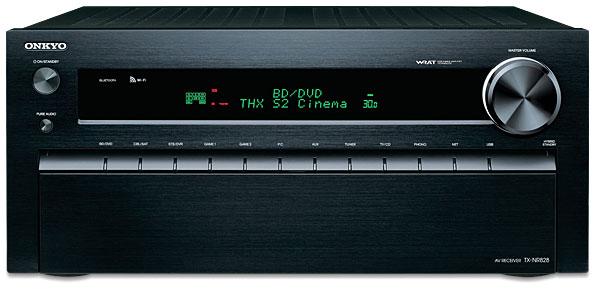 Price
$1,099
At A Glance
Plus Integrated Wi-Fi and Bluetooth • Audessey Mult EQ Room Correction • THX Select 2 Certification • Excellent video processing
Minus Lean sonic character can be fatiguing
The Verdict
Chock-full of the latest features and connectivity, the TX-NR828's less-than-warm sound was more suited to movies than music in our auditions.
Onkyo is like that kid in elementary school. You remember: The one whose hand went up first in response to every question from the teacher.
"Who was the first presi–"
"George Washington!"
"Onkyo, I haven't even finished asking the question."
When it comes to features, Onkyo aims to be there firstest with the mostest. Name a feature, and Onkyo's usually got it, typically in a licensed version with a hip logo, and quite often before anyone else. For the consumer who wants the latest features and wants them now, Onkyo is generally an excellent choice.
Thousands of digressive words might rush by if I tried to discuss the features-versus-performance dichotomy in any detail. Let it suffice to say that Onkyo is more features oriented. It talks up its WRAT (Wide Range Amplifier Technology) and Three-Stage Inverted Darlington Circuitry. But sometimes I wonder if the spec sheet writer's heart is really in it.
Let's Talk Circuit Design (Briefly)
Having never discussed these longtime staples of Onkyo receiver design before, I'll correct that injustice now. According to the International Onkyo site (intl.onkyo.com): "WRAT is based around a low-negative-feedback circuit topology that works to reduce signal noise and distortion across the frequency range. A closed ground-loop circuit design is employed, in which each circuit has a separate link to the power supply. This helps to cancel individual circuit noise and keep the ground potential free of distortion. High Instantaneous Current Capability (HICC) enables WRAT amplifiers to immediately cancel the speakers' reflex energy and instantaneously send out the next signal. The same high current better manages speaker impedance fluctuations, which can negatively affect performance."
Three-Stage Inverted Darlington Circuitry appears to be related: "Standard amplifiers employ a negative feedback (NFB) design that counters distortion by feeding back the opposite phase of the output signal into the input stage. Unfortunately, NFB is easily affected by inverse electromotive forces from the speakers, leading to an increase in circuit noise. Three-Stage Inverted Darlington Circuitry is a core Onkyo technology incorporating a low-NFB design that makes the sound more natural. Sensitive to oscillations, this circuitry requires very advanced control technology in order to be incorporated into the amplifier." (For more details, see audiodesignguide.com/doc/onkyo_nonnfb.html.)
Rated power is 130 watts into 8 ohms times two. As always, compare those numbers to our measurements and methodology.
One of Two
The TX-NR828 ($1,099) is one of two midpriced additions to the Onkyo receiver lineup. The other is the TX-NR929 ($1,399). What accounts for the $300 spread? Most notable is the difference in amplifier channels: seven for the model under review and nine for the step-up model. With the TX-NR828, you'd be able to add one of the five following options to a 5.1-channel array: height, width, or back-surround channels, biamplification of the front channels, or second-zone use. With the TX-NR929, you could implement two of them. At press time, the Onkyo Website listed 13 other surround receivers of various ages at prices from $279 to $2,999. The first reader to furnish me with a spreadsheet showing every feature on every model will get a Sound & Vision kewpie doll. (That's a joke; we don't really have a kewpie doll. But we should.)
The last Onkyo receiver I reviewed was the TX-NR3010. At $2,299, it costs a cool twelve hundred bucks more than the TX-NR828, yet the cheaper model reviewed here includes many of the same features, making it a fine value for the features-oriented consumer. They're explained in detail in the previous review (soundandvisionmag.com/content/onkyo-tx-nr3010-av-receiver). But here are the highlights in fewer words:
The TX-NR828 is THX Select2 Plus certified. That means when mated with Select2-certified speakers, it will play loud and clear in a room of up to 2,000 cubic feet. It also contains THX Cinema and Music modes as well as Loudness Plus, which shrewdly enhances low- volume listening.
The suite of Audyssey-licensed features starts with MultEQ room correction. Dynamic EQ and Dynamic Volume enhance low-volume listening, the latter adjustable for three levels. Along with THX, these are audibly productive features, the kind worth having.
To add height channels to the basic 5.1-channel array, you have three options: Audyssey DSX, DTS Neo:X, or Dolby Pro Logic IIz. The first two also support width channels. File under "dispensable."
Among the receiver's eight HDMI inputs and two outputs are an MHL-compatible jack on the front panel to stream A/V out of a smartphone and InstaPrevue to see live tiles of video content by input. The Marvell Qdeo video processing includes 4K scaling, not just passthrough. One feature that this receiver lacks is Imaging Science Foundation certification for advanced video tweaking. You'll find that on the more costly TX-NR3010 and TX-NR929.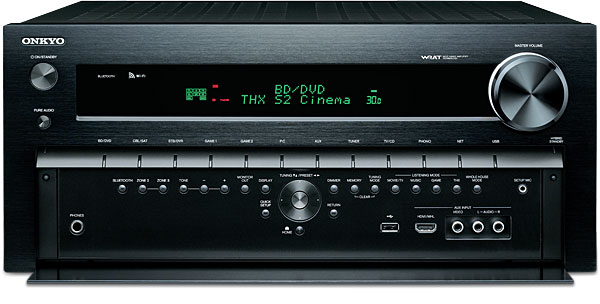 This receiver is among a small but growing number to include integral Wi-Fi in addition to the customary Ethernet jack. There are two Wi-Fi antennae to provide a more stable connection. Onkyo presses the licensing button repeatedly for Internet listening options, saying yes to AUPEO!—that's not enthusiasm on my part, just accurate typing—Last.fm, Pandora, Rhapsody, Slacker, the Internet version of SiriusXM, Spotify, and TuneIn Radio.
While this receiver does not have AirPlay—perhaps a notable omission in a licensing-obsessed product—it does have Bluetooth Version 2.1 + EDR. AirPlay supports higher audio quality (up to CD resolution). But whereas AirPlay relies on a home network connection, Bluetooth allows a direct link from the wireless device to the receiver with a simple device-pairing process. If you'd prefer AirPlay, the DS-A5 dock ($199) will bridge the gap.
Ergonomically, the receiver is adequate but not outstanding. Onkyo takes the row-of-buttons approach to input selection and hides other buttons and inputs beneath a flip-down door. The plain onscreen GUI has a transparent background—it doesn't obliterate what's beneath it. Listening mode access in the main menu is split between Audio (the Audyssey stuff) and Listening Mode (the other stuff). The remote makes good use of button color and shape to distinguish functions, though it could do more with size. Control apps cover iOS and Android devices.