How to Use Radical.FM's Free Music Streaming App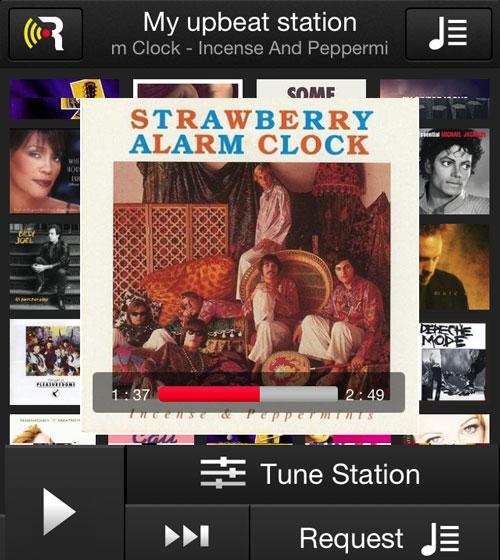 Radical.fm has launched a new free music streaming service calling itself a cross between Spotify and Pandora. Similar to both services, Radical creates "radio" stations where you don't control the order that songs are played, can't replay the previous song and can't choose to play a specific song. What is radical about Radical.fm is the high level of customization of its radio stations.
Where Spotify and Pandora create a radio station based on music genomes--identifiers like "female vocal," "acoustic guitar," "heavy metal undertones"--Radical.fm lets you choose the specific genre and subgenre. The Adult Pop genre has subgenres including Recent Adult Hits, Classic Pop, Love Songs, Todays Adult Hits, and Soft Rock. Other genres run the gamut from Teen Pop, to Rock, Blues, Country, Bluegrass. The Classical genre includes a subgenre for Opera. Users create a radio station based on genres and subgenres. The twist is that a radio station can include several different genres. You can create a Bluegrass and Country radio station, or even Heavy Metal, Classic Rock and Opera.
Radical.fm has been released for iOS (iPhones, iPads, and iPods), and the company states that they are working on an Android app. The app is extremely confusing. There is no tutorial or help button to explain the steps for creating a radio station and listening to music. To fill the void and here is a quick "how to use Radical.fm" that can also help you understand the Radical's unique approach to streaming music.
Music is played in radio stations. After opening the app and creating a login, pressing the Radical.fm logo brings up a menu of actions. There are two ways to create a radio station--by picking genres, or by choosing the songs you want to include in the station.
Use the genre method to start a radio station where the music is chosen for you. Tap the "+ Add" button next to radio stations. Give the station an appropriate name. A list of genres will display. When you tap on a genre, subgenres will come up. Choose one genre or subgenre or choose several. It's like a terrestrial radio station that broadcasts classic rock along with hits of today-- where one song may be an oldie and the next a current tune. To speed up the tempo when you've heard too many ballads, you can change the mix of songs. Tapping "Tune Station" in the radio station window brings up sliders for each type of music. Move the Rock slider up and the "love songs" slider down to liven things up. You can add more genres to hear a few more types of music in the station and control each with a slider.
The second method to create a radio station is to create your own genre. This is a misnomer because your personal genre is actually a playlist of the songs that you want to hear in the radio station. It's like a disc jockey pulling out the songs they want to play during their show. Only songs chosen for the genre will play. Tap "+ Add" in the Genre menu item and give it a unique name. You will now search for songs to add to the genre. Search for songs or for artists. When the search results are displayed, choose as many of the songs in the list that you want to add to your radio station. For example, search Beatles songs then add all your fave "fab four" songs to the radio station. Because of licensing agreements, Radical.fm requires that you add 30 songs to a genre list before the songs can played as a radio station. While you are adding to the list, you will only be able to play 30-second snippets of each song--presumably to sample and fine tune the station. A small counter is displayed in the search window to show how many songs you have added to that genre. For the sake of reviewing, I searched for all 30 songs, but I doubt that I would normally have created a genre in one sitting.
Songs can also be added to a genre when they are playing in a radio station. Create a radio station using the above-mentioned genre method. When a song plays that you want to add to your custom genre, tap the album cover in the "now playing" radio station screen. Tap the "+ Genre" to add it to your custom genre and tap "Done." Continue to add songs until you reach 30 songs.
Once you have 30 songs, you can create the radio station. Go to radio station and tap "+ Add." When the genre menu is displayed, tap on "my genres" and tap on your newly created list. If you only choose the genre you created, you will only hear the songs that you have added to that genre list. A genre can have more than 30 songs so your radio station can have as many songs as you want to be included in the rotation--remember, you cannot choose a specific song or song order when listening to the station.
Once you create a radio station with your "my genre" song list, you can add variety by tapping "tune station" and adding general genres. Because you can add or delete a genre at any time, you can add a genre to suit your mood and get a mix of new songs, then delete it later without affecting your song list.
Radical.fm's confusing process to create radio stations is not its only problem. The initial launch is riddled with issues. The app will crash unexpectedly. The screen will go black or display the Radical.fm logo while continuing to play music but you will be unable to get to the Now Playing screen. Instead, double click the home button on your iPhone or iPad and swipe left to right, until you see the music controls to pause the music. While reviewing the service, several times a song would be repeated while the screen went black. Closing and re-opening the app brought up a new song. Music is not available offline and requires connection to a cell data plan or WiFi.
Still, Radical.fm is a free service. The company would like you to donate "what you can." Radical's website claims that people that are underemployed or unemployed should be able to listen to music too. When I chose to donate $1.00, an error message appeared that there is a minimum $5 donation to cover administrative costs. But you don't have to donate a dime. You will see messages on the screen and hear reminders between songs that the service can only stay free if you donate. Unlike Pandora's paid service that is ad-free, the reminders don't stop after you donate.
Using the genre method is as easy as creating a radio station in other services but I found that songs in the Soft Rock genre were more Classic Rock. The song choices didn't belong in the radio station's genre. It's free, it has Beatles songs, so why not listen to the music you want? Still, I'm not giving up my subscription to Google Play music that lets me edit the radio stations and play any song at any time.
LATEST VIDEO