Reality, The Flashpoint Paradox and Seconds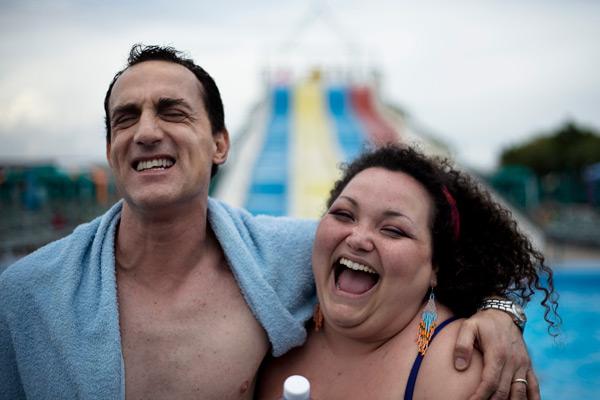 Despite Blu-ray and DVD, streaming and downloads, cable and satellite and on and on, most folks I know still don't avail themselves of the wonders of foreign-language cinema, beyond a buzz-worthy title or two each year, but the Italian
Reality
is definitely worth seeking out. If the summer's rumor mill has been getting the better of you with talk of a possible DC hero team-up in the
Man of Steel
sequel, then ease your cravings with the newest
Justice League
saga. Then take a trip back to 1966 for John Frankenheimer's stylized cautionary tale about second chances.
Reality (Oscilloscope Laboratories)
Filmmaker Matteo Garrone's 2008 Gomorra, a bracing look at the organized crime scene in modern Naples, genuinely resonated with me. His more recent Reality strikes different nerves but is just as fascinating, earning it the Grand Prix at the 2012 Cannes Film Festival (a "runner-up" honor but still nothing to sneeze at). Based on the true story of a fishmonger who appears on the Italian edition of the reality competition series Big Brother, it follows Luciano (Aniello Arena) whose all-too-familiar obsession with fame—even the dubious fame of modern celebutantes—is his deep character flaw. Despite the dramatic trappings I found an undercurrent of absurdity here, and an artistry often lacking in American fare.
The generous complement of extras includes four deleted scenes, a director interview, on-set video footage as well as looks at Alexandre Desplat's musical score, the special effects, the design, and star/reformed criminal Arena.
Justice League: The Flashpoint Paradox (Warner Premiere)
Despite the Justice League handle, The Flashpoint Paradox is understandably Flash-heavy (the Barry Allen variety), as a run-in with the villainous Professor Zoom sets the stage for a particularly bleak alternate reality. None of the familiar heroes are as we have known them before, and setting matters right might prove too difficult even for these über-titans, although some time travel is surely in their future. (Or is it past?) As was the case in the Geoff Johns-penned limited series comic, these momentous events will have consequences across the entire DC Universe.
The return of some favorite DC Animation voice actors (Ron Perlman as Deathstroke, Dana Delany as Lois Lane) helps make for another enjoyable one-off PG-13 adventure. And as has become all the rage in comic book movies, a post-credit surprise is in store, so be sure not to eject the disc too soon. Another reason to stick around would be the fine extras, now a tradition on these direct-to-video animated features. This time the Blu-ray offers up studies of Flash's colorful rogues' gallery and his time-hopping exploits, a well-populated commentary, plus four relevant episodes of various DC TV shows. A DVD and an UltraViolet Digital Copy are also included.
Seconds (The Criterion Collection)
No sooner had I begun enjoying Criterion's excellent disc of The Devil's Backbone, fine Guillermo del Toro counterprogramming as his mega-budget 3D opus Pacific Rim stomps through multiplexes this summer, than the much-anticipated Blu-ray of Seconds arrived in my mailbox. This controversial John Frankenheimer film was difficult to find for many years, considered by many to be too far ahead of its time for 1966 audiences.
Shot in stark black-and-white by the great James Wong Howe and restored here in 4K, the genre-blurring Seconds contains elements of science fiction but is most effective as a drama, with a society of aging, wealthy and fairly selfish men making an unholy deal of sorts to walk away from their current lives and begin a new one. Mysterious technology makes it possible, but for Arthur Hamilton (John Randolph, "reborn" as Rock Hudson), adapting to his new identity is fraught with unexpected consequences. Massive paranoia ensues, a trademark of Frankenheimer's other films of this era.
An archival director commentary and some wonderful vintage interviews are included on the disc, along with a new featurette, one of Criterion's nifty "visual essays," plus a segment with Alec Baldwin that is as much a lesson in film history as it is his personal appreciation.

SPONSORED VIDEO