JVC DLA-HD950 D-ILA Projector
Price
: $8,000
At A Glance
: Superior black level and shadow detail • Accurate color • Brightness to spare
Setting the Bar Higher
Since the launch of JVC's DLA-RS1 projector more than three years ago, consumers have anticipated each of the company's new DLA designs. In some respects, such as resolution and brightness, JVC's projectors have run neck and neck with their competition. However, they haven't broken new ground. But with regard to producing inky black levels, without the help of a dynamic iris, they arguably have no equals.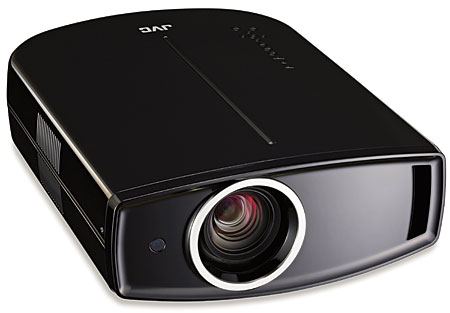 That remains true. JVC's newest complement of home theater projectors includes three models: the DLA-HD550, the DLA-HD950, and the DLA-HD990. The first of these is the company's entry-level model. However, calling the DLA-HD550 entry level glosses over the fact that it's similar to the others in many ways. It just has less adjustability and fewer features. The DLA-HD950 provides additional picture controls and a higher claimed contrast ratio. The flagship DLA-HD990 is basically a premiere version of the DLA-HD950. It has the same features, but it claims to offer an increased contrast (possibly due to a cherry-picked optical engine).
All three of these new models have twins in JVC's Pro line. They have different model numbers and different distribution channels, but they feature parallel prices and identical designs.
Features
The DLA-HD950 has the same elongated and relatively compact case as the DLA-HD750. The motorized lens adjustments include focus, zoom, and horizontal and vertical shift. Plus, it has a sliding lens cover. The zoom lens has a throw distance of 9.9 to 20.1 feet for a 100-inch-diagonal (87-inch-wide) 16:9 screen.
The projector includes built-in test patterns to help you make the lens adjustments. You can also turn them off and use an external source to tweak the settings. Once you've set the lens controls, you can lock them to keep smaller members of the family from playing zoom-zoom.
The DLA-HD950 offers nine picture modes, including two User selections. It has three custom Color Temperature options, which each offer Gain (high) and Offset (low) settings for red, green, and blue. Four other Color Temperature choices (5800K, 6500K, 7500K, and 9300K) provide only Offset controls in the user menu. A High Bright mode in the Color Temperature menu gives a higher priority to light output than image accuracy, so you should ignore it for home theater use.
The DLA-HD950 also has a full six-axis color management system (CMS). It controls Hue, Saturation, and Brightness for each primary and secondary color.
JVC's projector features five preset and three custom Gamma settings. The Custom menu also lets you tweak the overall gamma using an onscreen graphic, as well as the individual red, green, and blue gammas. You should leave the latter alone unless you have the necessary skills and tools; I never needed to adjust them.
The projector also includes Pixel Adjust for fine-tuning the alignment of the red, green, and blue images. It only operates in single-pixel steps. This makes it useful for gross errors, but it's of little use if the convergence is off by less than a pixel.
It also has two lamp settings (Normal and High), two types of Sharpness adjustments, and three types of Noise Reduction (SD sources only). Plus, it includes Color Transient Improvement (CTI, SD sources only) and a manually adjustable lens aperture (iris). If you choose to add an anamorphic lens for use with a 2.35:1 projection screen, the JVC can process the image with its V-stretch control.