Zvox Expands AccuVoice Line of Dialogue-Boosting TV Speakers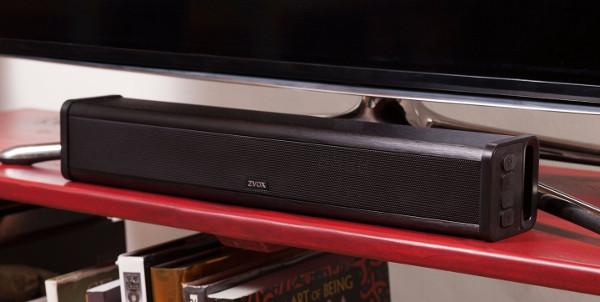 Soundbar pioneer Zvox has added a new model to its AccuVoice line of TV speakers that uses hearing-aid technology to boost dialogue.
Described as ideal for viewers with mild hearing loss, the new AV201 ($200) is a follow-up to the AV203 introduced earlier this year and the original AV200 speaker. It employs algorithms based on hearing aid technology to "clarify and lift voices out of a TV soundtrack" when dialogue is present, according to the company.
The AccuVoice AV201 TV Speaker uses the same drivers, 17-inch-wide aluminum cabinet, and advanced processor as the original AV200 but offers two dialogue-boost settings. The soundbar has three high-output 2-inch drivers powered by a 24-watt Class D digital amplifier and provides onboard Dolby Digital decoding and Zvox's PhaseCue virtual surround processing.
Other features include automatic output leveling to tame loud commercials and a new water-resistant remote that has been reconfigured with larger, intuitively arranged buttons and larger, easy-to-read labels. Connections include a 3.5mm analog/toslink optical combo input and a headphone/subwoofer output.
"With millions of Americans over the age of 50 suffering from minor hearing impairment, our AccuVoice TV speakers bring TV dialogue front and center once again, and the new AV201 lets users further customize their audio environment with two powerful levels of voice boost, so everyone can hear all the dialogue in all their favorite TV programming," said Zvox CEO Tom Hannaher.
For more information, visit zvox.com.