Z for Zachariah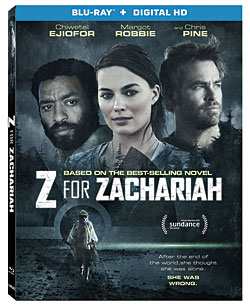 Ann (Margot Robbie) has been living on her own with her dog, thinking she was the only survivor after the disaster, until scientific researcher John Loomis (Chiwetel Ejiofor), sick with radiation poisoning, wanders into her tranquil valley. Ann takes him in and nurses him back to health, and eventually the two develop a romantic rapport that is disrupted when another, seemingly kind, but somewhat shifty-eyed survivor, Caleb (Chris Pine), arrives and begins a rivalry for Ann's affections.
Robbie continues to impress with her acting skills, giving the standout performance of the film, and the chemistry between her and her male co-stars is palpable in this reflective dystopian drama.
Z for Zachariah is a digital anamorphic production, shot on the Arri Alexa. Zobel and director of photography Tim Orr wanted it to have a "Russian" look similar to the films of Tarkovsky. They purposely went for a desaturated, cooler palette that highlights blues. Overall, this AVC 1080p encode looks quite enjoyable and surprisingly filmic given its digital provenance. It is as clean and detailed as one would expect from a modern offering with strong depth of field if just a tad soft.
Z for Zachariah is a quiet film with a necessarily mellow lossless DTS-HD Master Audio 5.1 soundtrack. While we don't get much in the way of discrete effects in the surround channels, there are sufficient atmospheric foley effects such as the breezes rustling through trees or the gentle flow of a creek in the distance. Dialogue is clean, full, and intelligible.
The release is not very rich in extras. Lionsgate only includes a brief making-of, four deleted scenes that run for approximately six minutes, and 20 minutes of interviews with the director, writer Nissar Modi, and actors Robbie and Ejiofor. Digital HD UltraViolet is also included.
Blu-Ray
Studio: Lionsgate, 2015
Aspect Ratio: 2.40:1
Audio Format: DTS-HD Master Audio 5.1
Length: 98 mins.
MPAA Rating: PG-13
Director: Craig Zobel
Starring: Chiwetel Ejiofor, Chris Pine, Margot Robbie
The post-apocalyptic dystopian film is a staple of science-fiction filmmaking, but most of the films inhabit a similar space. Director Craig Zobel's Z for Zachariah is one of the rare ones that change the formula. Z for Zachariah, based upon Robert C. O'Brien's novel, still relies on some unknown radioactive, presumably nuclear event as the catalyst that brings down society, but the story is not focused on this. Instead, it is a character study about three people in one idyllic valley in the Southeastern United States spared by the disaster.