Yellowstone – Season 5
Last October we started this blog to explore the experience of watching movies at home on the server-based Kaleidescape system to see how it compares with watching movies on 4K Blu-ray and over Netflix and other streaming services. You can read my impressions of the system in A Marriage Made in Movie Heaven) and my previous Kaleidescape-based movie reviews here.)
Yellowstone
is back for its fifth season and the issues facing the Dutton family couldn't be more intense. The patriarch of the family, John (Kevin Costner), has just been elected governor of Montana and his number one priority is ensuring the survival of his ranch. This determination is going to land him in some hot water with constituents and before he knows it, he's embroiled in a political scandal initiated by a vindictive adversary.
John's family problems aren't going away either. His daughter Beth (Kelly Reilly) is doing her best to keep the family ranch alive as the modern world encroaches on their ability to keep the operation in the black, but she isn't one to go down without a fight. Kayce (Luke Grimes), John's youngest, has family struggles of his own and while he has a lot of loyalty to his father, he has to protect his wife and son. Finally, there's Jamie (Wes Bentley), the black sheep of the family who has his own aspirations and doesn't care who he hurts if he gets what he wants.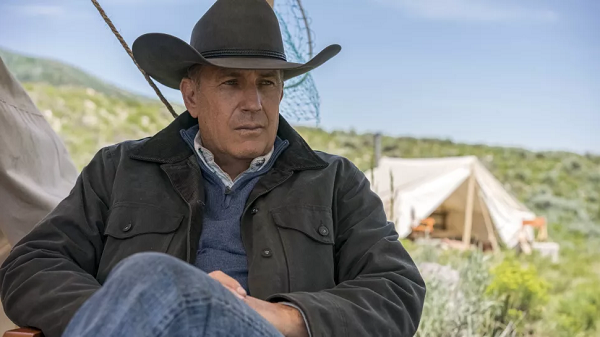 I didn't become a fan of the Yellowstone until it had already been on cable for three seasons. I heard nothing but good things about it so I ended up binge-watching those missed seasons on Peacock and quickly discovered why the show is so popular. Now in its fifth season, the show's popularity has never been higher. The season premiere garnered 12.1 million same-day viewers, making it the No. 1 scripted show on TV, according to the Hollywood Reporter. In fact, the show is so popular that it spawned the prequel series 1883, which streams on Paramount+ and is available on Blu-ray and DVD. Two additional spinoffs are in works: 6666, about a cattle ranch in Texas during the same time period as Yellowstone, and another prequel series, 1923, starring Harrison Ford and Helen Mirren.
My Yellowstone journey started with streaming the show on Peacock and, once caught up, I also watched it on cable via the Paramount Network. Neither of those presentations were very good. While the cable feed was an improvement over streaming, banding was still a major issue and the video looked overly compressed. When I heard that Kaleidescape was launching a Season Pass option for current shows, I couldn't wait to watch Yellowstone in the less compressed format.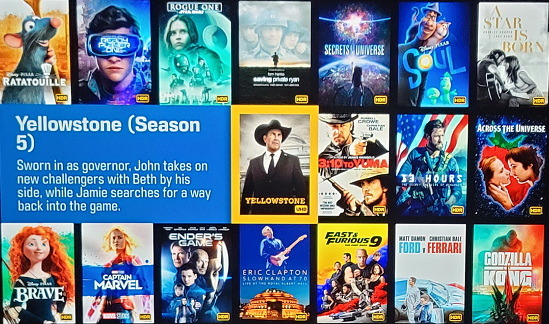 The Kaleidescape store gives you two options: UHD for $44.99 or standard HD for $34.99. I opted for UHD to ensure the highest possible quality. Turns out the show is shot on 3.2K Arri Alexa cameras and finished with a 2K digital intermediate, so the 4K version is an upconversion, meaning I could have saved myself $10. Regardless, the show looks fantastic, especially compared with the overly compressed cable and streaming versions. The image is crystal clear and features razor-sharp details in the clothing, facial textures, and beautiful Montana landscapes. Color saturation is excellent with vivid yet accurate primaries, and the black levels are deep and inky.
Audio is presented with a DTS-HD MA 5.1 track that does a good job of conveying the story, though it has some flaws. At times, dialogue can sound a tad strained and compressed, which isn't unusual for a TV show. Since I have the series saved on my TiVo, I was able to do a quick comparison with the Dolby Digital version. I heard the same flaws so the issue leads back to how the show was originally captured. Granted, 99% of the time this isn't a problem, but it does crop-up throughout various episodes and I found it a bit distracting. Another minor quibble is the lack of dynamics in the concert scene during Episode 6, "Cigarettes, Whiskey, a Meadow and You."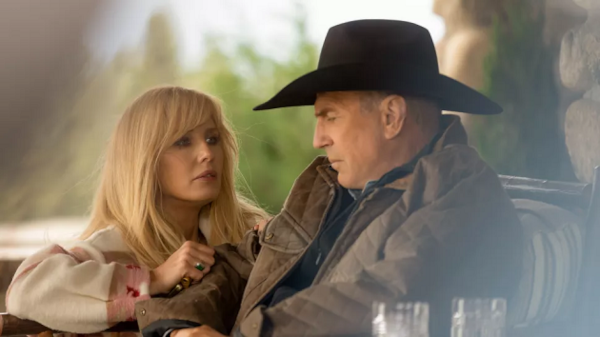 There are no Kaleidescape Scenes or Supplemental features with the Season Pass, but that's not a big surprise. The show downloads to your Kaleidescape server as soon as it's available from Paramount, so the Kaleidescape team has no time to pick out the best scenes and supplemental features have yet to be created for the Blu-ray release, which is still many months away.
Show creator Taylor Sheridan started in Hollywood as an actor but found his true calling as a writer/director with such hits a Sicario, Hell or High Water, and my personal favorite, Wind River, as well as many others. Yellowstone is one of his best and it's easy to see why the show has become more and more popular with each passing season. If you haven't seen it yet, what are you waiting for? Fans will love Kaleidescape's Season Pass option and I'm sure I'll be using it again for future offerings.
Studio: Paramount
Aspect Ratio: 2.00:1
Download Size: 210.7GB (4K UHD)
HDR Format: None
Audio Format: DTS-HD MA 5.1
Length: 13 Hours, 41 mins
Directors: Stephen Kay, Guy Ferland, Christina Voros, Taylor Sheridan
Starring: Kevin Costner, Luke Grimes, Kelly Reilly, Wes Bentley, Cole Houser