1923 – Season One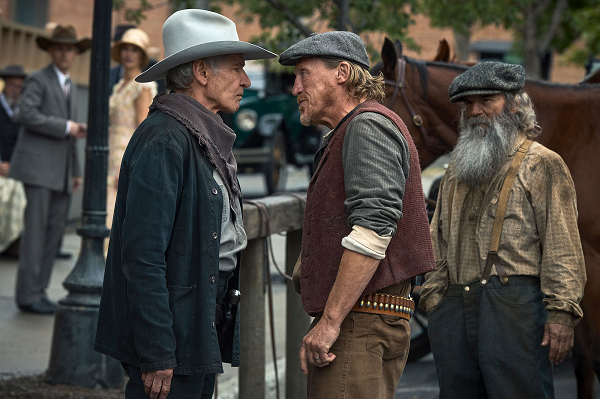 In October we started this blog to explore a different way of experiencing movies at home — one that doesn't involve spinning 4K Blu-ray discs or streaming movies from Netflix and other services. I'm talking about the server-based Kaleidescape movie system. You can read my impressions of the system in A Marriage Made in Movie Heaven) and my previous Kaleidescape-based movie reviews here.)
1923
is a prequel to the popular TV show
Yellowstone
that follows the Dutton family in the early 20th century as they struggle to survive the harsh realities of the American West. Set in 1923 during Prohibition — a time of cascading hardships including drought and the lead-up to the Great Depression — the Duttons must fight to keep their Montana ranch and preserve their way of life amid challenges by new enemies and rapid change brought on by the transition to electricity, modern appliances, and automobiles.
The series stars Harrison Ford and Helen Mirren as Jacob and Margaret Dutton, the patriarch and matriarch of the family as they chase the American Dream while struggling to hold onto their land and preserve a treasured family life. While this is the main thrust of the series, two other story arcs are explored over the season's eight episodes.
The first involves Spencer Dutton (Brandon Sklenar), the youngest son of James and Margaret Dutton — portrayed by Tim McGraw and Faith Hill in 1883 — who was born sometime after the family settled in Montana and not featured in that prequel. When we first meet Spencer, he's a big-game hunter in Africa and he is fighting more than animals. A veteran of World War I, he is struggling with a serious case of PTSD and has no desire to go back to his old life, but that's all about to change. While recovering from an injury, he meets Alexandra (Julia Schlaepfer), a British socialite who takes a strong liking to the young Dutton, but their eventual relationship will come with its own set of perils.
The second narrative features a shocking and brutally authentic depiction of the assimilation programs brought upon the Native American population by Christian missionaries. We first meet Teonna (Aminah Neives) who is repeatedly beat with a ruler while trying to explain the process of making soap to a masochistic nun. Having reached her limit, Teonna finally retaliates and physically assaults the nun, but that comes with further retribution that isn't going to end well for anyone involved.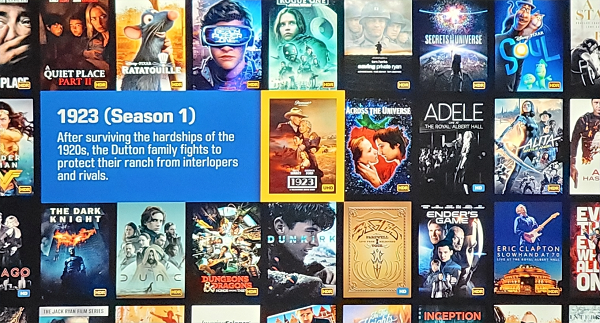 Though the series has many excellent moments — the romance between Spencer and Alexandra to name one — the first season tends to move slowly and can be somewhat repetitive, most notably in the (too) many scenes depicting the brutality of the assimilation schools. The same can be said of Timothy Dalton's character, the nefarious Donald Whitfield. We quickly understand he's a bad guy with deviant motives and certain sexual proclivities, which the show highlights one time too many. Granted, these are minor quibbles, but I have high expectations for anything written or produced by Taylor Sheridan.
The Kaleidescape Movie Store gives you two options to purchase Season One of 1923: 4K UHD ($24.99) or standard HD ($19.99). I opted for UHD because, well, I'm a video snob and the extra five bucks amounts to less than 65 cents an episode. Plus, the show is shot on Arri Alexa 35 cameras with 4.6K resolution so opting for the UHD version was a no-brainer. Comparing the K-scape download with the Paramount+ stream revealed a noticeable uptick in resolution. The image was clear with no compression artifacts and teaming with detail, especially clothing and facial pores. Owing to the show's on-site production, scenes shot in Africa looked picturesque but also quite dangerous when lions and tigers were on the prowl.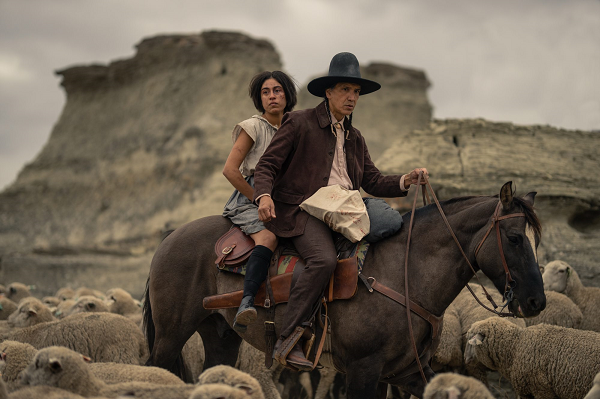 The series benefits from a strong DTS-HD MA 5.1 soundtrack that serves the story well without drawing attention away from the onscreen action. Dialogue is clear and intelligible and strategically placed directional cues draw you into the scene. Gunshots ring out with authentic authority and dynamics that make great use of the LFE channel and are a recurring highlight of the audio presentation.
Since 1923 isn't slated for release until August, the K-scape download doesn't yet include any behind-the-scenes featurettes or bookmarked Kaleidescape scenes but you do get to watch the show at home in the highest quality possible.
I've been a big fan of Taylor Sheridan for several years, but I think he may be taking on too many projects and overstretching himself a bit. Though I enjoyed much of 1923, it is not his finest work. I would have preferred a more limited number of episodes that really dig into the meat of the story instead of a multi-story arc that will take many seasons to play out. And with the ongoing writer's strike, who knows when we'll get a second season. The series may not be perfect but it still entertaining, with excellent acting and compelling story lines.
Studio: Paramount
Aspect Ratio: 2.00:1
Download Size: 323.8 GB (4K UHD)
HDR Format: None
Audio Format: DTS-HD MA 5.1
Length: 9 Hours 12 mins
Director: Ben Richardson and Guy Ferland
Starring: Helen Mirren, Harrison Ford, Brandon Sklenar, Julia Schlaepfer, Timothy Dalton, Jerome Flynn, Isabel May