Hacksaw Ridge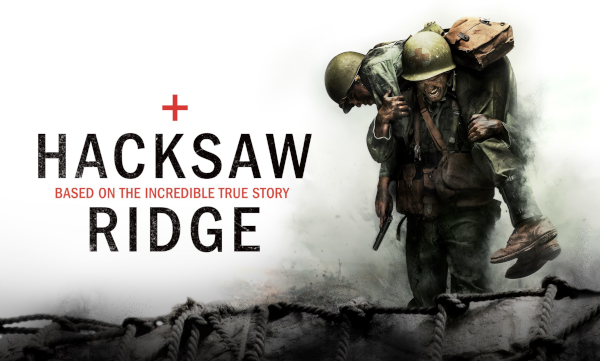 In October we started this blog to explore a different way of experiencing movies at home — one that doesn't involve spinning 4K Blu-ray discs or streaming movies from Netflix and other services. I'm talking about the server-based Kaleidescape movie system. You can read my impressions of the system in A Marriage Made in Movie Heaven) and my previous Kaleidescape-based movie reviews here.)
One of the bloodiest battles of World War II happened on Okinawa in 1945 and it wasn't a place you wanted to be if you didn't carry a weapon. But for contentious objector Desmond Doss, this wasn't an option. While he believed the war was justified — which is why he volunteered — his personal belief was that killing was wrong and he wasn't going to be a party to it. As a medic, he was in the war to save lives, not take them. And save lives he did — 75 of them over the course of one night when he was stuck behind enemy lines.
Mel Gibson was an A-list actor and Oscar-winning director in Hollywood for well over 20 years after his debut in Mad Max in 1979, but he went on an anti-Semitic tirade while being arrested for drunk driving in 2006 and disappeared from the limelight. Many thought he'd become a footnote in Hollywood history. After an absence of 4 or so years, he started to show up in the occasional movie as a supporting player, but it looked as if his blockbuster days were over. Well, all that changed in 2016 when he was signed on to direct Hacksaw Ridge, which went on to garner an Oscar nomination for Best Picture and help resurrect his career.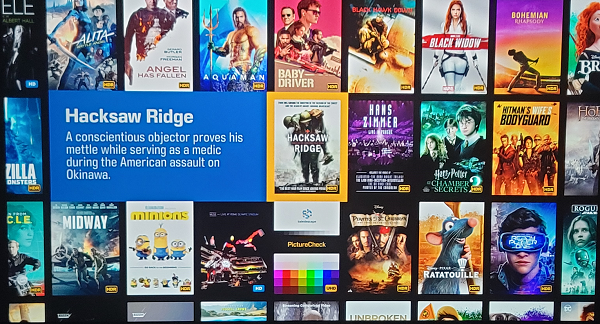 I've always been a fan of war films and when I saw this for the first time six years ago, I thought it was arguably the best of the genre since Saving Private Ryan. The structure of the film is nearly perfect in providing the backstory to Doss' belief system and how he meets his future wife, so we get to know the man before being he's drafted into the war effort. The second act shows Doss in basic training and the challenges he must overcome to get into the Pacific theater. Once there, it's easy to see how he ultimately won the Medal of Honor and became a true American hero.
The film was originally finished with a 2K digital intermediate and upconverted to 4K for its UHD release, presumably the same treatment used for this Kaleidescape download. Like its disc counterpart, the detail is exquisite, especially in close-ups, where it appears most of the resolution from the 3.4K camera used in principle photography was retained through the various digital processing steps. The wide color gamut is on full display with deeper hues of the primary colors conveying natural looking forests on the East Coast of the U.S. and, of course, in the hell on Earth that was Okinawa. High dynamic range (HDR) effects really pop in the many explosions and bursts from flame throwers.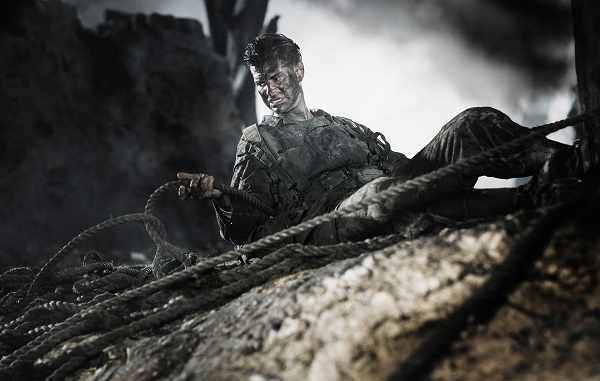 The Dolby Atmos soundtrack is excellent from beginning to end with plenty of demo-worthy moments. The battle scenes contain a plethora of discrete effects that encompass the room and when the battleships "soften up the enemy." Batten down the hatches because it gets loud with abundant punch below 20Hz.
There are seven bookmarked Kaleidescape Scenes but, unfortunately, they do more to showcase the story than highlight the stellar audio and video, making them somewhat of a mixed bag. "The First Assault, for instance," has the potential of being one of the best demo scenes but misses its mark by skipping the intense lead-up to the attack where you can feel the impact of the guns from the destroyers as they bombard the enemy. I created my own scene for this because it's a great way to test how deep subwoofers can go. Regardless, here are the scenes:
"Meeting Sergeant Howell"
"The Sergeant Issues Rifles"
"Trying to Break Doss"
"The First Assault"
"Assault on the Bunkers"
"Fall Back"
"Rescuing Sergeant Howell from a Sniper"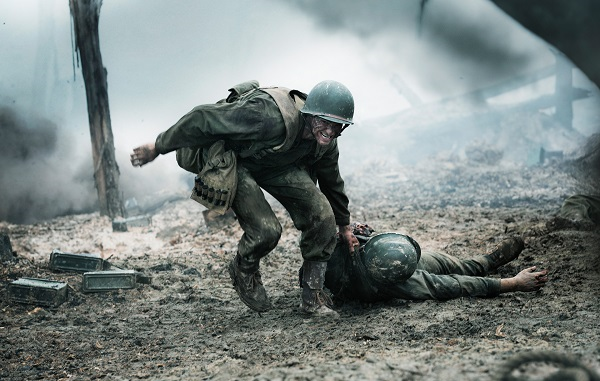 Unlike other movies I've reviewed on the Kaleidescape system, Hacksaw Ridge has supplemental material, including a making-of featurette and a short Veteran's Day greeting with Mel Gibson. It would have been fitting if they included a historical retrospective of the real-life Desmond Doss, but for that you will have to seek out the award-winning documentary, "The Conscientious Objector, from the 2004 DVD.
I've watched this film multiple times over the past six years and enjoyed another great experience via Kaleidescape. No matter how many times I've seen it, I'm always moved by Doss' story and, while I'm not a big fan of Mel Gibson, he does know how to make one hell of a film. Like every movie I've compared on 4K disc versus how it appears on Kaleidescape, the quality difference is damn-near impossible to detect, but the ease of access and seamless playback from the comfort of your couch is always welcome.
Studio: LionsGate
Aspect Ratio: 2.40:1
Download Size: 73GB (4K UHD)
HDR Format: HDR10
Audio Format: Dolby Atmos
Length: 131 mins
Director: Mel Gibson
Starring: Andrew Garfield, Sam Worthington, Luke Bracey, Vince Vaughn, Teresa Palmer, Hugo Weaving, Rachel Griffiths