Black Book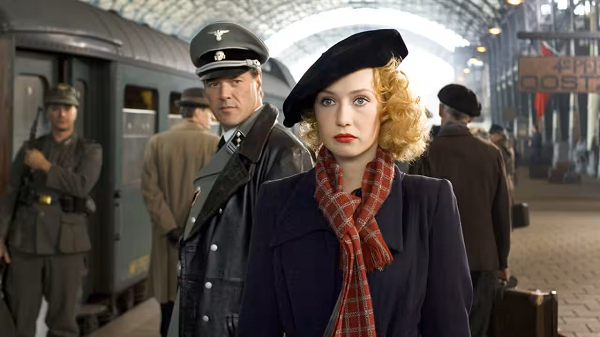 Last October we started this blog to explore a different way of experiencing movies at home — one that doesn't involve spinning 4K Blu-ray discs or streaming movies from Netflix and other services. I'm talking about the server-based Kaleidescape movie system. You can read my impressions of the system in A Marriage Made in Movie Heaven) and my previous Kaleidescape-based movie reviews here.)
Set in the Netherlands during the Nazi occupation, the film follows the story of Rachel Stein (Carice van Houten), a Jewish singer who becomes involved with the Dutch Resistance after the family that was hiding her is killed in a bombing raid. Disguised as a blonde Gentile, Stein successfully infiltrates German headquarters as a spy, using her charm, wit, and sex appeal to gain valuable information. However, as her undercover work intensifies, she finds herself entangled in a web of deceit, danger, and unexpected alliances.
Director Paul Verhoeven is a Dutch filmmaker known for his provocative and genre-blending approach to filmmaking. He gained international recognition with his early films Turkish Delight (1973) and Soldier of Orange (1977), which were praised for bold storytelling and visual style. I learned of Verhoeven's work when he transitioned to Hollywood and directed a couple of films that fueled my love of the cinema — RoboCop (1987) and Total Recall (1990). Both films showcased his unique ability to meld action/sci-fi sensibilities with not-so-subtle social commentary. As successful as those two films were, it was his 1992 erotic thriller Basic Instinct that sparked plenty of debates over the film's portrayal of sexuality and violence — and immortalized Sharon Stone's performance in one of the most provocative (and memorable) scenes in movie history.
In Black Book, Verhoeven returned to his native Netherlands to direct and, although the film received widespread critical acclaim, it garnered only $27 million at the U.S. box office due in large part to it being subtitled. Even so, the film skillfully explores the complexities of human nature and the blurred lines between loyalty and survival as Rachel navigates her way through treacherous circumstances.
Although the film is only available in 1080p from the Kaleidescape store, it holds up extremely well 17 years after its initial home video release. The cinematography is to die for, featuring lifelike color, impeccable detail, and plenty of depth. Skin tones are perfectly rendered and the primary colors come to life, particularly the luscious Dutch countryside and the deep red of the Nazi flags.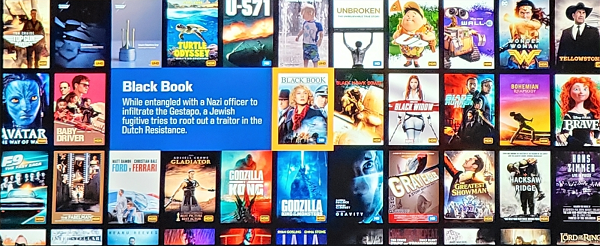 As noted earlier, the film is subtitled with the native tracking being a 5.1 PCM track in Dutch. Although I don't understand the native tongue, the soundtrack does a great job of capturing desperation in the actor's voices, which intensifies the on-screen action. There are also many directional queues that open up the soundstage, including air raids that lead to explosions, gunshots that ring true, and musical sequences that feature ample dynamics and pitch-perfect clarity.
The supplements are the weakest aspect of the entire production. They include a Director's Commentary with Verhoeven and a "Making of" featurette that only scratches the surface of film production, concentrating instead on interviewing the actors and finding out what attracted them to sign on with the project. I would have preferred to learn about the historical roots of the story since it is supposed to be based on true events, even though the people and events in the film are fictional with historical accuracies limited to WWII and the Nazi's setting up their main headquarters in The Hague. Furthermore, there are no bookmarked Kaleidescape scenes, which isn't surprising given the arthouse nature of the film.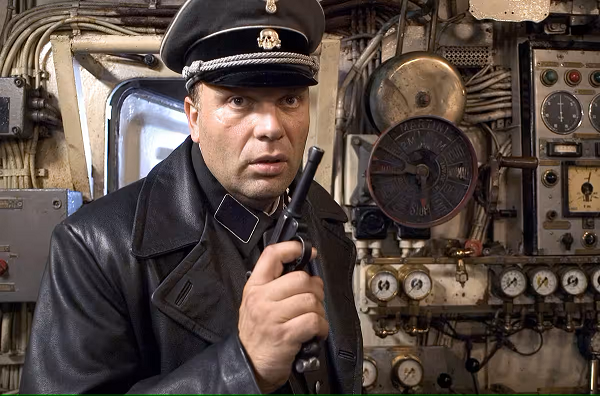 I'm a sucker for World War II films and have always found this one to be an emotionally charged affair that masterfully depicts the Nazi occupation of the Netherlands. The story is told through Stein's experiences as the film explores the harrowing circumstances brought on by war. While most would say Verhoeven's best film is Basic Instinct, or even one of his sci-fi classics, Black Book is my personal favorite. Highly recommended.
Studio: Sony
Aspect Ratio: 2.35:1
Download Size: 39.4 (1080p Blu-ray Quality)
HDR Format: None
Audio Format: Dutch PCM 5.1
Length: 2 Hours 26 mins
Director: Paul Verhoeven
Starring: Carice van Houten, Sebastian Koch, Thom Hoffman, Halina Reijn