House of the Dragon (Season 1) Review
Last month we started this blog to explore a different way of experiencing movies at home — one that doesn't involve spinning 4K Blu-ray discs or streaming movies from Netflix and other services. I'm talking about the server-based Kaleidescape movie system. You can read my impressions of the system in A Marriage Made in Movie Heaven.) You can read my other Kaleidescape-based movie reviews here.)
Game of Thrones
is arguably one of the best TV shows in history — well, at least the first six seasons — and became a cultural phenomenon when it hit HBO in April 2011. It would go on to produce a total of eight seasons and one of the most controversial endings one could ever dream up. Co-creators/showrunners David Benioff and D.B. Weiss were ripped to shreds on the Internet — and rightfully so, in this writer's opinion — leaving viewers to wonder what effect this would have on further projects set within the universe George R. R. Martin crafted in his popular book series.
HBO was considering two different concepts to revive the franchise and ultimately decided in 2019 on a prequel based on Martin's book, "Fire and Blood," that digs into the history of the dragon-riding Targaryen family about 200 years prior to the events depicted in GoT. I have to admit, I had some trepidation sitting down to watch this series given the sour taste left in my mouth from the way the last series ended.
Having not read "Fire and Blood," I went into this completely blind and had not even ventured to watch the trailer. The show begins with a flashback to 101 AC (101 years after Aegon Targaryen conquered Westeros) where the Great Council is held to decide which of his two grandchildren should inherit the throne, but it's really nine years after this historic event that the show truly begins. From there we meet the current King's 15-year-old daughter, Rhaenyra (Milly Alcock), who is named to succeed him due to the lack of a first-born son. Over the course of the ten-episode first season, about 20 years goes by and two main characters, Rhaenyra and her close friend Alicent Hightower (Emily Cary), are aged out about mid-way through and replaced by Emma D'Arcy (Rhaenyra) and Olivia Cooke (Alicent). The decision to name a female as successor is the catalyst that sets Westeros on a dangerous path and there is plenty of behind-the-scenes scheming to undo the King's wishes — let the political maneuvering begin!
The first season is ten episodes that run about an hour each and cover a lot of history. Things to keep in mind going in, this is an HBO show so there are some scenes that border on pornography, but thankfully those are relegated to only a couple of episodes and don't detract from the overall enjoyment of the series. Second, it can be quite violent and especially graphic with plenty of blood — particularly during the childbirth scenes. Despite these minor quibbles, the meat of this show is political drama that focuses on power, family rivalries, and of course, who will assume the throne upon the King's death.
I was able to download the entirety of the show from the Kaleidescape movie store in a little over an hour and thankfully, they broke-up the download into four smaller chunks. The total download is 336GB and it cost $34.99, which is a good value. Furthermore, House of the Dragon is currently a 4K exclusive with Kaleidescape since the 4K discs won't be released until late December in the U.S., although subscribers to HBO Max have the option to stream the show with a sacrifice in A/V quality.
The presentation on Kaleidescape is a mixed bag. For the most part, the video quality is quite good, and it does a great job of highlighting the lavish costumes and various outdoor shooting locations, but I can't say I loved the cinematography. There are many scenes throughout the series that are much too dark, especially in dimly lit environments, which make the image look flat and lifeless. This is mostly apparent with dark interior scenes that only use candles for the interior lighting. So, while it authentically sets the mood of the scene, it just isn't fun to view a dim image. For this reason, watching in a pitch-black room is a requirement.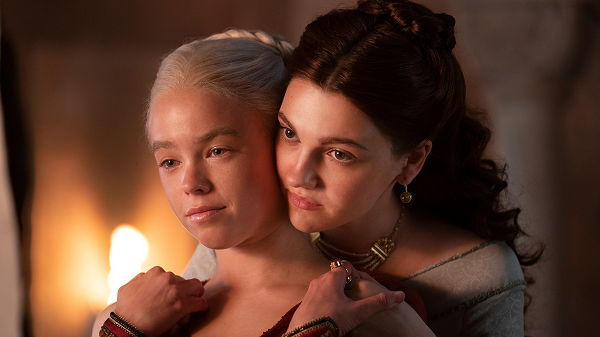 To add insult to injury, in the pivotal Episode 7, "Driftmark," the scenes on the beach are just plain ugly to watch. The image is so dim that you can barely make out any details — and I was viewing on a meticulously calibrated JVC DLA-RS2000 projector. I attempted to brighten the image by changing the projector's dynamic tone mapping to a higher setting, but it was a futile gesture. The show looked excellent for most of the 608 minutes, but when it looked bad, it looked really bad, so beware of this going in — there's nothing wrong with your display. One last thing, the movie store lists the aspect ratio at 1.85:1, but it's really 2.0:1. Frankly, a show of this scope and size, it should be 2.35:1, but who am I to complain?
Thankfully, the Dolby Atmos presentation is pretty damn impressive for a TV show. Granted, this show isn't shot on a limited budget so one expects feature film quality from the surround mix, and thankfully the creators agree and don't seem to cut any corners. While I generally skip the opening titles of most TV shows, I absolutely love Ramin Djawadi's theme song that leans heavily on the cellos and is complemented by some pretty deep bass. Speaking of bass, there's plenty of it throughout the first season, predominantly when the dragons are on the screen, and they let out a terrifying roar or decide to roast their next meal — whether human or livestock. The ambience is expansive as well, as when you hear footsteps echo through many of the large rooms in the castle at Kings Landing or dripping water emanating from above. My only criticism is with dialogue intelligibility, which can be challenging at times. For some reason, Matt Smith (Prince Daemon Targaryen) mumbles through his lines on one too many occasions, so I decided to give the subtitles a try. This definitely helped a lot.
There are no bonus features included with the download, which I'm sure the 4K and Blu-ray discs will include, but from the pre-sale prices I'm seeing, you'll have to pay quite a premium if you're a fan of supplements. While I usually gloss over most bonus features, I'm sure a Westeros history lesson would help connect the dots between who's related to who. Thankfully, there's this invention called the Internet that is loaded with information about the series.
Overall, I enjoyed the first season a lot more than I thought it would. As one of the many critics of how Game of Thrones ended, I was worried that this would be more of a money grab than must-see TV. Thankfully, I was wrong. Judging by how many people streamed the show on HBO Max, I'm not alone and I can't wait to see where things go from here. Martin has a solid foundation of history to build upon within the Westeros world and I'm sure HBO is ready to expand the story into other timelines in order to keep this cash cow producing. Highly recommended.
Studio: HBO/Warner Brothers
Aspect Ratio: 2.0:1
Download Size: 336GB (4K UHD)
HDR Format: HDR10
Audio Format: Dolby Atmos
Length: 608 mins
Directors: Clare Kilner, Miguel Sapochnik, Greg Yaitanes
Starring: Paddy Considine, Matt Smith, Rhys Ifans, Fabien Frankel, Graham McTavish, Gavin Spokes, David Horovitch, Bill Paterson