The Fabelmans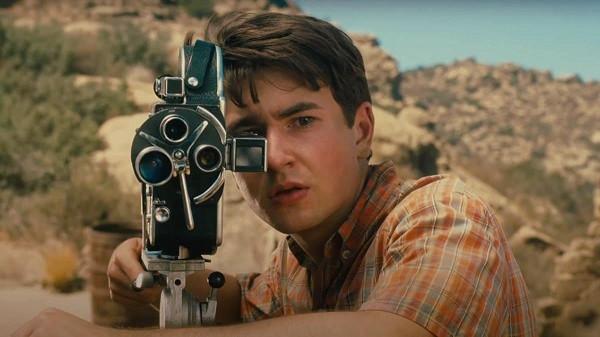 We started this blog to explore the experience of watching movies at home on the server-based Kaleidescape system to see how it compares with watching movies on 4K Blu-ray and over Netflix and other streaming services. You can read my impressions of the system in A Marriage Made in Movie Heaven) and my previous Kaleidescape-based movie reviews here.)
In this installment, I review Steven Spielberg's
The Fabelmans
, which is slated for release on 4K Blu-ray February 14.
We first meet Sammy (Gabriel LaBelle) as a young boy in New Jersey venturing out to the movie theater to watch
The Greatest Show on Earth
. After witnessing the
horrific train crash
in the film, the young man experiences nightmares and decides the only way to get the image out of his head is to recreate the crash using the Lionel train set his parents gave him for Hanukkah while capturing it on film using his father's 8mm camera. This stoked a creative spirit in the young boy that would last a lifetime.
Ultimately, The Fabelmans is a semi-autobiographical film based on the childhood of the man who co-wrote and directed the film, Steven Spielberg. While watching the film I couldn't help but wonder what was made up and what was real. It turns out, as confirmed by the director himself, the film is, indeed, based on real events in his life, recalling his upbringing in New Jersey and his family's move to Arizona before settling in Silicon Valley in the early days of the computer-chip revolution.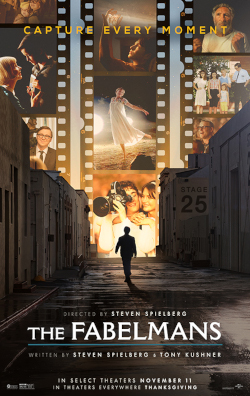 Spielberg is arguably the best writer/director of his generation, but I wouldn't consider this his best film. There are numerous subplots that make the story a little bloated, but I understand that many of these events are what made Spielberg the man he is today, so I understand his desire to keep them. As depicted in the movie, his father was an incessant workaholic who left his wife to raise the kids, but she had her own mental issues and personal failings that derailed the idyllic family life many of us dream about but rarely experience. One of the film's most powerful sequences illustrates how the "camera never lies," revealing a personal experience that may explain why Spielberg is able to get the most out of his actors to this day.
While I didn't love the film, I didn't hate it either. The cast was excellent, particularly Mateo Zoryan, who captures the innocence of a young Sammy awakening to the power of film, and Gabriel LaBelle, who portrays teenage Sammy as he grows up before our eyes. Paul Dano plays the nerdy father with Michelle Williams getting the most screen time as Sammy's manic mother. Her performance borders on melodramatic, but given Spielberg's apparent desire to portray aspects of his childhood with honesty, there's a good chance this is how his mother behaved in real life.
The Fabelmans was released in 4K on Kaleidescape weeks before the film's official debut on home video, which is set for next week (February 14), so I wasn't able to compare the two but, based on past experience, I expect the 4K Blu-ray to look virtually the same as what I watched. To lend authenticity to the screenplay and story, the movie was shot on film in a variety of formats — from low-resolution 8mm all the way up to 35mm — and finished as a 4K digital intermediate with a 1.85:1 aspect ratio. It really shines in 4K. There is plenty of depth and detail, and shadows are fully resolved and complemented with inky blacks. Colors are a bit warm, though this appears to be intentional based on the color timing.
Audio is presented as a DTS-HD MA 5.1 soundtrack in lieu of either DTS:X or Dolby Atmos. The movie is a dialogue-intensive affair with little to no activity in the surround speakers, which is probably why the studio didn't bother with an immersive track. Even so, dialogue is firmly rooted in the center speaker and stereo sound across the front lends some width to the soundtrack. Deep bass is virtually non-existent, so this isn't a film I'd ever use to demo my audio system, though the sound does open up a bit during scenes with music.
Due to The Fabelmans' early release on Kaleidescape, supplements were not included with the download, but there are nine bookmarked Kaleidescape Scenes that showcase some of the story's pivotal moments. Though I wouldn't characterize any of them as demo-worthy moments, they are certainly dramatic. Here's the list:
The Greatest Show on Earth
Piano or Typewriter?
Gunsmog
Dancing in the Heatlights
A Visit from Uncle Boris
The Making of Escape to Nowhere
Mitzi's Secret
An Awkward Dinner
Ditch Day Movie Aftermath
Steven Spielberg's track record of producing fabulous films is undeniable. The Fabelmans is an intimate portrayal of his own life and, while it could have come across as narcissistic and self-promoting, Spielberg does a masterful job of giving the viewer a glimpse into his youth and the experiences that helped shape who he is today. The film has been nominated for seven Academy Awards including Best Picture, Best Director, and Best Original Screenplay, among others, but I'm not sure it is as deserving as some of his other award-winning films.
Studio: NBCUniversal
Aspect Ratio: 1.85:1
Download Size: 80.2GB (4K UHD)
HDR Format: 4K HDR
Audio Format: DTS-HD MA 5.1
Length: 2 Hours 30 mins
Director: Stephen Spielberg
Starring: Michelle Williams, Paul Dano, Gabriel LaBelle, Judd Hirsch, Seth Rogen