Yamaha RX-Z7 A/V Receiver
Price
: $2,700
At A Glance
: Numerous networked music options including Rhapsody • Anchor Bay VRS video processing • HDMI 1.3 connectivity excludes 3D
Features, Performance, or Both?
In Akira Kurosawa's classic film Rashomon, a violent crime is followed by several markedly variable versions of the same story as told from the viewpoints of four different characters: the criminal, two victims, and finally a relatively neutral observer. In the same manner, readers may finish this review with wildly divergent ideas of what's important and whether the Yamaha RX-Z7 is right for them.
The A/V receiver is a feature-heavy product category, so many readers prize a long (or strategically rich) feature set. You can take some features for granted. If this AVR didn't have lossless surround decoding—in the form of Dolby TrueHD and DTS-HD Master Audio—this review wouldn't have been assigned or written. Other features are fairly omnipresent but vary in their execution. Most AVRs have automatic setup and room-correction programs, but implementation differs. In this case, Yamaha uses its homegrown YPAO auto setup, which can take measurements from up to seven seating positions. Finally, there are features that differentiate just a few products from many others. This AVR's compatibility with Rhapsody's streaming music library falls into that category.
The RX-Z7 debuted in late 2008 and will remain in the line through the end of 2010. It's kind of unusual for us to review a model that's been out so long. As an inevitable result, this AVR lacks some of the latest and greatest features. First, it is HDMI 1.3a compatible, not 1.4, which makes it unsuitable for switching 3D video sources. But it's appropriate to note that many Blu-ray 3D players will include dual HDMI outputs so that you can make a direct HDMI video connection to the display and route HDMI audio to a legacy surround processor or A/V receiver. In every other respect, its video processing is first rate, with the well-regarded VRS by Anchor Bay chipset. As I'll note below, the Yamaha initially could not play audio-only content via HDMI without the HDTV on, but a firmware upgrade solved this problem.
In addition, the RX-Z7 does not offer height-enhanced listening modes such as Dolby Pro Logic IIz or Audyssey DSX (the latter also adds width channels). As a largely 5.1oriented listener, I don't see this as a major shortcoming. Yamaha supplies its proprietary CinemaDSP modes, which include height (or presence) channels, but these don't work with the new lossless surround codecs.
Finally, this AVR does not have any of the new generation of low-volume listening modes such as Dolby Volume, THX Loudness Plus, or Audyssey's Dynamic EQ/Volume. That might appear to be an omission, but Yamaha's Adaptive DRC is a proprietary alternative, and it works.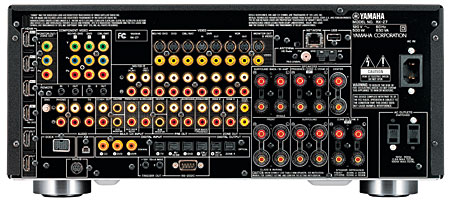 The feature-oriented POV isn't the only way to approach an A/V receiver—or even the best way. Performance is also a major consideration for the audiophile wing of home theater. If an AVR can't deliver the sonic fundamentals, it won't win a place on discriminating listeners' racks. Higher performance usually requires bigger and/or better parts: a beefier power supply, a heavier chassis, and on the digital side of things, slicker silicon for superior surround and video processing. Suddenly the price differential between the $600 model and the $2,700 model begins to make sense. You get what you pay for.
Brawn and Brains
Yamaha AVRs fall into three classes: the higher-end RX series, including the RX-V and RX-Z models; the budget-oriented HTR series; and the next-generation neoHD YMC series of modestly powered media controllers. The RX-Z7 is currently the flagship of the line.