Yamaha RX-Z11 A/V Receiver
More canals than Venice.
My very first home theater system in the mid-'80s had a Yamaha DSP-1 surround processor at its core. Yes, Yamaha has been in the multichannel business for that long, and yes, I'm that old. That first system was sad in many respects, lacking both a subwoofer and a center-channel speaker while including a "display device" that was nearly thicker than it was wide. Still, the Yamaha's many parameters certainly kept me entertained. So while the new $5,500 11-channel Yamaha RX-Z11 A/V receiver may lack the ability to add a demonic undercurrent as harmony to Mr. Furley's voice on Three's Company, there's more in the way of features here than you can shake a gondola oar at.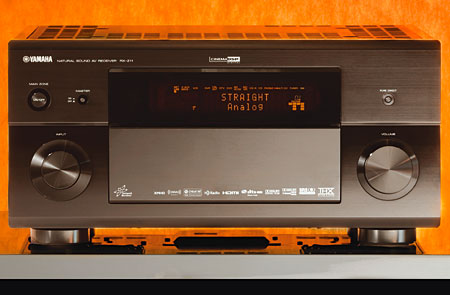 Yamaha-Mama Mia!
If you're itching for a domestic disturbance, you should put on your serious face and tell your significant other that you want to use all 11 of the Yamaha's amplified channels and both subwoofer outputs in your sub-prime-mortgaged family room. Duck the flying dishes and pull back to a sensible 5.1 or 5.2 setup, and you'll have enough amplified channels left for three more two-channel listening zones elsewhere in your McMansion. Seven of the RX-Z11's 11 channels are rated at 140 watts, while the four remaining "presence" channels are limited to 50 watts.
The RX-Z11, like my reference Marantz SR-8002, offers two HDMI outputs, so you can connect both a flat-panel display and a front projector to your receiver. That's probably not unusual for a receiver at this price point. But you'll have to switch between the two HDMI outputs because they're not active simultaneously. Regardless, the four HDMI inputs (five, including the one behind the drop-down front-panel door) and four component video inputs should be more than adequate for anyone. For now.
The RX-Z11 possesses a host of video-processing options. It can convert any analog video format to any other analog video format, even component to S-video or composite video. This is an unusual but useful feature when feeding adjoining rooms. The RX-Z11 can also convert analog video to HDMI and scale it up to 1080p. Or you can choose to leave analog video alone and let it pass through to the display device with no scaling at its native resolution. In Kris Deering's extensive survey of six AVRs in the June 2008 issue of Home Theater, he found some problems with the RX-Z11 on the test bench, including poor cadence recognition of high-definition film and video material. When standard-definition sources were cross-converted to 1080p and output via HDMI, there was ringing and a loss of fine detail. Even if you only choose to use the Yamaha RX-Z11 as an HDMI switcher with no processing, Kris found both below-black and above-white video clipping. Yamaha needs to solve the clipping problem with video passthrough mode at the very least before it calls the RX-Z11 a flagship product.
Setup is very easy and intuitive. I love it when the planets align like that. Yamaha doesn't label the RX-Z11's physical connections with numbers, like Coaxial #3, and then make you assign digital and analog connections to specific inputs, like DVD. Instead, the physical connections on the rear panel are labeled with the same name found on the remote. So you plug your Blu-ray player's HDMI output into the BD/HD DVD input on the receiver's rear panel and then press the BD/HD DVD button on the remote to select it. Of course, if you do get flummoxed and run out of appropriate digital audio inputs, you can reassign inputs and even give them different front-panel names. For example, make the CD-R connection feed the VCR input, which is really your Xbox 360. Got it? Just remember, VCR equals Grand Theft Auto IV, and you're good to go.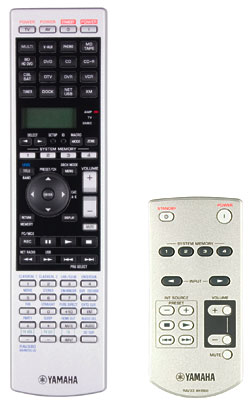 The RX-Z11 includes the proprietary Yamaha Parametric Room Acoustic Optimizer program, or YPAO. (Yeah, I know, where's the R?) YPAO utilizes a microphone and special base with three circular indentations where you should place the microphone when the GUI tells you to. If you go with the easiest and quickest of the three EQ setup methods, as I did initially, you won't even need the special base. As you move into the more advanced options, you can take room measurements from up to eight listening positions. Yamaha's measurements and controls are extensive, offering 28 separate EQ bands from 31 hertz up to 16 kilohertz. YPAO's informational screen indicated that my surrounds and left front were wired in reverse polarity, which proved to be incorrect upon physical inspection. I can only assume that Yamaha's software was confused by my true dipole electrostatic speakers, which emit as much sound out of the back as they do the front. YPAO also decided to ignore the speaker-size and crossover settings I'd made elsewhere during setup, but I manually corrected that later.
The RX-Z11 is stocked with features, from a phono stage (which sounded good), an AM/FM/HD radio tuner, Internet radio, an XM mini-tuner port, and a special connection for Yamaha's optional YDS-10 iPod dock. With the YDS-10, a special cable carries power, video, and audio signals between the dock and your receiver. If your TV is on, you'll see song information pop up for a few seconds each time a new song starts.
The Yamaha decodes Dolby Digital TrueHD and DTS-HD Master Audio from a bitstream if your player can pass it. My Toshiba HD-XA2 HD DVD player passed a bitstream of the Dolby TrueHD End of Days soundtrack to the RX-Z11, and the appropriate front-panel TrueHD indicator lit up. My Sony PS3 Blu-ray player can't output high-definition soundtracks as bitstreams, but it can decode them and pass them over HDMI as PCM with the same degree of resolution. To me, the only advantage to decoding in-receiver is that a light pops up on the front panel so you can be certain you've selected the right soundtrack.
La Dolce Audio and-a Video
The Yamaha is one very fine-sounding receiver. The day my Amazon CD order of The Very Best of Tom Rush: No Regrets arrived, I didn't get to sit down and listen to it until late at night. What better time to hear the original and arguably best version of "Urge for Going?" It was one of those magical moments when the quiet of the house is so absolute, you're transported to another world that you don't want to leave. The Yamaha RX-Z11 has a natural presentation with good source material. It's neither too bright nor too mellow, and it never lacks in detail.
With Danny Boyle's Sunshine on Blu-ray, the Yamaha artfully re-created the stark loneliness of space in this underrated sci-fi flick. The disc's DTS-HD Master Audio soundtrack sounded amazingly detailed. The "backward tape" sound snippets in chapter 6 cut through the powerful percussion used when the crew discovers that their shields are set incorrectly. The Yamaha demonstrated excellent resolution of audio details hidden in soundtracks.
The RX-Z11 feels like a powerhouse. While it ships set to handle 8-ohm loads, you can reset it to expect 6-ohm loads instead. My demanding MartinLogan Prodigy and Request speakers drop below even that. The Yamaha never had a problem when I set it to 6 ohms, and it only went into protection mode at 8 ohms once when I was running it full guns.
You like Dave Matthews? Me neither, but I have to admit his Live at Radio City concert Blu-ray with Tim Reynolds is well worth watching. (Plus my only other high-def concert disc is Celine Dion: Live in Las Vegas—A New Day, so no letters, or else.) A 5.1-channel Dolby TrueHD soundtrack might seem like overkill for two amplified acoustic guitars, but it washes over you. The RX-Z11's detail lets you hear all twelve strings of the two Martin guitars like individual actors in a play on "Crash Into Me." On "Down by the River," Tim Reynolds' pinky slide gives the song an otherworldliness that's more Pink Floyd than Neil Young. The sound was crystal clear, without the brightness or compression you might expect from a less dynamic receiver.
Despite the video problems that Kris Deering discovered, the Yamaha's performance with real-world material didn't bother me, either via my old plasma or my JVC DLA-HD1 projector. Some of the dark scenes in I Know Who Killed Me (Blu-ray) looked crushed, but I didn't see anything amiss with Sunshine. It seems like the quality of a movie's transfer has more of an effect on your experience than what Yamaha didn't get right. Still, at a minimum, the HDMI video passthrough should work as advertised without clipping white and black levels.
O Sole Z11-Oh!
The Yamaha RX-Z11 was the most trouble-free AVR I've tested in everyday use. Not once did I have an HDMI handshake moment, something I can't even say about my reference Marantz SR-8002. I loved the Yamaha's simplified hookup, solid remote, and onscreen GUI. If you select the GUI menu, there is a 3-to-4-second audio and video mute while your display device resyncs over HDMI, but it's tolerable and consistent. I wish it had a true onscreen display (OSD) for volume change and surround mode selection, though. The RX-Z11's GUI menu is simple to use, and what you can't figure out on your own, the owner's manual will explain in clear, excruciating detail.
If you like to fiddle about, the Yamaha will entertain you for years. It has some of the most advanced audio tweaking available today, but you don't have to tweak it if you don't want to. The RX-Z11 includes your basic food groups, like THX, Pro Logic II, and the ability to decode the highest-resolution audio formats available. All of these features come together to make the RX-Z11 a real standout.
Highlights
Powerful sounding, musical
Two HDMI outputs and enough audio capability to satisfy four rooms
High-definition audio format decoding
Push the Enhancer button on the remote to make crappy MP3s sound a little better