Yamaha RX-V863 A/V Receiver
Making receivers easy. Well, easier.
The Consumer Electronics Association recently kicked off a "Convert Your Mom" campaign to advance the transition to digital television. One thing your mom will probably never want is a surround receiver. Sure, no home theater buff in her right mind would relegate audio functions to TV speakers. But, although the receiver is the nerve center for many systems, it's also a stumbling block to many potential users. Receivers just do too many good things—entailing setup and adjustment hassles along the way. Make them simpler, and you lose capabilities. Make them full featured, and you get an instruction manual that's like War and Peace (minus the literary merit).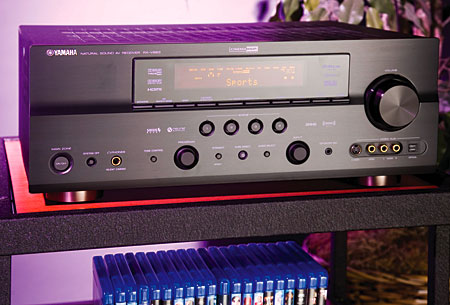 Manufacturers like Yamaha, however, are doing the best they can to make the surround receiver's cornucopia of features comprehensible and accessible to the user. The RX-V863, like most receivers nowadays, includes automatic setup and room equalization—and the latest version is not only faster to set up, at less than three minutes, but it also provides up to six settings, so a large family watching a movie needn't use the same settings as a lone kid using a video game. Yamaha also provides what it calls scene templates, which allow you to further adjust the receiver for different applications.
Yes, this is a feature-laden product. A proprietary jack connects either an iPod dock, the YDS-10, or a Bluetooth adapter, the YBA-10. Via the latter, the receiver can connect wirelessly to a Bluetooth cell phone, music player, or PC. Both adapters are optional. Unfortunately, you can't connect both at once. For radio, this receiver is a quadruple threat—with Sirius, XM, the new over-the-air HD Radio, and old-style AM/FM. And it's got the full complement of next-gen surround decoding, including Dolby TrueHD, Dolby Digital Plus, DTS-HD High Resolution Audio, and DTS-HD Master Audio (as well as multichannel PCM).
Make the Scene
What does Yamaha hope to accomplish with the scene template controls? Any time you select an input on a receiver, it remembers your previous soundfield selection. That's convenient if you use each input in the same manner every time. But what if you use a single source component for different purposes—for instance, a DVD player for either DVDs or CDs? In those situations, the scene templates allow further refinements.
There are four scene buttons on both the front panel and the remote. As shipped, the receiver labels them DVD Viewing, Disc Listening, TV Viewing, and Radio Listening. You can change these to other preloaded selections, a total of 19, from the scene template library. You can also create your own scenes, for one-time or permanent use, with name, input, and soundfield mode.
When I scanned through the manual's scene descriptions, I found a few missed opportunities. For instance, Yamaha's three CD-listening scenarios—pure direct, seven-channel stereo, and two-channel stereo—do not include the Dolby Pro Logic II music mode. And if you can do stereo via pure direct, why do it any other way? But Yamaha does let you roll your own, so this is a potentially useful feature, even if you're fussy like me—and certainly a user-friendly move.

There are three HDMI inputs and one HDMI 1.3 output; ditto for component video. The HDMI jacks support 1080p/24, Deep Color, x.v.Color, lip-sync compensation, and up to a 120-hertz refresh rate. [Yamaha lists this pointless 120-Hz capability as one of the receiver's minor features. There are no 120-Hz sources for a receiver to pass, nor any HDTVs that can accept 120Hz inputs, even if they existed. HDTVs with 120-Hz capability produce their 120-Hz refresh rate internally from 60-Hz or 24-Hz sources.—Tech. Ed.]. The receiver upconverts 480i/p analog video to 1080p. Oh, and there's a phono input. Power is rated at 105 watts for all channels—see our measurements for an objective perspective.
One thing the RX-V863 doesn't have is a fancy color menu interface. It seems odd for a market leader like Yamaha to stick with monochrome graphics that evoke the 1980s when competitors are moving their interfaces into color graphics with 3-D-like room diagrams for speaker settings. Perhaps Yamaha just favors substance over style. It was easy enough to navigate the menus with the simple, no-frills remote.
I auditioned the Yamaha with my trusty Paradigm Reference Studio 20 v4 speakers, an Integra DPS-10.5 universal player, Pioneer BDP-HD1 Blu-ray player, Rega Planar 25 turntable, Shure V97xE cartridge, and NAD PP-1 phono preamp.
Lamb Pies
Lions for Lambs (DVD) juxtaposes four story lines: college students headed toward military service in Afghanistan, what happens after they go overseas, another student intensely conferencing with his guidance counselor, and a reporter interviewing a senator about a military initiative. The staging is mostly static and talkative, making clear dialogue reproduction an absolute imperative. Although the DTS 5.1 soundtrack had kind of a rough vérité quality—as opposed to the voices-on-pedestals feeling of some quality dramas—I caught all of the lines. With the speakers running full range, the receiver did a good job of knitting together the ingredients of a helicopter battle scene, including the roar of the chopper, the rattle of orchestral drums, and ballistics. My one quibble was that maintaining comfort required numerous volume changes—the receiver had a slightly brash tonal balance, and, at high-volume moments, it became too much.
Sweeney Todd's Dolby Digital 5.1 soundtrack required high volumes to make sense of the British accents (some real, some fake). Voices were not unduly bright or harsh, but the leading edge of the violins cut like a knife. Again, the receiver exhibited good dynamics, delivering some really menacing crescendos.

Up to this point, I had set up the receiver manually and avoided the room correction. The auto-setup program worked rapidly, as advertised. To my surprise, the EQ made the receiver even brighter than it had been with the EQ off. There was no mistaking the heightening of the upper-midrange frequencies in the movie's opening fanfare, with its wealth of pipe organ and orchestral color. After that, I decided to leave the EQ off.
When I switched over to high-resolution material, the receiver got a chance to thrive. Déjà Vu, on Blu-ray with PCM, didn't require a single volume change to tell the story of Denzel Washington as a bombing investigator. I caught all the dialogue and weathered all the effects without flinching. The lesson may be that this receiver is on the revealing side and somewhat intolerant of antiquated forms of lossy surround.
Focus on Music
Focus III is an album that's taken me a few decades to warm up to. The Dutch band of the same name chose the studio expressly for its heavy sound, and the result is a flat, smoky ambience that's a little short on upper-midrange detail and air. It doesn't quite do justice to the band's beautiful melodies and pleasingly loose, jazzy playing. However, the CD release—prepared by original producer Mike Vernon—blows away some of the smoke, and the Yamaha's detailed presentation made the reticent recording almost sparkle. The musicianship already does, especially ace guitarist Jan Akkerman.
Billy Cobham was fresh from the Mahavishnu Orchestra when he pulled fellow band member and manic keyboardist Jan Hammer into the studio for Spectrum,
Cobham's first solo album and part of my vinyl cache. Befitting a drummer-led fusion band, the mix puts the drums right up front, and the Yamaha had enough midbass energy to make them roll and punch with reasonable (if not overwhelming) power.
Say what you will about the music industry, its classical divisions have been pumping out high-value boxed sets like champions. Gerhard Oppitz's five-CD set of Brahms: Complete Piano Music lists for 30 bucks and can be bought for 20. The 1989 recording has a richly detailed if slightly clattery midrange, which the Yamaha delivered faithfully, and strong bass in the left hand, which my sub-less system underplayed.
Yamaha has long excelled in the $999 receiver category, and the RX-V863 is no exception. This receiver has a smart new feature set that combines original ideas (scene), rarities (Bluetooth), and new things we must all have (Dolby TrueHD, et al.). The graphic user interface could use an overhaul, but apart from that, this receiver is right up to date.
Highlights
Scene controls allow user to attach multiple soundfields to each input
A strongly outlined midrange and decent bass
A well-thought-out midpriced receiver

SPONSORED VIDEO