Yamaha RX-V3800 AV Receiver
Evolution is the continual process of change. For electronics manufacturers, evolution is often defined as updating equipment just enough from year to year to make consumers willing to upgrade to the latest and greatest. One could argue that until the advent of HDMI a couple years ago, the evolution of the AVR (Audio/Video Receiver) hadn't featured a compelling reason to upgrade in a while.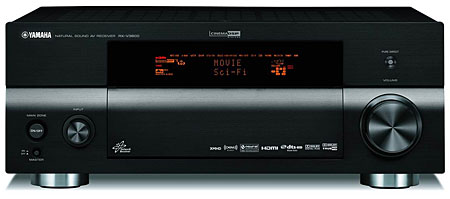 Before HDMI, the AVR was mainly an "audio" device with the inclusion of video switching. Now the " V for video" is taking a more prominent role in the evolution of the Audio/Video Receiver by adding advanced video processing into the equation. But this year's evolutionary "hook" for the AVR is the ability to decode the hi-res audio codecs employed by HD DVD and Blu-ray Disc- Dolby Digital Plus and the two lossless audio coding schemes, Dolby TrueHD, and DTS-HD Master Audio. And HDMI is the only way to fly there.
All of the major manufacturers are updating their AVRs with internal decoding of the new advanced audio codecs. In the popular price range of $1,500-$2,000, there are a number of contenders, including the subject of this review, Yamaha's $1,699 RX-V3800.
Form and Features
By the numbers, the Yamaha RX-V3800 has a lot to offer. At this price, consumers expect a lot of meaningful features, and this Yamaha isn't short on any of them. It boasts seven channels of amplified power at 140-watts per channel, weighs in at 38 lbs., and will not only decode legacy Dolby Digital and DTS, and, as noted, also internally decodes Dolby TrueHD and DTS-HD Master Audio lossless.
The only caveat is that decoding these streams inside the AVR instead of the player requires both devices to not only be HDMI 1.3 compatible, but the player must be capable of transmitting these tracks as native bitstreams. As of now, very few players can do this. If your player can't transmit the native bitstream, it's likely that the player can transcode at least the TrueHD streams to multichannel PCM and transmit that over HDMI (players that can do the same with DTS-HD MA are just starting to appear).
The front of the amp has a familiar look. There is only a power on/standby button, accompanied by an input selector on the left and a larger volume control on the right. There is also a flip down panel in the center of the unit which provides access to an auxiliary A/V input panel, headphone jack, and the input jack for the provided calibration microphone (more on that later).
Looking at the rear panel of the V3800 is quite an intimidating sight. I shudder to think of any system that could utilize every input on this AVR. I'm not sure there's an AV nut out there anywhere that could give all these connections a component to connect to.
On the audio side, there are three coaxial digital inputs, four TosLink digital inputs, and two TosLink digital outputs as well as a phono input with grounding screw (analog of course). There is also a 5.1-channel analog input with the ability to expand to 7.1-channels, but I had to read this section of the manual multiple times in order to understand how to use this feature.

If you use a normal 5.1-channel analog source you simply hook up each corresponding cable to the correct connection. To expand for a 7.1-channel source, you have to use one of the other stereo analog inputs on the receiver (DVD, CD, HD DVD/BD etc.) and then configure the setup menu so the receiver correctly routes that input and combines it with the multichannel analog input. I wonder why Yamaha just didn't provide a straightforward set of 7.1-channel analog inputs?
Also included are 7.1-channel analog outputs as well the ability to run separate analog stereo outputs to Zones 2 and 3 for piping audio to other rooms in your house or even to an outdoor speaker system. Also included are inputs for an optional iPod Dock and XM satellite radio. There is also an Ethernet connection that allows you to stream compatible MP3 & WMA music files over your home network (unfortunately, WMA Lossless is not supported), and you can also connect to Internet Radio if you are so inclined.
In addition to the seven amplifier channels, there are no fewer than 11 sets of speaker terminals. You can configure a 7.1-channel setup, or you can bi-amp your front speakers in a 5.1-channel setup. The amp also offers a hook-up for a pair of "presence" speakers above and behind the front left and right channels (not tested here). In conjunction with Yamaha's proprietary Cinema DSP 3D mode, the presence speakers provide extra ambient effects by supplementing the sound from the front speakers. If you wish to use the presence speakers, you lose the rear surround channels in a 7.1-channel setup, but both can be connected at the same time and will be automatically switched on and off depending on the DSP mode you choose.
There are outputs for Zone 2 or Zone 3 speakers as well, but as you would expect, you lose your back surround speakers if you utilize the internal amplifiers in the V3800. All of the speaker terminals are all located in the same general location on the rear of the amplifier and are very crowded. I use banana plugs from my speaker connections, and even the daintiest of fingers will have a hard time plugging them in securely. For those of you who want to hook up bare wires I have two words for you: good luck. Yamaha has included a speaker wrench, which makes tightening the connectors a bit easier. But manipulating the wires in such a confined space is difficult.