Yamaha DPX-1300 DLP projector
"If you're familiar with the look of Yamaha's last two flagship DLP projectors, this latest version will definitely give you a case of déjà vu. But that's true of the latest projectors from most manufacturers. The world of home video projection is moving too fast to design new cosmetics for every new model."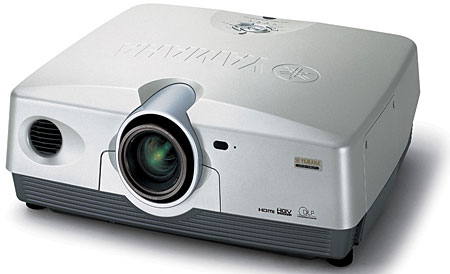 I opened my review of the Yamaha DPX-1200 with that paragraph. Now, with the introduction of the DPX-1300 ($12,495), Yamaha is on its fifth generation single-chip DLP projector, and the above words still apply.
As Shane Buettner noted in his review of the Marantz VP-12S4, projectors with 1280x720 resolution such as that Marantz—and this Yamaha—are at risk of rapid obsolescence with true 1920x1080 DLP chips from Texas Instruments scheduled to appear in projectors as early as this coming fall. But no one yet knows the pricing structure we'll see with these new models, or the possible teething problems they may experience. There's nothing in the performance of the DPX-1300 that suggests it will be blown away by another DLP projector this year—or next.
Feature This
Unless you have an eagle eye for detail, the DPX-1300 is impossible to distinguish cosmetically from the DPX-1200. Most of its features are also carried over, with a few important changes. That earlier review is just a mouse click away, so if you want more detail on any of the features common to both projectors, simply jump to that earlier review. In fact, I encourage anyone seriously considering a new DLP projector to read both this review and DPX-1200 piece to understand where Yamaha projectors sit in the front projection universe.
For this report, I'll simply summarize the main features of the DPX-1300 that are essentially unchanged:
• TI's 1280x720 DarkChip3 DMD (Digital Micromirror Device).
• A large, heavy (31 lbs.) design with no light leakage and low noise fan.
• Three built-in test patterns (crosshatch, reverse grayscale ramp, and color bars.)
• Motor-driven vertical lens shift (V.Pos), Focus, and Zoom (1.6x). A 100" (diag.) screen requires a throw distance between (9.9') and (15.9'.)
• A seven-segment color wheel with a dark-green segment.
• A wireless remote control nearly identical to the one furnished with previous Yamaha DLPs. Only six of its buttons are illuminated, but they're the ones most often needed in the dark. There is direct access to all the inputs. In/out jacks are also provided for using the remote hard-wired to the projector if it's located out of IR wireless range.
• The same aspect ratio options as on the DPX-1200, with the same advantages and limitations.
• Video adjustments that are, with a few exceptions, fully functional from either analog or digital (HDMI) video inputs, with all of the most frequently used input resolutions: 480i, 480p, 720p, and 1080i. Opposed to some digital projectors, here the color saturation and tint controls are fully operational with HDMI and DVI sources.
• The same 10 gamma settings. And, as before, the gamma curves designated with capital letters are claimed to simulate CRT gammas; I found these gammas more natural-looking with video programming than the lower case designated gammas.
• The same controls for adjusting the projector's peak and minimum light output (not including the traditional White Level and Black Level controls): a three-position iris, White Peaking, and Lamp Power.
• The same flexible controls for adjusting the color temperature and color points. The new projector also has the same limitation as its predecessor: overall adjustment of the color temperature is provided, but not adjustment at both the top and bottom of the brightness range (there is one exception to this- see Tests and Calibration for more details.) This adjustment limitation may be academic, however, as I was able to achieve an excellent calibration without it.
• Multiple memories (six) for each input, including six separate memories for each input for both SDTV and HDTV sources. An additional six memories are also provided for RGB-PC sources connected to inputs A, B, and DVI.
• An excellent owner's manual.
• A D4 input, which is a component connection little used here but apparently popular in Japan.
How It's Different
Starting with a less interesting (but still welcome) change, the DPX-1300 has both HDMI and HDCP-compatible DVI inputs. The DPX-1200 had a single digital (HDMI) digital video input. The DVI input may be configured to operate with either computer or video sources. The only change in the new projector's remote control is the addition of a direct selection button for the new DVI input.
The DPX-1200 offered five steps of lamp brightness from 80% to 100% of maximum output. The DPX-1300 offers 1% steps throughout this same range.
There are two new, so-called overshoot suppression controls on the DPX-1300 (range and level), which are claimed to detect and reduce noise-generated (!) overshoot that degrades image outlines. It isn't at all clear what this means, and the controls only operate with 480i (SDTV) and 480p (EDTV) programming. It did seem to have a very subtle effect—a slight sharpening that I did not judge to be an improvement—on a 480i HDMI DVD source.
Realta HQV Inside The biggest change to the DPX-1300 is in its video processing. The DPX-1200 used Faroudja silicon (with DCDi) to perform the video scaling and deinterlacing chores. The new projector has moved to the Realta HQV chip from Silicon Optix.
The Realta HQV (for "Hollywood Quality Video") processor is a direct descendant of the professional video processors from Teranex. I reviewed one of those megabuck processors together with the Reference Imaging CinePro 9x Elite 9-inch CRT projector back in 2002. This projector/processor combination produced the best standard definition images I have ever seen on my projection screen—and at roughly $115,000 for the package, anything less would have been a letdown. The Teranex processor alone checked in at $49,500. Still, the memory of those images is an unmatched benchmark that haunts me with every digital projector I see.
Silicon Optix acquired Teranex in 2004, and since that time has managed to port the Teranex video processing elements most significant for home theater into the far more affordable and compact Realta HQV. The Realta is a fully field programmable gate array processor (future improvements can be downloaded to it in the field) that performs its manipulations at the pixel level. It employs greater than true 10-bit processing and is said to capable of over one trillion operations per second.