Yamaha Aventage RX-A1010 A/V Receiver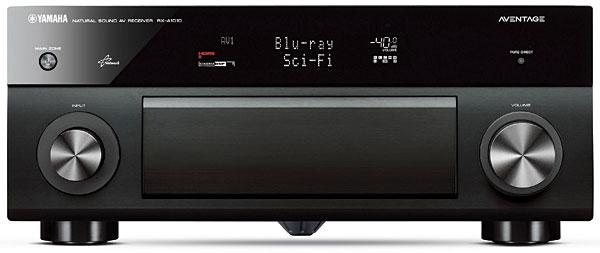 In George Orwell's futuristic novel 1984, Big Brother takes away the citizens' free choice. This is one man's vision of our future—and it's turned out to be just the opposite. In fact, one could argue we have too many choices. For example, say you're looking for a new car and have narrowed down your choice to a Ford Mustang. Your decision doesn't stop there. You must now choose among 11 different models that range from $21k for the base to a jaw-dropping $54k for a Shelby GT500 Convertible. If money is no object, then grab some sunscreen and cruise in style. But for anyone on a budget, some difficult decisions need to be made before your purchase.
The same variety of choices is found when shopping for an AVR. Even if you've decided to buy a Yamaha-branded receiver, there are 16 different models to choose from, starting at $250 (RX-V367) up to the flagship Aventage RX-A3010 for $2,000. Even if you limit your choices to the premium Aventage line, you'll still have to decide which of the five models suits your A/V needs and budget.
The Aventage line was introduced in 2010 with one mission: Take a dramatic leap forward with best-in-class audio/video component design, studio-grade sound and sophisticated video enhancements to home theater, and unparalleled attention to detail in design, engineering, and fabrication. Does Yamaha meet its high expectations? Read on and see.
Attention to Detail
The RX-A1010 sits in the middle of the pack in price ($1,100) and is the most expensive model that offers seven channels of amplification—the two higher-end models have nine. Once you cross over the $1,000 barrier, consumers expect a lot of bang for their buck, and the Yamaha doesn't skimp on many details.
The stated power is 110 watts per channel (with two channels driven), and the AVR weighs in at 33.3 pounds. Yamaha employs an Anti-Resonance Technology (A.R.T.) Wedge that places a fifth foot in the center of the unit to reduce vibrations from the power transformer, power transistors, and heat sinks. Further refinements include an aluminum front panel to shield the circuitry from external noise and electrical energy created by various electronics, and a symmetrical power amplifier layout that separates the left and right channels. Unfortunately, the H-shape, cross-member frame found in the two higher-end models isn't included.
The elegant front panel isn't the least bit intimidating and includes a large, easy-to-read LCD text display and four user-controlled functions: power on/standby button, an input selector on the left, a larger volume control on the right, and a tiny Pure Direct button on the upper right-hand side. There's also a flip-down panel in the center of the unit that provides access to auxiliary A/V inputs (HDMI, analog audio and video, and Toslink), a USB port, a headphone jack, and the input for the provided calibration microphone (more on that later).
Like all AVRs in this price range, the rear panel has more connections than most users will ever need. Highlights include seven HDMI 1.4a inputs/two outputs, component video (four in/one out), six analog audio/video (including S-video) inputs, a phono input with grounding screw, and a 7.1 multichannel audio input/output. Other connections include Sirius XM, Ethernet, and a proprietary iPod docking port (purchased separately).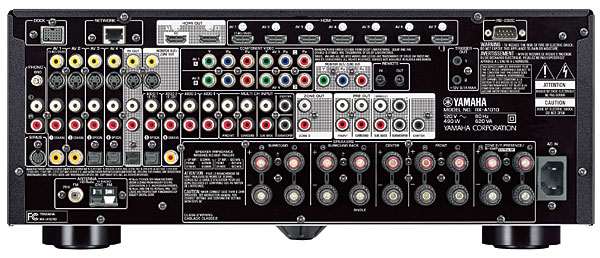 Although the RX-A1010 only has seven channels of amplification, there are nine sets of speaker terminals. You can configure a traditional 7.1-channel setup, biamp your front speakers in a 5.1-channel setup, power a second zone, or hook up a pair of presence speakers above and behind the front left and right channels. In conjunction with Yamaha's proprietary Cinema DSP 3D mode, the presence speakers provide extra ambient effects by supplementing the sound from the front speakers. Yamaha has employed this for years, and other surround modes from Dolby and Audyssey have followed suit. All of my testing was done using a traditional 7.1-channel system with two surround back channels.
In lieu of Audyssey, Yamaha uses its own proprietary room setup program called YPAO (Yamaha Parametric Acoustic Optimizer). One thing I love about YPAO is it's lightning fast and extremely accurate in measuring the speaker distances and volume levels when double-checked with a tape measure and a RadioShack SPL meter. The software correctly set all of my speakers to small (I use M&K studio monitors) and the crossover setting to 80 hertz.
Price: $1,100 At A Glance: Audiophile-quality sound • Great build quality • Outstanding iDevice app