Xploder HDTV Player for PlayStation 2
It's curious timing for a new PS2 accessory, but this one is a dandy.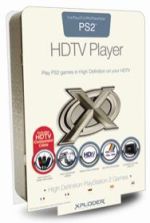 For those of you who just couldn't wait for the debut of the PS3, or, more to the point, couldn't afford to buy one of the scarce wonder boxes off of eBay, there's no reason you can't enjoy your favorite PlayStation titles in high definition right now, thanks to the Xploder HDTV Player for PlayStation 2 ($40).
Operation is quite simple: Load the Xploder disc and follow the onscreen instructions, using your controller to select the desired resolution—480p, 720p, or 1080i, whichever your eyes prefer and your monitor can handle. It also supports the less common 576p format—which is best for TVs with limited aspect-ratio controls—and VGA, although the necessary cable for this option is sold separately. A set of component video cables for PS2 is packed inside the badass metal box, though, in case you never got around to upgrading your console previously, or you can give them to a friend.
The Xploder saves your unique settings to its memory card, so the particulars are a one-time setup. Then you swap the disc out of the tray, drop in almost any PlayStation 2 game, and revel in the glory of a sharper, clearer image. It can even appear brighter, as a layer of obscuring video haze seems to be lifted. Improving the look of PS2 games is all that the HDTV Player is designed to do, but it will upconvert some non-copy-protected DVDs to the higher resolution, as well.