The Xbox 360
The Xbox 360 Is All Around Us
We offer facts, figures, and first impressions of Bill Gates and company's latest (and quite major) step toward providing Microsoft with a foothold in the world's living rooms. We look at games and accessories here, too, with a full review in the March 2006 Home Theater Magazine.
From Microsoft, the creator of the Windows operating system, Media Center, and, of course, the original Xbox, comes the new Xbox 360. The first detail that we home theater buffs need to stop and acknowledge is the strict set of standards that Microsoft has decreed for Xbox 360 software: All games must support high-definition resolutions of 720p, versus the original Xbox spec's option to support any resolutions higher than 480i. All games are also optimized for 16:9 widescreen viewing, like modern widescreen DVDs, and support antialiasing technology for an even more natural-looking picture on HDTVs. The audio initiative is just as impressive, as all games will offer full Dolby Digital 5.1, and Microsoft has not ruled out additional channels for the future. Of course, the Xbox 360 will work with any standard TV that supplies composite video and analog stereo inputs.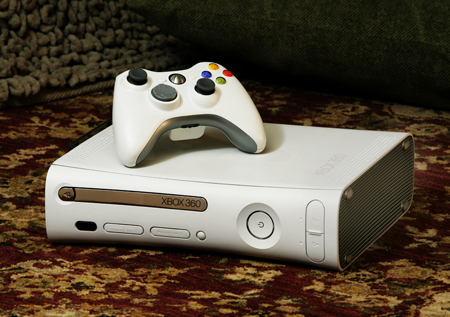 There are two ways to buy this new system, so, just to be clear, all of my comments pertain to the $400 Xbox 360 (a.k.a. Premium Bundle), not the $300 Core System. The console itself is technically identical, with only a few spiffier cosmetic metallic accents on the face, but the complement of accessories is drastically stepped up. The pricier bundle includes a wireless controller, high-definition component video/analog stereo cables, a removable 20-gigabyte hard drive, a remote control, a headset, and an Ethernet cable. The central processing unit of the Xbox 360 contains three separate symmetrical 3.2-gigahertz IBM PowerPC core processors, with 512 megabytes of RAM. The new hardware is only a pinch shorter in all three dimensions, but, perhaps owing to its concave design and dcor-friendly color scheme, it looks significantly smaller. Interchangeable faceplates will also enable just about anyone to find the ideal look for his or her home theater, or for any other room. The external AC adapter is ludicrously immense, however, possibly due to lessons learned from some problems with the original Xbox's power supply.
On the rear panel is a large, proprietary audio/video output, which connects via a thick cable that terminates as both component video and composite video with analog stereo: Just flick the TV/HDTV switch at the plug to choose between the two. Component video output offers resolutions of 480p, 720p, and 1080i. Presently, the Xbox 360 supports neither DVI nor HDMI connections. Also located at the cable's plug is a digital optical audio output. The audio profferings are analog, Dolby Pro Logic II, and Dolby Digital 5.1. One USB 2.0 port is located at the rear, ostensibly for the wireless network adapter, sold separately, and two more up front, behind a vertical door to keep them clean and out of sight when not in use. The USB connections are a common standard by which just about any portable music player or digital still camera can be patched directly in to share its content.
The unobtrusive, upgradeable 20-GB hard drive attaches to one side of the console. Beyond any audio/video applications, the hard drive is necessary to store and access the various emulation software that is being written and supplied on an ongoing basis to provide backward compatibility to previous-generation Xbox games. These emulators recreate the operations of individual Xbox titles on the new 360 platform with definite improvements in the graphics. If you don't have your Xbox 360 connected to the Internet, you can download the latest updates to a computer, burn a disc, and walk it over to the console.
After you download and install the free Windows Media Connect software, also known as the Xbox 360 Extender, the Xbox 360 connects to a home network via Ethernet to access broadband Internet and to stream the JPEG photos and MP3s/WMAs stored on a Windows XP PC. The onboard compact-disc player can rip a CD to the hard drive in about five minutes, and, with Internet access, the 360 will also add album, artist, and track-title information. At press time, music downloads from the Internet directly to the Xbox 360 were not possible. Some WMA music samples and high-definition video clips come preloaded on the hard drive.
Rumor has it that the Xbox 360, loaded as it is with high-end componentry, is actually being sold at a loss versus actual production cost, in hopes that eventual software sales will push The New Guy into the black. Based on what I've seen so far, huge profits will be imminent.