Wreck-It Ralph
If he can just earn a Hero medal, however, Ralph is sure he can get respect. But he knows this will never happen in Fix-It Felix, Jr. So he heads for Game Central Station, where all the games are linked together, to search for other opportunities to be a hero.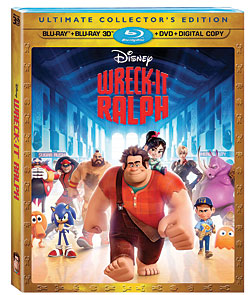 Ralph isn't the swiftest subroutine in the arcade, however, and quickly bytes off more than he can slew. His first stop is in Hero's Duty, a sci-fi game that promises fame and a quick medal. But his bumbling unleashes a swarm of CGI critters that threaten the entire arcade. Escaping from the mayhem, he crashes into Sugar Rush, a sweet-toothed player's game come true.
Wreck-It Ralph is an animated Disney feature produced in-house and falls a little short of the best of the Pixar-Disney co-productions. But it has undeniable charms of its own, drawing inspiration from a grab bag of other films, including Hulk, Starship Troopers (Hero's Duty), and both Charlie and the Chocolate Factory and Speed Racer (Sugar Rush). There's even a hint of Alice in Wonderland, with Alan Tudyk's near spot-on vocal cloning of Ed Wynn as the Mad Hatter–like King Candy.
The animation is less texturally rich than in many computer-animated features, and the motion of some of the characters, depending on the game they belong to, is sometimes restricted in a way that mimics that game. But that's all intentional. The production design and color are brilliant, particularly in Sugar Rush, the movie's climactic game. The audio mix is also excellent overall, though the deep bass in the heaviest action scenes is less room-shaking than you might expect. The 3D design, however, is glorious throughout, particularly in the sci-fi game Hero's Duty and the go-cart race in Sugar Rush.
The extras are limited, but a clever, 3D black-and-white theatrical short, Paperman, a brief but interesting making-of featurette, and alternate and deleted scenes (roughly storyboarded) are all fun.
Blu-Ray 3D
Studio: Disney, 2012
Aspect Ratio: 2.39:1
Audio Format: DTS-HD Master Audio 7.1
Length: 101 mins.
MPAA Rating: G
Director: Rich Moore
Starring: John C. Reilly, Sarah Silverman, Jack McBrayer
Ralph plays the bad guy in the decades-old video game Fix-It Felix, Jr. Each time the game is reset, he trashes the high-rise apartment building that serves as the game's main setting, only to have Felix instantly repair the damage. It's a living, but Ralph lives alone in a junk pile, the other characters in the game want nothing to do with him, and he finds relief only in a Bad-Anon support group. As another member of that group argues, he may be a bad guy, but he isn't a bad guy.