Woodstock at 50: Back to the Garden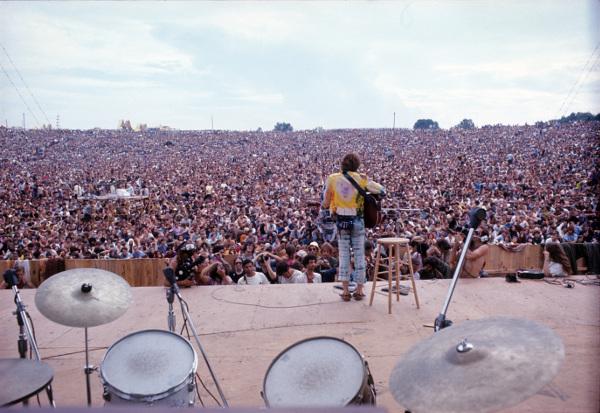 Fifty years ago today, the Woodstock Music & Art Fair commenced at Max Yasgur's Farm in Bethel, New York, at exactly 5:07 p.m. — the very moment rhythmic folk 'n' soul singer/songwriter Richie Havens took to the stage. It's quite the understatement to say that the world culture has never been quite the same ever since the very second Havens strummed the chords of "From the Prison" on his Guild D40 acoustic guitar, and the first sounds of Woodstock rang out into eternity.
Indeed, the deeply felt vibes of three (technically, four) days of music, communion, and collective harmony instantly catapulted that long weekend of August 15-18, 1969 directly into the history books. The zeitgeist moment that was Woodstock showed everyone how the counterculture ethos had spread and bled into the mainstream. Half a century later, the core tenets of Woodstock are being revisited and re-evaluated by generations old and new alike in their daily lives — not to mention via the voluminous related AV experiences that have been shared across many a multimedia option in the interim.
Back in 2014, I took a deep-dive look at the 45th anniversary of the event by delving into the Warner Bros. Blu-ray release dubbed Woodstock: 3 Days of Peace and Music — The Director's Cut, 40th Anniversary Revisited. (Note: Though this BD set was indeed released to coincide with Woodstock 45, the package still had the "40th" distinction in its nomenclature.) This updated release included original location music engineer/recordist and noted producer Eddie Kramer's surround mixes of the bonus material not in the original March 1970 movie, plus an additional, third disc called "More Extras," including never-before-released performances from the likes of Santana, The Who, Crosby, Stills & Nash, Joan Baez, Jefferson Airplane, Melanie, Sha Na Na, and The Butterfield Blues Band. Additionally, Kramer and his team aurally chronicled career-defining performances from the likes of the aforementioned Richie Havens, Joe Cocker, Sly & The Family Stone, Janis Joplin, Ten Years After, The Who, and Jimi Hendrix (to name but a few).
While no standalone 50th anniversary Blu-ray release has been confirmed as of presstime, theatrical screenings of Michael Wadleigh's extended director's cut have been scheduled across the country for one night only, on August 15. [You still may be able to find tickets here.] "The movie was over three hours long or whatever it was, but it was three days of music," observed Graham Nash, who performed with Crosby, Stills & Nash (& sometimes Young) on Monday, August 18 from 3:00-4:00 a.m. in both acoustic and electric sets. "There was an incredible amount of sh-- that wasn't put on there. I wanted to go through everything that wasn't on there and go, 'Look at this performance by John Sebastian! Put it in there!'"
Though Nash himself wasn't involved per se, he at least got his wish on the audio side of the ledger, as four songs by Sebastian duly appear on Disc 3 in Rhino's 10CD Woodstock – Back to the Garden – 50th Anniversary Experience box set, which contains 162 tracks and is the first-ever Woodstock release to include live recordings of every performer at the festival. Upping that ante, an uber-inclusive 38CD Woodstock – Back to the Garden – The Definitive 50th Anniversary Archive collection, also from Rhino — housed in a plywood box, limited to 1,969 copies, and featuring a staggering 432 tracks and scores of memorabilia — sold out immediately at the beginning of August. Additionally, more economical 3CD and 5LP versions of the 50th Anniversary Experience set have been made available, each containing 42 tracks.
Right up until the veritable last minute, original Woodstock chief organizer Michael Lang was hopeful that an epic 50th anniversary live event would occur. "Much will be updated for the 50th, and it will be a unique experience," Lang told me personally a while back. But for numerous reasons that were, for good or ill, somewhat salaciously played out in the press over the past few months, an official Woodstock 50-branded celebratory concert was just not meant to be — and maybe that's ultimately for the best. That said, original Woodstock performers Carlos Santana (who had the 2:00-2:45 p.m. slot on August 16, 1969) and John Fogerty (who was then with, of course, Creedence Clearwater Revival, from 12:30-1:00 a.m. on August 17, 1969) will be performing at the Bethel Woods Center for the Arts, which is located at the original Woodstock site, over this upcoming weekend. (More information can be found here.)
While one could fill an entire house with the amount of memorabilia that's out there in the wake of Woodstock 50, certain talismans like the aforementioned Rhino box set releases; officially authenticated pieces of the actual performance stage that have been made available in various forms via Peace of Stage; and select books like Mike Greenblatt's Woodstock 50th Anniversary: Back to Yasgur's Farm; Julien Bitoun's 50 Years: The Story of Woodstock Live; and Aidan Prewett's Woodstock at 50: Anatomy of a Revolution, are all worth spending the requisite amount of reminiscence time with, imo.
As for me, I'm getting ready to kick off my annual ritual of cuing up the Woodstock Director's Cut and bonus performance material on Blu-ray at, oh, let's say, 5:07 p.m. Not only that, but I've also spent the past decade compiling comments about Woodstock from a number the of artists who performed there themselves, along with gathering thoughts from select organizers, attendees, and influencees alike — and all for your benefit! It's been a long time coming and a long time gone, so without further hippie-dippie ado, I now present to you the spirit of Woodstock as told by those who know it best, 50 years after the garden. We must be in heaven, man. . .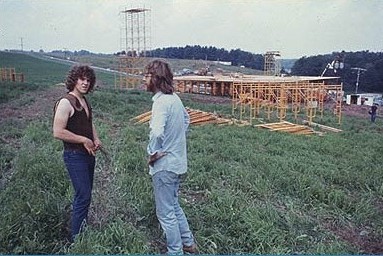 Mike Mettler: Here's a simple but slightly loaded question: Did you think you'd still be talking about Woodstock today? Why do those three-plus magical days continue to resonate with you?
Michael Lang (chief festival organizer): You know, I've come to terms with the fact that I'm always going to be talking about it. I think it represents people's way of being in a community and relating to each other. It was a very encouraging moment. It gave people a sense of hope around the world. In many ways, it's stood up.
Graham Nash (harmonically gifted vocalist with Crosby, Stills & Nash — and sometimes Young — who played from 3:00-4:00 a.m. in both acoustic and electric sets on Monday, August 18, 1969): I really understand, in terms of society, how important Woodstock was. I mean, there's a lot of that kind of vibe on our own CSNY 1974 box set [released in July 2014] — either from people who were at Woodstock, or who wished they'd been at Woodstock. I think they're kind of reliving that hippie kind of dream, and that's why they came to see us.
Arlo Guthrie (folk-hero vocalist/guitarist who played from 11:55 p.m.-12:25 a.m. on Friday/Saturday, August 15-16, 1969): Imagine what would happen if an insurance company announced that for the safety and well-being of their clients, fees would be waived for a year. The world would be astounded. But, that's exactly what the promoters of the Woodstock festival did. And I think that's why we're still talking about it. It set an example of human decency, even at the expense of making a fortune. We could use some more of that these days, I think.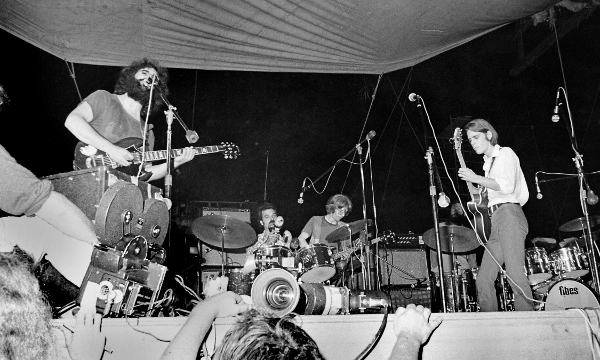 Tom Constanten (mercurial keyboardist with The Grateful Dead, who played from 10:30 p.m.-12:05 a.m. on Saturday/Sunday, August 16-17, 1969): Our minds were already so blown. It was bigger than any of us could wrap our brains around. We knew we were onto something special, especially with all the people coming together to make music. We couldn't quite make out what it was going to be like, but we knew that what was happening was so amazing.
Gregg Rolie (galvanizing keyboardist/vocalist with Santana, who played from 2:00-2:45 p.m. on Saturday, August 16, 1969): Nobody's gonna let that one die, huh? (laughs heartily) Well, it was a milestone in music, it really was. Especially when the movie came out. It exploded. But nobody really knew that. "Okay, they're making a movie; that's great." You're not watching any of this happening; you're just playing. There were many festivals back then, and this was gonna be another one. But it turned into, "If you build it, they will come," like [1989's] Field of Dreams — or [1977's] Close Encounters of the Third Kind, even. It was wild. But it turned out to be that if you were there, you had a career. That was pretty much how it worked.
Melanie (nascent folk singer/guitarist who played from 10:50-11:20 p.m. on Friday, August 15, 1969): I walked onstage an unknown person, and walked off a celebrity. It was instantaneous. It was incredible. I thought it was going to be this pastoral thing — arts and crafts, with families and picnic baskets. My first concern was, "How can I possibly do this?" I'm somebody nobody's heard of, I just have a guitar, and what am I gonna sing?" I didn't even have a set written, or anything. I had one song that was being played by Roscoe on WNEW-FM in New York: "Beautiful People." I think he was the only one in the whole country playing that record. So maybe a quarter of a percent of those people had heard that record. It wasn't identifiable. I didn't have a press photo or anything!
I was just waiting around all day to go on, and I developed this wonky, nervous cough. I guess Joan Baez heard me coughing, over from the upper-echelon tent. And her assistant, some beautiful flower child person, came over and said, "Joan has heard you coughing, and thought you might like this." And it was a little teapot with tea in it! This was my idol, saving me!
Jocko Marcellino (charismatic drummer/vocalist of '50s revivalists Sha Na Na, who played from 7:30-8:00 a.m. on Monday, August 18, 1969, the final set before Jimi Hendrix took the stage to close the festival an hour later, at 9:00 a.m.): Hendrix saved our slot. He got us the gig more than anybody else, after seeing us play the Steve Paul Scene [a hip midtown nightclub] in New York. He got Michael Lang to see us and book us immediately, and we got our check for 350 dollars — which bounced. (laughs) But to have our performance of "At the Hop" appear in the documentary film was just priceless, since we were a brand new act at the time. We only had a few gigs under our belt at that point.
We've been back there a few times since then, and it's always great to have our feet in the Woodstock soil again at the Bethel site. But it's backwards from what I remember of it, because they built the Bethel Woods Center down the short side of the hill. They have a plaque there on the long side of the hill, where the concert was. The piano that Joe Witkin played "At the Hop" on at Woodstock is still there in The Museum [at Bethel Woods], and the last time we were there, we took it out and played that one song on it before it blew up. (laughs)
I could have gone back after Woodstock to do other things. But I had a football coach who told me, "In life, you have windows of opportunity, but you've gotta see them, and go through them," which I did. He gave me his blessing to keep playing in Sha Na Na, even though I had a football scholarship waiting for me. And we're still rocking it every year — we do about 20-25 gigs a year, all thanks to us being at Woodstock.
Mettler: Let's discuss some of the sound-related issues you had to overcome at Woodstock. Despite logistical problems with rain, wind, and a host of other physical factors, the overall soundtrack is still something to behold.
Lang: It was a big moment when Richie Havens hit the stage [at 5:07 p.m. on Friday, August 15, 1969], and the sound worked. Everybody could hear him, and he made that connection with the audience. That was a big moment of relief. We left Eddie Kramer and his crew to figure out the approach to recording. He was a pro.
The records we released [May 1970's Woodstock: Music From the Original Soundtrack and More and July 1971's Woodstock Two] were going to be a reflection of the soundtrack of the film, and I wanted something that had a very live feel to it that brought you back to the actual experience. The film really, really portrayed what happened that weekend in such a great way and such a visceral way that really brought the actual experience to the world. And I felt it was captured beautifully. Eddie and his crew were able to capture great live recordings without a lot of interference, feedback, and ambient noise. They just miked it well, and were able to reproduce a very true picture of the music.
Eddie Kramer (original location music engineer/recordist): The console had 12 inputs and 8 outputs, and that was it. We were using Shure 565s [microphones], which were the predecessors of the Shure 58s, for literally everything. There were no condensers. There was no double-miking. It was just a matter of trying to figure out what each band was doing as they were doing it. It was a minor miracle that anything got recorded at all. Working on the Blu-ray edition for Warner Home Video was a wonderful opportunity to set the record straight and show what it could sound like.