Woman in the Dunes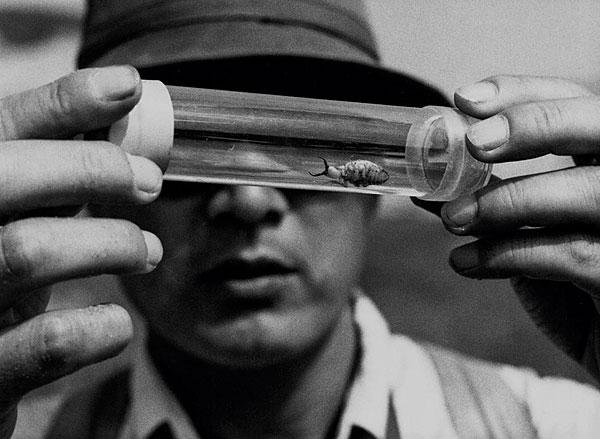 In this new high-definition digital restoration, the striking in-depth compositions are sharp from back to front with great detail throughout. As in Hiroshima Mon Amour, the film is filled with erotic images of the man's and woman's skin covered in sand, the surfaces very tactile, as are the wriggling mollusks that abound. Patterns are well defined, there's texture to skin, and ridges in the dunes, fingernails, and fingerprints are highly visible. Contrast is excellent, with the inkiest of blacks, bright white sunlit strips of sand, and a beautiful wide range of grays in the dunes, wooden structures, and furniture. Figures are dimensional and solid and faces rounded. Dreamlike dissolves are all clear and clean.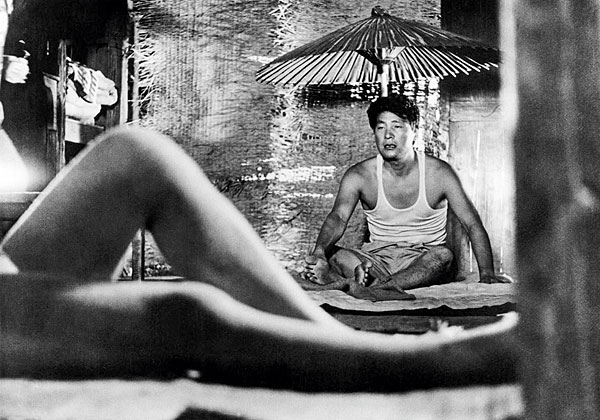 A mono soundtrack starts with a modernist mix of train station sounds and seemingly ancient bits of jagged, off-kilter, atonal music that's very stark and minimalist, the wood percussion instruments, flutes, strings, and chanting all very clear and natural sounding. They're used with restraint, most of the film playing without score, the silences having no hiss, the dialogue resonant and clean. Atmospherics of wind blowing over sand and surf are natural and convincing.
A video essay explains, with the aid of clips and stills from Woman and other Teshigahara films, the main themes of the director, arguing with various interpretations by critics and analyzing how meaning is conveyed. Included in the set are four short films from Teshigahara's early career: Hokusai, an essay about a wood-block artist, and Ikebana, about an art institution, are both illustrated by artists' work and footage showing how it's created; Tokyo 1958, a documentary on the city uses found footage and Ako, shows a night in the life a 16-year-old girl, both films using a dissonant visual montaging with mixtures of voiceover, clashing sounds, and snatches of music. Altogether they give a sense of the director's developing technique and ideas. Abe, a fascinating short documentary examines Teshigahara's collaboration with novelist Kobo Abe featuring interviews with filmmakers and scholars.
Studio: The Criterion Collection, 1964
Aspect Ratio: 1.33:1
Audio: Japanese, PCM 1.0
Length: 147 mins.
MPAA Rating: NR
Director: Hiroshi Teshigahara
Starring: Eiji Okada, Kyôko Kishida, Kôji Mitsui
Stark, disturbing, disorienting, director Hiroshi Teshigahara's Woman in the Dunes (1964) is a masterpiece of macabre metaphor. An entomologist searching for specimens of insects in a desert at the edge of a seaside misses his bus back to Tokyo and is offered to spend the night in the hut of a young widow at the bottom of a sand dune surrounding it on all sides. He discovers the next morning that the ladder has been pulled up by the local villagers trapping him with the woman for years to come. To get thrown supplies of food, water, and cigarettes, he is forced to work digging out the hut, which is gradually being buried under the constantly flowing sand. This Sisyphean struggle and the repetitiveness of everyday life resonate strongly and deeply with a wretched existential despair at the meaninglessness, surreal absurdity, and futility of it all.