Wireworld Unveils Updated Flat Ethernet Cables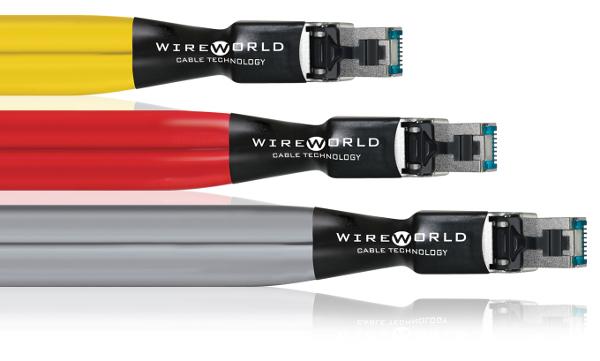 Wireworld Cable Technology, the Florida-based maker of high-performance AV cables, has announced updated second-generation versions of its patented flat Ethernet cables.
Ranging in price from $15 to $600 a meter, the new Series 8 cables incorporate higher density triple-layer shielding and quieter insulation to "maximize audible and visible performance" in networked AV systems.
"People don't realize how much musical detail is being lost by their Ethernet connections until they compare their network sound to an internal drive or USB stick," said Wireworld founder David Salz, who noted the updated cables were born out of listening tests comparing network cables to a local USB stick. "These cables isolate network noise to minimize that loss and provide sound quality that approaches the clarity of a local solid-state drive."
The upgraded Series 8 cables feature thicker triple-layer shields, said to reduce cross-talk and external interference, and new, "much quieter" Composilex 3 insulation. Salz said the benefits of enhanced insulation became evident during controlled listening tests, which revealed that internally generated "triboelectric noise was still masking too much quiet musical information."
Like their predecessors, the Series 8 cables utilize a patented Tite-Shield design that places the conductors in parallel, with each of the four pairs isolated by dense triple-layer shields. "This radical flat design is so effective at isolating noise that replacing only the final cable in the network can substantially improve sound quality," the company said in a press release.
Series 8 cables are offered in three versions, which differ only in the type of conductor material used: The yellow-jacketed Chroma 8 uses oxygen-free copper (OFC) conductors, the red Starlight 8 uses silver-clad OFC conductors, and the silver Platinum Starlight 8 boasts conductors made of the "most conductive metal available, Ohno Continuous Cast solid silver of 7N (99.99999%) purity."
Price per meter is $15 for the Chroma 8 Ethernet, $60 for the Starlight 8 Ethernet, and $600 for the Platinum Starlight 8 Ethernet.
For more information, visit wireworldcable.com.