Primary tabs
Which is More Important at Home, 3D or 4K?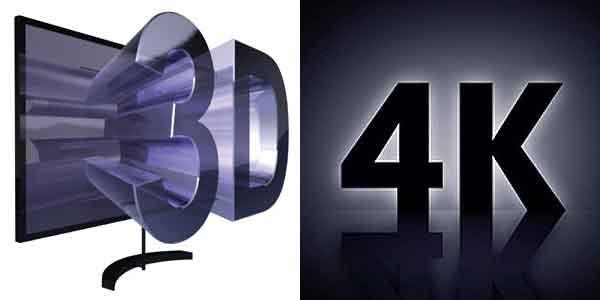 Like it or not, 3D capabilities are now included in many home-theater displays, where it is just another feature along with online streaming. It is clear, however, that not everyone enjoys 3D, which is fine—they can simply not use it. For those who do, there is a growing amount of 3D content, though the rate of that growth seems pretty slow to me.
On the other hand, everyone I talk with is eager to see 4K home-theater displays, which have four times the resolution of "ordinary" high-def. Now that we've reviewed the first such display—the Sony VPL-VW1000ES projector—I wonder how important 4K really is, especially given that commercial 4K content for home use is not likely to be available for years to come, leaving owners of these displays with only upscaled 1080p and their own high-resolution still photos.
So I ask you—which do you think is more important for home theaters, 3D or 4K? Perhaps you believe both are equally significant or that neither one is important. In any event, your fellow home-theater geeks want to know what you think!
Vote to see the results and leave a comment about your choice.
WHERE TECHNOLOGY BECOMES ENTERTAINMENT