This Week New Movies for January 1st 2013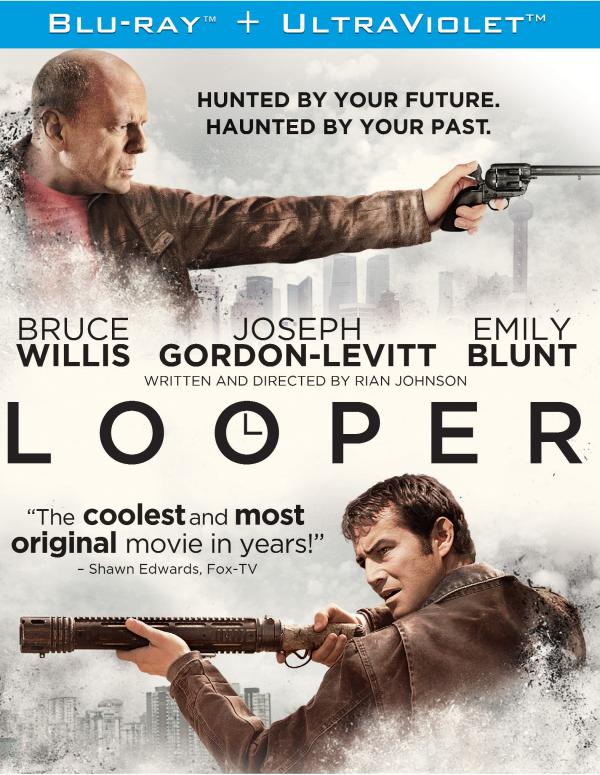 Looper
In 2074 time travel is a marvelous reality — and has therefor been immediately banned. As is always the case with laws, though, hoods rarely heed inhibitions and use the technology to dispose of enemies by sending them back thirty years to 2044 for execution by Loopers. In the future, no body no murder. In the past, no citizen no crime. The assassins are well paid in silver bars, the only catch to the job being that at some point the Loopers must kill their future selves in order that their young selves can be granted thirty years retirement to enjoy their ill-gotten gains.
Joe (Joseph Gordon-Levitt) is a happy-go-lucky Looper, good at his job, fearless, efficient, and much admired by his boss Abe (Jeff Daniels) . . . until Joe's own future self (Bruce Willis) arrives and survives young Joe's potentially suicidal attempts to terminate his future self. This makes them both targets of Abe's Gat Men and a lunatic from the future known as The Rainmaker whom the Joes decide to go after — in The Rainmaker's younger incarnation.
Obviously, this violent, gritty, brutal, bullets-are-flying, bloody sci-fi scenario allows for plentiful paradoxical, existential, moral, and philosophically mind-bending possibilities and the film doesn't disappoint.
Emily Blunt, Paul Dano,
Written and directed by Rian Johnson (Brick, The Brothers Bloom), Looper co-stars Emily Blunt, Piper Perabo, and Noah Segan.
Video: 2.35:1. Audio: DTS-HD Master Audio 5.1. Extras: commentary by Johnson, Gordon-Levitt, and Blunt, 37 minutes of deleted scenes with optional commentary by Johnson and Segan, "The Future from the Beginning" cast and crew discussion, "The Science of Time Travel" and "Scoring Looper" featurettes; UltraViolet digital copy for streaming/downloading. Studio: Sony.
Justified: Season 3
Justified— developed by Graham Yost from Elmore Leonard's novels Pronto and Riding the Rap and his short story Fire in the Hole — tells of a modern-day gun-slinging cowboy cop — deputy U.S Marshal Raylan Givens (Timothy Olyphant) who, in provoking a quick-draw shootout with a Miami mob hit-man, alerts his superiors to his rather old-school ways which are at odds with the modern, politically-correct policing. For his sins Givens is sent back to the hated backwoods, coal-mining community Harlan County, Kentucky from whence he once emerged having been badly born and barely raised. It's not only the place he'd least like to be living in, but also brings him back into contact with the very people he'd hoped to get away from — criminal father Arlo Givens (Raymond John Barry), ex-wife Winona Hawkins (Natalie Zea), old friend and now white supremacist career criminal Boyd Crowder (Walton Goggins), and Boyd's former sister-in-law Ava Crowder (Joelle Carter) — whilst he tries to administer his tough justice under the beady eye of Chief Deputy Mullen (Nick Searcy).
This three-disc set comes with all 13 Season 3 episodes of the hit TV series, the new season finding him facing up to the wonderfully smarmily villainous Detroit mafia enforcer Robert Quarles (Neal McDonough) who's attempting to muscle in on the Harlan County underworld.
The series co-stars Nick Searcy, Joelle Carter, Jacob Pitts, Erica Tazel, and Margo Martindale and the season guest stars include Jeremy Davies in his Emmy-winning role as Dickie Bennett.
Video: 1.78:1. Audio: DTS-HD Master Audio 5.1. Extras: commentaries on "The Gunfighter" by executive producer Graham Yost, actors Olyphant and Jere Burns, and writer Fred Golan, on "Cut Ties" by writer Ben Cavell and actor Nick Searcy, on "Harlan Roulette" by writer Dave Andron and director Jon Avnet, on "Thick as Mud" by writers Jon Worley and Cavell and actors Damon Herriman and Carter, on "When the Guns Come Out" by producers Andron and Don Kurt, on "Loose Ends" by Carter and writers Ingrid Escajeda and Cavell, on "Guy Walks Into a Bar" by writers Andron and VJ Boyd, on "Coalition" by writer Taylor Elmore, editor Bill Johnson, and actor Burns, on "Slaughterhouse" by executive producer Yost, actors Mykelti Williamson and Burns, and producer Golan, deleted scenes, "Crossing the Line: Making Season 3" cast and crew discussion, "Ellstin's Joint: Noble's Holler Set Tour," gag reel, "Anatomy of a Stunt" featurette, "In Conversation with Timothy Olyphant and Walton Goggins." Studio: Sony.
Downton Abbey: Season 3
This Golden Globe and Emmy Award-winning British period drama TV series by English actor, novelist, film director (Separate Lies), screenwriter (The Young Victoria, Separate Lies, Vanity Fair, Gosford Park), and Conservative Life, Peer Julian Fellowes (AKA Julian Alexander Kitchener-Fellowes, Baron Fellowes of West Stafford) chronicles the goings on at the hallowed house, Downton Abbey in Yorkshire, home for many, many generations to the seemingly great and noble Crawley family and their seemingly ever-loyal servants.
The present head of the post-World War I cash-strapped, aristocratic household is Earl of Grantham Robert Crawley (Hugh Bonneville), husband to The Countess of Grantham Cora Crawley (Elizabeth McGovern) who, with their extended entitled brood, attempt to adjust to the new era of relative equality. In doing so they now co-habit with a staff of highly-competitive and newly-ambitious caretakers given fresh perspective by the experiences and sacrifices of the great-leveler, the Great War, who dream of love, adventure, a better life — or just upward-mobility. Naturally this leads to seethings and secrets, conflicts and conspiracies running under the table and stable, serene surfaces above and below stairs.
The 3-disc set will include all 8 original UK edition episodes and co-stars include Michelle Dockery as Dan Stevens, Laura Carmichael as Lady Edith Crawley, Jessica Brown Findlay as Lady Sybil Branson, Jim Carter as Charles Carson the butler, Phyllis Logan as Elsie Hughes the housekeeper, Brendan Coyle as John Bates the valet, and a whole lot of others including an incredibly arch Maggie Smith as the divinely awful Dowager Countess of Grantham and, in Season 3, Shirley MacLaine as Martha Levinson.
Video: 1.78:1. Audio: DTS-HD Master Audio 2.0. Extras: 45-minute behind-the-scenes featurette. Studio: PBS.
Cosmopolis
A 28-year-old billionaire asset manager is driven across Manhattan in a stretch limo to get a haircut. Of course the film — based on the novel of the same name by American essayist, playwright, and novelist Don DeLillo (White Noise, Mao II, Underworld), in turn a re-interpretation of James Augusta Aloysius Joyce's Ulysses (especially in the hands of director David Cronenberg) — is the basis for quite a bit more than a cruise to a short-back-and-sides, amounting, in fact, to an enormous statement on the modern 1%er individual, society, and the ancient eXistentL human condition.
Being the day of the US president's visit and the funeral of a famous, favorite musician, the traffic-jam filled transportation brings a series of characters — wife Elise (Sarah Gadon), assorted sex partners, doctor giving him his daily prostate exam — into the back seat office of billionaire Eric Packer (Robert Pattinson) while he's busy currency speculating, literally making a killing, and generally self-destructing. Other characters who drop in include his art consultant (Juliette Binoche), his chief adviser (Samantha Morton), and a rap singer (K'naan), as well as other assorted oddballs played by Paul Giamatti, Mathieu Amalric, Jay Baruchel, and Kevin Durand.
The soundtrack was composed by Howard Shore with additional songs and performances by Canadian indie rockers Metric and Somali rapper K'naan.
Video: 1.85:1. Audio: DTS-HD Master Audio 5.1. Extras: director's commentary, "Citizens of Cosmopolis" feature-length documentary, 30 minutes of interviews with cast and crew. Studio: Entertainment One.
Being Human: Season 2
In this Canadian version of the successful BBC series adapted by husband-and-wife team Jeremy Carver and Anna Fricke, three friends — a vampire, a werewolf, and ghost — share a house in Boston together. As always, being housemates is the real problem for these twenty-somethings, but their peculiar hobbies and peccadillos do also create some inter-housel, inter-racial issues. Aidan Waite (Sam Witwer), who, as a vampire since the Revolutionary War, makes the logical career choice to become a nurse in a hospital. Josh Levison (Sam Huntington) is a Jewish werewolf. He works as an orderly at the same hospital. Sally Malik (Meaghan Rath) is a ghost haunting Waite and Levison's house and therefor doesn't pay her share of the rent.
In Season 2 Waite encourages the vampires who used to follow Bishop to drink bagged blood instead of humans, Sally discovers she can take over living bodies, Nora Sergeant (Kristen Hager) — Levison's nurse girlfriend whom he'd accidentally turned into another werewolf — is, understandably, irritated with him, queen of the vampires Mother (Deena Aziz) decides that all the vampires who were turned by Bishop should die (again) so that her daughter, Suren (Dichen Lachman), assisted by Waite, will rule over Boston.
This 4-disc set contains all 13 Season 2 episodes.
Video: 1.78:1. Audio: DTS-HD Master Audio 5.1, Dolby Digital 5.1. Extras: 60-minute making-of featurette, "Being Human Problems" featurette, 48-minute Being Human panel discussion from San Diego Comic-Con 2012 with the principal cast and co-executive producer Anna Fricke. Studio: Entertainment One.