This Week in Music, June 11, 2013: How Black is thy Sabbath?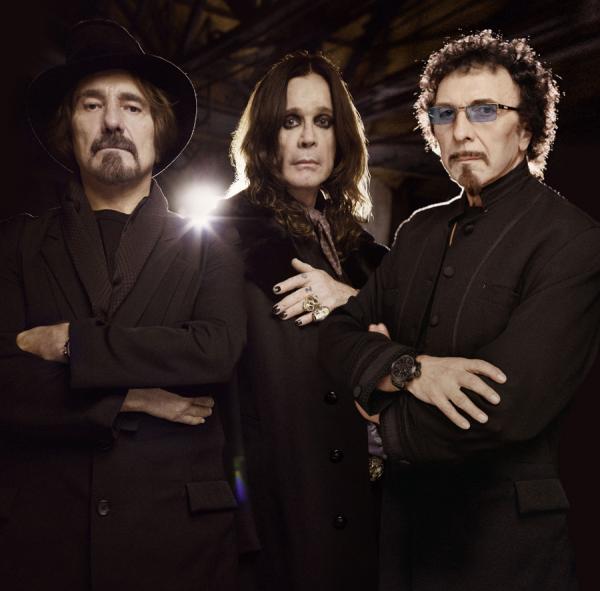 Black Sabbath: 13
New release (Vertigo/Republic; tour dates)
"What is this that stands before me — again?"
That's the unavoidable question you'll ask yourself when you hear "End of the Beginning," the first track on 13. After all, this song isn't just Black Sabbath; it's "Black Sabbath," the first track on Black Sabbath. That opening to the band's 1970 debut had quiet, three-plucked-note verses alternating with massive, three-power-chord choruses, all taken at a slow pace until a choppy riff sped us away. "End of the Beginning," from the original band's first album together in 35 years, has quiet, four-plucked-note verses alternating with massive, four-power-chord choruses, all taken at a slow pace until a choppy riff speeds us away.
In other words: If someone at Black Sabbath's first U.S. label, Warner Bros., fancied himself to be a litigator like the late Saul Zaentz, he might feel compelled to sue the band for self-plagiarism, the same way Zaentz — when he ran Fantasy Records and the label owned Creedence Clearwater Revival's copyrights — sued John Fogerty for self-stealing "Run Through the Jungle" in "The Old Man Down the Road." Of course, Zaentz lost that case. And today, Sabbath's first U.K. label, Vertigo, is once again its parent label. So, never mind.
The paragraphs above shouldn't be read as the snarky comments of a detached critic. No, this critic has been an outspoken Sabbath fan since . . . well, if not precisely Day 1, then certainly Album 2. That would be in late 1970, when a friend of mine sat me down in front of his record player and introduced me to the riff-a-rama that was (and still is) Paranoid. I would go on to see the band in concert as early as 1971. Accordingly, when I recently heard that singer Ozzy Osbourne, guitarist Tony Iommi, and bassist Geezer Butler — whose last album together was Never Say Die! in 1978 — were reuniting for 13, no one was more eager to hear the result.
Then again, as another friend of mine said when the Van Halen brothers regrouped with David Lee Roth: "It figures. Even when they reunite, they can't get it right." He was referring to the exclusion of original bassist Michael Anthony. Absent from Sabbath today is original drummer Bill Ward, owing to "contractual difficulties." In the run-up to 13, this was definitely a minus.
However, the project also had a special plus: It was being produced by Rick Rubin, who time and time again has helped artists get back to where they once belonged. Rubin had been interested in facilitating a studio reunion as far back as 12 years ago. When it finally happened, the first thing he did was to sit Black Sabbath down in front of his record player and re-introduce them to . . . their own debut, Black Sabbath. "The first album wasn't a straightforward heavy metal record," Rubin explained to Rolling Stone. "You could hear the jazz influence, so that was the goal, and to capture that live interaction." Or, as Butler relayed to Revolver, the producer said to the band: "Forget heavy metal. This is what I want the vibe to be. This is the direction. Don't copy it, but keep it in mind."
Easier said than done. There's a live, loose feel to a passage or two, but for the most part, the band has hardly forgotten heavy metal. And that's a good thing. But after rehearing its own groundbreaking tracks on the debut and beyond, Sabbath has in fact copied a handful of them.
Some of the self-quotations are passing references (to the likes of "Electric Funeral," "Snowblind," and "Hole in the Sky"), but others are near-duplicates. As described above, there's the "Black Sabbath" knockoff "End of the Beginning." Then there's "Loner," which is "N.I.B. 2.0." And it all gets a bit silly with the acoustic ballad "Zeitgeist," which is an exact replica of "Planet Caravan," right down to the congas, the phased vocals (at least at the start), and the tactile electric-guitar solo. Butler even spells it out in his lyrics: "Astral engines in reverse / I'm falling through the universe again." Meanwhile, on much of 13, substitute drummer Brad Wilk (of Rage Against the Machine and Audioslave) acts merely like a timekeeper instead of the elastic slapper that Ward was on the first two albums.
Is this a bleak Sabbath? Never say die! "End of the Beginning" actually finishes strongly with a deliberate but beguiling chord progression. "Age of Reason" transcends its run-of-the-metal opening for a solid midsection. The second half of "Damaged Soul" does a good job of emulating the jammy feel from the second side of Black Sabbath (while borrowing the harmonica from the first side's "The Wizard"). In his lyrics (co-written with Osbourne), Butler leaves his customarily general discussions of life/death and heaven/hell to effectively target pedophile priests in the closing "Dear Father." And the album's best track, the nearly 9-minute "God Is Dead?," has ominous verses, an irresistibly catchy chorus, and a fast break that's undeniably compelling.
As for Rubin's production, it's often as close to the glorious sludge of Master of Reality as it is to the punchier Black Sabbath and Paranoid. And that's a very good thing. Most important, Rubin resurrects the fat guitar sound of Iommi — whose solos, by the way, are remarkably fleet and spry for someone who's battling lymphoma.
"I wanted to make an album that stood alongside their first four albums," Rubin told Rolling Stone. To be sure, the sonics stand tall. But the material? Overall, it might have been better to aim for the fifth album instead. On that one, 1973's Sabbath Bloody Sabbath, the band only nodded to its previous albums and instead created something that was not only fresh but also adventurous. "God Is Dead?" comes closest to that approach; if only 13 had more of the same.
Still . . . Butler (age 63), Osbourne (64), and Iommi (65) all seem decades younger, and this album sure beats the bejesus out of the eight that preceded it. (It also comes across more vitally than "Psycho Man" and "Selling My Soul," the studio tracks appended to 1998's live Reunion.) And — oh Lord, yeah — 13 sounds just like Black Sabbath.
So, then, is it genuine Sabbath or an amazing simulation? It's both, and God knows it's a blast to hear 13 in '13. But to end back at the beginning of "End of the Beginning": "Reanimation of the sequence / Rewinds the future to the past / To find the source of the solution / The system has to be recast." At the absolute end, this album will likely send you back to those first four albums, when Black Sabbath's heavy metal was cast for the first time, and an entire genre was defined.
Other artists not heard from in a long time, releasing their first albums in . . .
Visage: Hearts and Knives (Pylon; photo above by David Levine)
. . . 29 years. Anybody remember New Romanticism? It was, to quote a song title here, the "Shameless Fashion" wing of New Wave, and Visage was one of its primary inhabitants (along with ABC, Spandau Ballet, Ultravox, and early Duran Duran). Today, the only returning full-fledged member from the original lineup is vocalist Steve Strange (above, second from left), but Midge Ure, Dave Formula, and Rusty Egan all make guest appearances.
Boards of Canada: Tomorrow's Harvest (Warp)
. . . 8 years. The Scottish electronic-music duo.
Alison Moyet: the minutes (Cooking Vinyl/Metropolis)
. . . 6 years. The English singer/songwriter.