This Week in Music, May 7, 2013: Natalie Maines — ready to make rock?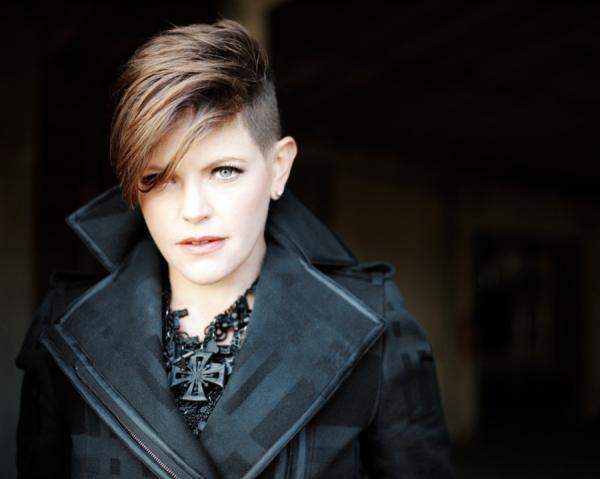 Natalie Maines: Mother
New release (Columbia; tour dates with Dixie Chicks)
Photo by Danny Clinch © Columbia
"Lots of albums by lead singers might just as well have been made by the band, but I think this is very different from anything the Dixie Chicks could make." So says Natalie Maines about her debut solo album. It's "a new direction," her press release underscores. Most common translation I've seen to date: It's "a rock album."
Curious. "Very different from anything the Dixie Chicks could make"? Not entirely so, when you consider that two of the writers represented here — Gary Louris and Dan Wilson — have actually made songs with the trio. There's also a track by Patty Griffin, whom the trio has often covered. And the other Chicks themselves, Martie Maguire and Emily Robison, get a credit, too.
That last song, "Come Cryin' to Me" (by Louris, Maines, Maguire, and Robison), is a Chicks-borne composition that was deemed "too rock" for Taking the Long Way, according to Maines. Still, its measured, bluesy beat isn't that far afield. Nor is the other Louris-involved song here, "I'd Run Away," co-written with Mark Olson for their band, the Jayhawks. Similarly, "Free Life," the title track from Wilson's 1997 solo album, isn't a barnburner but, instead, the kind of mostly mellow, easy pop tune he has written ever since his days in Trip Shakespeare and Semisonic.
The title track of this album may be the Pink Floyd warhorse, and "Without You" may be an Eddie Vedder number. But as played here, the former is an acoustic/electric meditation that bears a resemblance to some current country ballads, and the latter — from Vedder's Ukulele Songs — comes across like a Tom Petty tune that would've been right at home on, well, the Chicks' Home (and, yes, Taking the Long Way).
Just who is doing the playing? Ben Harper has brought not only his slide guitar but also his Relentless7 bandmates: guitarist Jason Mozersky, bassist Jesse Ingalls, and drummer Jordan Richardson. Together, they're the dominant foursome here. Makes sense, since Harper is also the album's co-producer, with Maines. The sound of Mother, from both the playing and producing, is a detailed, heartland music that, while occasionally heating up, is careful to never actually boil over.
Yet, if this is supposedly a rock album, shouldn't it occasionally rock out? The Griffin song, "Silver Bell" (an unreleased co-write with Adam Steinberg), does so, but it's pretty close to what you can hear from a country-rock outfit like The Band Perry. For something more rock & roll, there's Harper's "Trained." Conversely, the other two tracks written exclusively for Mother — "Vein in Vain" and "Take It on Faith" (both credited, in varying order, to Maines, Harper, Mozersky, and Ingalls) — are different-scale takes on The Big Rock Ballad. "Vein," for one, comes across as if it could be cried into any roadhouse's beer mug. Both tracks take their cue from the album's 7-minute centerpiece, Jeff Buckley's "Lover, You Should've Come Over."
All of which is to say: If you're a Dixie Chicks fan and you're afraid of Maines taking "a new direction," you don't have to be very afraid at all. Summon, if you will, the midcareer heyday of Linda Ronstadt. Mother may not be the still country-inclined Heart Like a Wheel, but it sure ain't a departure like Mad Love (despite Maines's haircut). Think, more generally, along the lines of Prisoner in Disguise, Hasten Down the Wind, and Simple Dreams.
Meanwhile, if you're looking for references to "The Incident" (the uproar in some parts of the country after Maines's 2003 remark about President George W. Bush), you can always read whatever you want into some of the borrowed lyrics here. ("Mother, do you think they'll try to break my balls," indeed.) Conceivably more relevant are the lyrics of "Come Cryin' to Me," which are not only original but actually from that era: "When the world's on your shoulders . . . / The tables will turn, and they won't even warn ya."
Or you can just forget that and enjoy Maines's singing. No Idol shrieking or idle Auto-Tuning here; this is the real thing. The Buckley track is her prime showcase, and she pulls it off quite well, investing multiple levels of heartache into the simple syllable "Oh." Yet I admire her handling of the title track just as much, as she delivers the high vocals of the chorus in a perfect balance of power and restraint.
From the choice of material to the arrangements and performances, this is a high-quality affair. If you don't feel completely knocked out by the end, maybe it's because, for all her past assertiveness and confidence, Maines seems a tad tentative about this solo bow. Sometimes, the most troubling question any musician can ask herself is: "Do you think they'll like the song?"
Lady Antebellum: Golden
New release (Capitol Nashville; tour dates)
Speaking of the Dixie Chicks (and The Band Perry), here's another phenomenally successful country trio, chiefly of the pop persuasion. Lady Antebellum's Golden follows 2011's Own the Night and the 2012 Christmas album On This Winter's Night. It also precedes the birth of lead singer Hillary Scott's first child.
Scott has told Billboard that Golden took her back to the early days with her bandmates, Dave Haywood and Charles Kelley: "When I first met the boys, we spent a lot of time around the piano at the house they lived in at the time. We didn't really know each other at all, but there was still some magic, and then the harmonies. That's how it all started: that blend of our voices, and that blend of our songwriting craft."
Patty Griffin: American Kid
New release (New West; tour dates)
Photo by Cambria Harkey
Speaking of Patty Griffin (as I was at the top, citing her track for Natalie Maines), the singer/songwriter offers her first album of primarily new material since 2007's Children Running Through. And according to her press release, it's her first album "whose music sounds stylistically rooted in Americana." Accompanists include Craig Ross (who co-produced the record with Griffin and who plays many instruments), brothers Luther and Cody Dickinson (guitarist and drummer from the North Mississippi Allstars), Doug Lancio (a longtime guitarist), and Robert Plant (who sings on three songs). Most of the album was motivated by the impending death of Griffin's father.
Rod Stewart: Time
New release (Capitol; tour dates)
Photo by Penny Lancaster
He's been singing the Great American Songbook (and Motown chestnuts, and "rock classics," and Christmas tunes) since 2002. And before that, he contributed a total of only four original songs to Human (2001), When We Were the New Boys (1998), and A Spanner in the Works (1995). Which means that a Rod Stewart album hasn't really been a Rod Stewart album since 1991's Vagabond Heart. That's 22 years ago.
Working on his autobiography in 2011, Stewart had not only his memories but his creative juices jostled, and now he's got his muse back, big-Time. Eleven of the 12 tracks on this album were penned by Stewart (along with such longtime co-writers as Jim Cregan and Kevin Savigar), and he produced the whole thing.
Cue up the first track (and first single), "She Makes Me Happy," and it sounds a bit like . . . Riverdance. But damn if it doesn't also sound like the freshest thing Stewart has sung in not just two decades but possibly three.
A little worry creeps in quickly, though. The next track, "Can't Stop Me Now," is a customary look back at his early career, and it sounds a bit like a bigger version of . . . the first track. And though "It's Over" is a surprisingly direct song about separation and divorce, "Brighton Beach" is a customary (if poignant) look back at young love. You start to wonder if Stewart is going to let things go slack.
But next comes a pretty remarkable string of eight songs, beginning with the undeniably upbeat "Beautiful Morning," the "Maggie May"-suggesting "Live the Life," the electric rocker "Finest Woman," the soulful title track, and a well-chosen Tom Waits/Kathleen Brennan cover, "Picture in a Frame." By the time we reach "Sexual Religion," we get a dance track, but it's a wonderfully understated one, and it includes lines that neatly sum up the dilemma of Stewart's entire history with both sex and love: "If there's one thing I don't understand / It's the power of a woman and the weakness of a man."
Then, buried way down near the bottom of the album, there's "Make Love to Me Tonight," a title that threatens to deliver a geriatric take on "Tonight's the Night" or "Hot Legs." But instead, we get a stirring folk strummer that seems like it's a Gasoline Alley-cat. From there, the album closes with a grand piano ballad, "Pure Love."
Don't misunderstand: Time isn't Gasoline Alley itself, or Every Picture Tells a Story. Those days are gone. But these days are good when a 68-year-old Rod Stewart — who's still in fine vocal form, by the way — can reassume a rock-ish persona and wear it this well.