This Week in Music, July 23, 2013: Rediscover America with Van Dyke Parks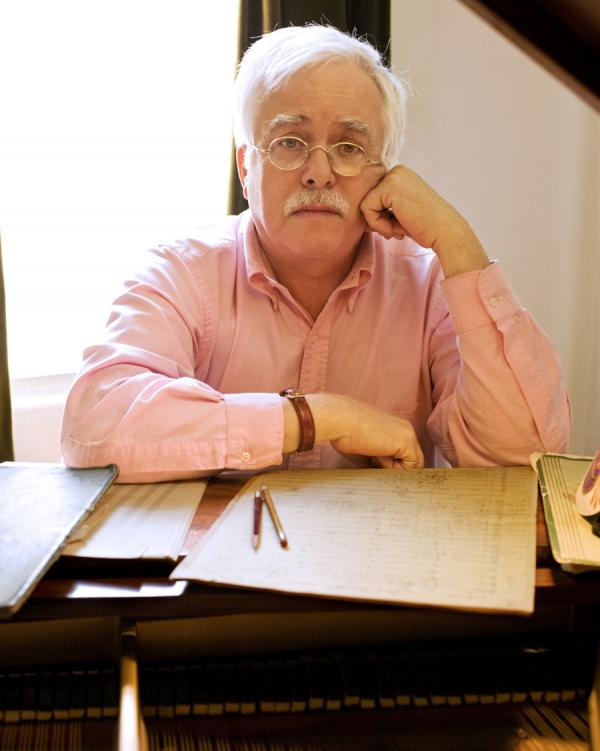 Van Dyke Parks: Songs Cycled
New release (Bella Union)
Photo by Roman Cho
This is the first new album credited to Van Dyke Parks alone since 1989's Tokyo Rose, but the dozen tracks are actually the A- and B-sides of six singles he released on his own label, Bananastan, in 2011 and '12. Furthermore, whereas four of the A-sides are indeed new-since-1989 original songs (and another track is a co-write), five selections are arrangements of traditional, folk, or classical material, and the remaining two are re-recordings of earlier Parks compositions.
On paper, then, Songs Cycled is a hodgepodge. But when did we ever listen to Van Dyke Parks on paper? Fact is, the 12 numbers miraculously form a coherent whole — an album that, true to its creator's longtime ambition, celebrates the glorious sound of music.
Songs Cycled is so wonderfully foreign to current pop that it singlehandedly transports you back to the Sixties . . . and the Thirties . . . and the 19th century. Coincidentally, the two oldest melodies are from hymns that both date from 1835: "Amazing Grace" and "The Parting Hand." The former, retitled here as "Amazing Graces," is something of a theme-and-variations take by the so-called Van Dyke Parks Orchestra; "The Parting Hand" moves gorgeously from a cappella vocals to a string adaptation. Then there's "Aquarium," the seventh movement of the 1886 Saint-Saëns work The Carnival of the Animals. Heard here in a 1971 recording, the piece seems truly, enchantingly underwater, considering that Parks adapted it for the Esso Trinidad Steel Band.
If the album's music conjures the past, the lyrics of the new Parks songs lean to the present — and the political. "Dreaming of Paris" was prompted by the American bombing of Baghdad. "Black Gold" was written and recorded two weeks after the horrendous oil-tanker spill of 2002 in the Bay of Biscay. "Wall Street" and "Money Is King" (the latter co-written by Growling Tiger, a.k.a. Trinidadian calypso musician Neville Marcano) reference New York City (and America) during and after 9/11. And "Missin' Missippi" (Parks's spelling) was spurred by Hurricane Katrina.
As for the pair of revisitations, the first is "Hold Back Time" from Orange Crate Art, Parks's 1995 collaboration with Brian Wilson, and the second is "The All Golden," which brings us full circle because it's from his 1968 debut, Song Cycle. Both fit the new project perfectly, as does the folk tune of "Wedding in Madagascar (Faranaina)." And for sheer aural delight, be dazzled by the arrangement of Appalachian songwriter Billy Edd Wheeler's 1961 "Sassafras" — in Parks's words, "a roll in the grass."
Here's some of what else he has to say: "This album is released 45 years from my debut, when I was but 24. In both cases, there's a maverick on the loose, with a highly personal set of tunes and instrumentals. All of them reveal an iconoclast tilting at windmills, railing at tyrants, barking at masters of war, and celebrating a shameless commitment to the very definition of 'Americana.' . . . I guess I am like that rusty nail that sticks out, just waiting to be hammered down by an intolerant bastard, with no room for what isn't rockin' or classically elite. In truth, I embrace both those worlds. Guilty as charged, I'm wrapped in the flag, looking through the glass at the world beyond — informed yet optimistic, in my dream escape."
Yet, for all that: "My first aim is to entertain the ear with beautiful sounds. I try to do that as an arranger. These pieces reveal my best effort."
Sitting down in front of your audio system (remember how?) and enjoying it anew with Songs Cycled, you'll be happy to give Parks a solid A for that effort.
Julian Cope: Revolutionary Suicide
New release (Head Heritage)
If Van Dyke Parks is an American eccentric, then Julian Cope is a British über-eccentric. Thirty years after the end of The Teardrop Explodes and the start of an often brilliant solo career, he shows no signs of mellowing. Those who worship at the pagan church of Cope treat each album as an event — and the past few years have been particularly eventful, including 2012's strong Psychedelic Revolution. Now comes Revolutionary Suicide. Alas, I've previewed none of it, so I'll let a post on Cope's Web site take it from here:
"Welcome to 2013 and the truly Post-Thatcher Age, and welcome to Revolutionary Suicide — 11 sumptuous and highly charged songs that teem with outrageous orchestrations and compellingly crafted words of protest, activism, and historical richness. Weep along with the dreadful beauty of the Archdrude's most-epic-ever song 'The Armenian Genocide,' sway with the bucolic agricultural rhythms and devotional lyrics of 'Hymn to the Odin,' pump your fists in the air to the Detroit soul of the title track, or just give yourself entirely to the divine-but-gaping 70-minute-long musical maw, nay, the Hot Mess that is Revolutionary Suicide.
"New poems? You got it! New concepts? You got it! We got the Mayans' predictions out of the way, and we're all still here. So maybe everything that went before 2013 was just a dry run for what's to come. Perhaps you'll even believe that, once you've heard the enormous scope and vision of Revolutionary Suicide."
Edward Sharpe & the Magnetic Zeros: Edward Sharpe & the Magnetic Zeros
New release (Community; tour dates)
Photo by Laure Vincent Bouleau
Continuing with eccentrics, we return to America for the troupe of musical hippies known as Edward Sharpe & the Magnetic Zeros. Frontman Alex Ebert has proclaimed that their self-titled third album is "the rawest, most liberated, most rambunctious stuff we've done." I'd agree re: the upbeat chants of "Better Days," "Let's Get High," and "Country Calling." The operative word for most of the album, however, is merely "stuff," as opposed to actual songs.
Sometimes, Ebert gets in the way as a singer, straining to be dramatic. (It's a nice respite when Jade Castrinos takes the mike, but she, too, can get overbaked, as on "Remember to Remember.") Other times, Ebert gets in the way as a producer, relying on lo-fi sonics that can result in distorted vocals and wet-cardboard percussion.
In the end, I can heartily recommend "Two" for the simplicity of its pleasant, electric-guitar-plucked melody. Otherwise . . . neo-psychedelic indie-folk can be all well and good, but here — whether the Zeros are trying to be cowboys on "They Were Wrong" or Waterboys on "If I Were Free" — we're faced with material that probably comes across much better on stage than on record. Or, as Ebert himself sings at the outset: "We don't have to talk / Let's dance."