This Week in Music, April 30, 2013: Powered Up for Iggy and the Stooges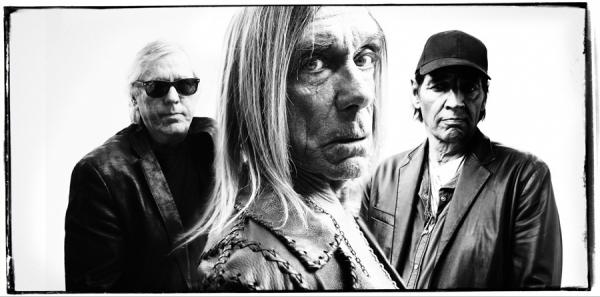 Iggy and the Stooges: Ready to Die
New release (Fat Possum; tour dates)
Photo by David Raccuglia
Ready to Die is billed as the 40th-anniversary follow-up to 1973's Raw Power because it's the first album since then to be credited specifically to Iggy and the Stooges, with James Williamson returning on guitar.
Okay, class, let's review: The Stooges (1969) and Fun House (1970) were both credited to just the Stooges, and they had Iggy Pop's vocals backed by brothers Ron and Scott Asheton on guitar and drums (with Dave Alexander on bass). That's the lineup that reunited in 2007 for The Weirdness (with the Minutemen's Mike Watt taking over for Alexander, who died in 1975).
Raw Power, on the other hand, saw Ron move from guitar to bass, making way for Williamson (and replacing the downward-spiraling Alexander). That lineup — Iggy, Williamson, and Scott Asheton (with Watt back again, owing to the 2009 death of Ron) — has now made Ready to Die.
Got that? Well, never mind the exam, class, cuz school's out and the music of this new album, thankfully, never says die.
Yes, the old irreverence is here. Got a job? Yeah, "but it don't pay sh--." Caught in the firestorm over firearms? "If I had a f---in' gun, I could shoot at everyone." Just looking for reasons to live? How about "Sex and Money"? Wait a sec: "Money is a waste of time / Course, I made sure I got mine." Iggy's voice is a rich rock & roll quarry, and Williamson's guitars are a marvel, from the jagged figures atop "Burn" to the trim swagger of "Job" to the piles of chords and riffs on the title track.
It ain't all thrash and crash, however. Three tracks bring a mellower sentiment, in varying degrees. The band unplugs for the affecting ballad "Unfriendly World," whose main advice is simple: "Hang onto your girl." Even better is "Beat That Guy," which moves from a contemplative start to a nearly anthemic acoustic/electric blend before ending in a magnificent guitar solo. Better still: "The Departed," a genuinely touching elegy for Ron, with Iggy nearly choking up: "What is the point of friendship? / It's nobody's fault, but this night life is just a death trip."
What we have here is an altogether different kind of danger. Gimme.
Deep Purple: NOW What?!
New release (Eagle Rock)
It's Deep Purple's 19th studio album, that's what. The lineup is the same from the previous two releases, Rapture of the Deep (8 years ago) and Bananas (2 years before that), with Mk. II singer Ian Gillan, bassist Roger Glover, and drummer Ian Paice joined by guitarist Steve Morse and keyboardist Don Airey. In a seeming nod to founder Jon Lord, who died last July at the age of 71, Airey is a bit more dominant here in an Old-School Organ kinda way. Possibly, producer Bob Ezrin had some influence there; otherwise, he mainly keeps the band focused while leaving his own overwrought tendencies at home.
The material doesn't always rise to the occasion, with successive tracks like "Out of Hand," "Hell to Pay," and "Bodyline" coming across merely like interchangeably chugging Purple passages. You also wish the opener, the half-ballad "A Simple Song," had been allowed to end as . . . a simple song. But these guys are old pros in the heyday-emulating "Après Vous," the Copland-paraphrasing "Uncommon Man," and especially the crafty main riffs of "Weirdistan" and "Above and Beyond." And thank heavens, they still have a sense of humor. If only Vincent Price had been alive to contribute to "Vincent Price."
Os Mutantes: Fool Metal Jack
New release (Krian Music Group; tour dates)
Photo by Denise Truscello
Tropicália, samba, bossa nova, experimental music, psychedelic rock: You name it, Os Mutantes (the Mutants) have played it since their debut way back in the late 1960s. After a decades-long absence, the Brazilian outfit returned to the stage in 2006 and then to the studio for 2009's celebrated Haih or Amortecedor. Rejoice again with the release of Fool Metal Jack, a rich stew of styles from folk-ish ("The Dream Is Gone") and jam-ish ("Once Upon a Flight") to outright psych throwback ("Piccadilly Willie," "Look Out"). It's an album that also makes room for metallic chords ("Time and Space"), world travels ("Ganjaman," "Bangladesh"), and a fond bit of proof that you can go home again (a cover of Gilberto Gil's "Eu Descobri"). Near the start, there's a lowdown bass riff that leads to delicious guitar noise (the title track); at the end, there's a baroque acoustic ballad that sends us off into a dream ("Valse LSD"). Feed your head, and your sound system.
Guided by Voices: English Little League
New release (GBV, Inc.; tour dates)
Photo by Rich Turiel
After three albums were made in 2012 by the reunited classic lineup, here comes yet another one. In fact, as noted in a PR sheet, "The plan at present is to release three Guided by Voices albums per year until the end of time, but in the world according to Robert Pollard, 'plan' does not mean what it means to you and me. 'Plans' to him are moving ideas caught momentarily in stasis, and subject as often to revision as to fruition. Which is to say only that you never know what the future will bring, only what the past has brought, and the past has now brought you the fourth GBV album in little more than a year." No doubt this one will be like the previous three — which is to say, in its multi-song span, full of highlights and lesser lights. Of course, as that PR sheet concludes: "Life is short. Guided by Voices is long."
Jessica Campbell: The Anchor & the Sail
New release (Little London; tour dates)
A recent marriage tends to make you rather warm and fuzzy; not for nothing is one of the songs on Jessica Campbell's second album called "Sunnyside." But if her lyrics occasionally lack a certain depth, this Nashville-based singer/songwriter has a knack for composing quick hooks and full-fledged melodies that charm effortlessly. It's also difficult to pass her by when her sweet, girlish voice soothes you at every turn — and when the meticulous production by Cason Cooley results in a pop recording that's sometimes rootsy, sometimes pure, and always engaging.
Denison Witmer: Denison Witmer
New release (Asthmatic Kitty)
Photo by Ryan Collerd
We live in an indie time when a musician like Denison Witmer can make eight full-length albums and, despite only modest recognition, can just keep recording, like an Energizer folkie. "Witmer makes soft music, not to be confused with soft rock," his press release clarifies, and after a cursory listen, I have to agree that it's both thoughtful and atmospheric.
Other new releases
Kenny Chesney: Life on a Rock (Blue Chair/Columbia)
Studio Album No. 14 from the country singer/songwriter/guitarist (above).
The Airborne Toxic Event: Such Hot Blood (Island)
Inventive, expansive indie band (with a classical streak) releases its third set.
Tom Keifer: The Way Life Goes (Merovee/ADA)
Debut solo album from the Cinderalla frontman, almost 30 years after Night Songs.
Ceramic Dog: Your Turn (Northern Spy)
Power trio led by avant-garde guitarist Marc Ribot. Produced and mixed by Deerhoof drummer Greg Saunier.
!!!: Thr!!!er (Warp)
Dance-punk from Sacramento.
HIM: Tears on Tape (Razor & Tie)
Eighth album of so-called love metal from the Finnish band.