This Week in Music, July 30, 2013: Presenting the Harry Nilsson Instant Record Collection!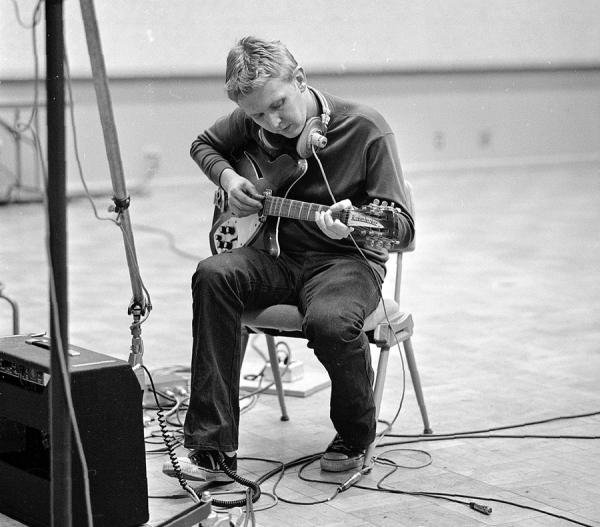 Harry Nilsson: The RCA Albums Collection
Archival release (RCA/Legacy)
This week, it's archival stuff first, folks, prompted by the appearance of this 17-CD set. It has always fascinated me, in a "Yesterday" vs. "Helter Skelter" kind of way, that Harry Nilsson was an artist who could create both the sweet 2-minute tune "Me and My Arrow" and the yowling 7-minute rocker "Jump into the Fire." But that was indeed Harry, and the full range of his compositional (and interpretive) craft and art can be heard here.
Fourteen of the discs are expanded versions of albums from 1967's Pandemonium Shadow Show to 1977's Knnillssonn. Traveling through this recorded legacy, we are reminded/surprised that:
— The 1971 soundtrack to the animated TV movie The Point!, home of "Me and My Arrow," was released nearly a year before the Harry heyday of Nilsson Schmilsson, home of "Jump into the Fire."
— There were four proper Nilsson RCA albums prior to The Point!
— Two of those, 1967's Pandemonium Shadow Show and 1968's Aerial Ballet, were the sources of songs for 1971's Aerial Pandemonium Ballet, which qualifies as one of the very first remix albums.
— There were four proper Nilsson RCA albums after Pussy Cats, his notorious 1974 collaboration with John Lennon.
Unlike similar entries in Legacy's current series of box sets, this one can't be called The Complete RCA Albums Collection because it's missing two soundtracks related to the label. The first: 1968's Skidoo (RCA Victor), which had songs and incidental music that Nilsson wrote for the Otto Preminger film. The second: 1974's Son of Dracula (Rapple, or RCA/Apple), which included selections from Nilsson Schmilsson and Son of Schmilsson plus a new song, "Daybreak" (which does appear in the box as a Son of Schmilsson bonus track) — all featured in a movie starring Nilsson and Ringo Starr and helmed by Freddie Francis (who, before and after his cult-directing years, was an Oscar-winning cinematographer). Other albums you don't get here: his 1966 debut, Spotlight on Nilsson (released by Tower and currently available on a DRG twofer CD with John Stewart's Willard from 1970), and his 1981 soundtrack for the Robert Altman-directed, Robin Williams-starring Popeye (released by Boardwalk and currently out of print).
What you do get are three bonus CDs of Nilsson Sessions, covering the years 1967-68, 1968-71, and 1971-74. The second has Nilsson's three vocal tracks from Skidoo, including "The Cast and Crew," where he sings the movie's entire end credits. All three CDs are filled with tracks that, like the 65 bonus tracks on the 14 albums, encompass demos, alternate versions, different mixes, and foreign-language takes. Among the box's 55 previously unreleased selections (some of which, it should be noted, are radio spots), the most intriguing are three Knnillssonn-era songs with Dr. John and, in a nod to a certain President, "A Souvenir — Also Sprach Schmilsson Schmixon."
Furthermore, there's a booklet with "extensive summaries" of every album, written by Nilsson authority Andrew Sandoval.
Eagle-eyed fans will have noticed that, considering everything above, one more Nilsson item remains elusive: his final proper album, the Steve Cropper-produced Flash Harry, released in 1980 by Mercury in the U.K. and Japan only. It has never been issued in America and has never appeared on CD anywhere — until now. On August 13, the Varèse Vintage division of Varèse Sarabande will release Flash Harry on both CD and LP. The former includes four bonus tracks: an alternate version of the album's "Old Dirt Road" (the Lennon/Nilsson composition that first showed up on John's 1974 set Walls and Bridges) and the previously unreleased "Feet," "Leave the Rest to Molly," and "She Drifted Away."
Even more Nilsson effusion: Two weeks ago, Nilsson: The Life of a Singer-Songwriter was published by Oxford University Press. Alyn Shipton's book is the first full-length biography of the artist, and it includes interviews with family, friends, and associates as well as material from Nilsson's unfinished autobiography. And if you watched any of PBS's recent pledge drives, you likely came across Who Is Harry Nilsson (and Why Is Everybody Talkin' About Him?). A DVD of this remarkable, 2-hour documentary from 2010, with 90 minutes of extra material, is available from Kino Lorber.