This Week in Music, June 4, 2013: Summoning "Ghost Brothers" with Mellencamp, King, and Burnett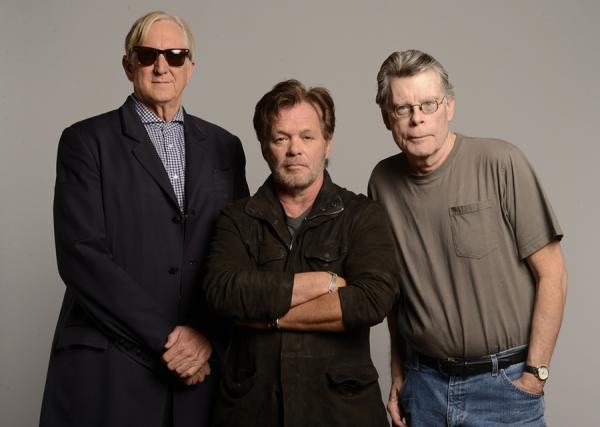 Various Artists: Ghost Brothers of Darkland County
New release (Hear Music/Concord; tour dates)
Photo of Burnett, Mellencamp, and King by Kevin Mazur
Indiana cabin, mid-1900s: Two brothers argue over a girl. One brother accidentally kills the other, and then the fleeing brother and the girl accidentally drive into a lake and drown.
True story. John Mellencamp learned it after buying the cabin in the early 1990s.
Soon after, Mellencamp got the idea for a musical based on that story. By 2000, he had begun work on the score (both music and lyrics), and he asked Stephen King to write the book.
The result: Ghost Brothers of Darkland County, which keeps the cabin but moves it to Mississippi. It also keeps the doomed brothers as the titular ghosts, Andy and Jack. But it adds a third brother, Joe. What's more, there's another set of brothers, Frank and Drake. Joe is their father, and he has brought them to the cabin in 2007 to tell the truth about their dead uncles. The story shifts between that time and Andy and Jack's fateful year of 1967, when they were 21 and 18 (and Joe was 8).
Mellencamp brought in T Bone Burnett as music director, and the hope was to eventually take Darkland to Broadway. But there were delays. At one point, as Mellencamp told The New York Times, Liv Ullmann was interested in directing the show but ultimately bowed out.
Then, in 2011, Mellencamp said: "I personally don't care if we go to Broadway or Washington, D.C., or the moon." In 2012, they ended up in Atlanta. What was variously billed as "a riveting Southern Gothic musical" and "a sultry Southern Gothic mystery with a blues-tinged, guitar-driven score" was staged for a month at the city's Alliance Theater. And then, in early 2013, the following update was given by the Alliance's artistic director, Susan V. Booth, who had directed the musical there: "Subsequent to the show's close in Atlanta, Steve and John did significant rewriting and restructuring of the book. What we learned . . . is that this work only succeeds if it commits to being something unique unto itself." Today, Ghost Brothers of Darkland County has morphed into a touring production that's staged in concert form as a live radio play. Twenty dates are currently scheduled in the Midwest and South, beginning October 10 in Bloomington, Indiana, near Mellencamp's birthplace.
But first, 13 years after Mellencamp officially began his project, we have this recording. It was produced by Burnett, who helped round up an impressive slate of artists to sing the characters' songs — led by real-life feuding brothers Phil and Dave Alvin (as the ghostly Andy and Jack) and Sheryl Crow (as the ghostly girl, Jenna). Also featured: Kris Kristofferson (Joe), Rosanne Cash (Joe's wife, Monique), Will Dailey and Ryan Bingham (Frank and Drake), Neko Case (their girl, Anna), Taj Mahal (Dan the caretaker/bartender), and Elvis Costello (a devilish specter known as The Shape).
The album's Standard Edition is a CD of 17 songs alternating evenly with 18 excerpts of dialogue. Kristofferson both sings and speaks his character, as does Costello. But in all other cases, actors handle the dialogue. So whereas Bingham sings Drake, Matthew McConaughey speaks the character's lines, and whereas Cash sings Monique, Meg Ryan does the dialogue.
This can be somewhat confusing, and the dialogue/song/dialogue/song structure makes for a choppy listen. All told (and sung), King's book comes across as the weakest link on the Standard Edition CD: The excerpts are too brief to actually give us enough of the storyline, and the language we do get tries a bit too hard to incorporate some Mississippi slang.
Conceivably, King fares better in the full libretto (which was unavailable for review). It's included on the Standard disc, which is an enhanced CD. The Deluxe Edition adds a making-of DVD. Then there's the Hardcover Edition (distributed by Scribner), which further adds a printed version of the libretto and a CD of the songs only. For some reason, the second half of that bonus CD's song order is different from (and less effective than) that of the Standard disc. Of course, you can always program playback of the Standard disc to skip the dialogue excerpts. Either way, the score deserves to be heard on its own.
And now, 13 years after I began this review (or so it seems), we reach the best thing about this project: Mellencamp's songs and Burnett's production. Indeed, Ghost Brothers is a career high for both artists.
Mellencamp succeeds right off the bat with "That's Me," making us shiver by having the Shape introduce himself as follows: "You know that voice you hear in your head? / That's me, baby, that's me / And you thought you were just talking to yourself / But it's me, baby, that's me." Anna details her own devilish tendencies in "That's Who I Am." It's a stroke of genius to have Andy and Jack's argument in "So Goddamn Smart" interrupted by Jenna's heavenly reflection. And later, in "So Goddamn Good," the three of them wrangle as if Mary Magdalene were joining the argument between Jesus and Judas at the Last Supper in Jesus Christ Superstar. In these songs and the best of the other tracks, Mellencamp's words have both a sharp focus and a potent sting, and his music vividly conjures the byways of the South.
It certainly helps that Burnett, whose recent productions have tended to share the same old T Bone signature, breaks out of his mold to heighten the moods here. There's some crazy electric guitar lurking around the Shape's "Wrong, Wrong, Wrong About Me," and Dan's "Tear This Cabin Down" may leave you thinking of a trenchant chain-gang stomp. Yes, the music's blend of roots, blues, and folk is second nature to Burnett these days, but he makes it sound fresher and edgier than he has in years.
Still, none of the above would matter if the performances by the singers were lackluster. Happily, they're uniformly excellent. Crow is especially solid in her multiple appearances, whether sparring/harmonizing with the Alvins or, on her solo numbers, turning things up for "Jukin' " or musing on the beautiful reverie of "Away from This World." Case and Cash make the most of their single performances — respectively, the casually seductive "That's Who I Am" and the sorrowful plea of "You Don't Know Me." And Costello, wonderfully, doesn't even sound like Costello on his two numbers, filling his Shape with sly debauchery.
Broadway? Ghost Brothers of Darkland County may continue to take the hard way, but it's a noble journey for Mellencamp and company — and a distinctly American soundtrack for lives both down-to-earth and otherworldly.