This Week in Movies & TV, September 3, 2013: Old News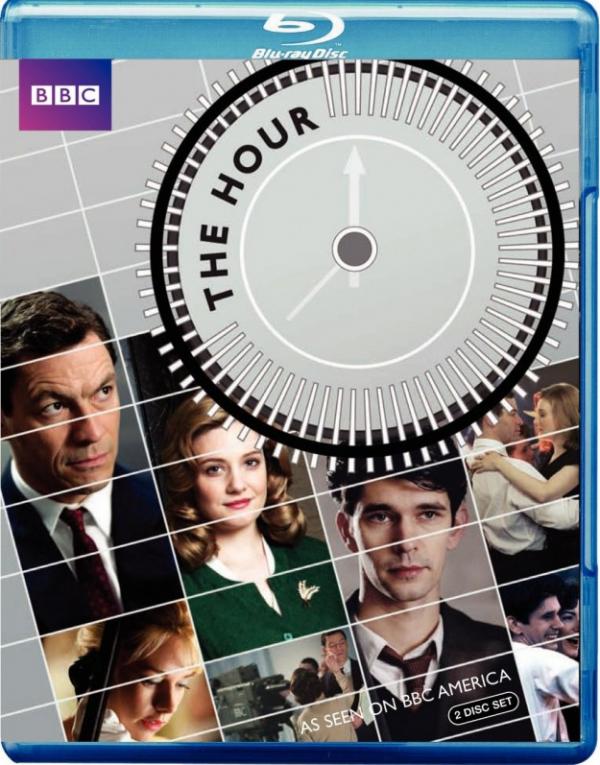 The Hour: Seasons 1 & 2
Mixing historical drama and espionage thriller in Cold War-era England, The Hour is a BBC drama series about the behind-the-scenes of creating a 1950s BBC investigative current-affairs news show — "The Hour." It centers on the professional practices and playtimes of Freddie Lyon (Ben Whishaw), a brilliant, moody, and caustically witty journalist who cares about the issues and getting them to the public, Hector Madde (Dominic West), a slick, handsome, and charming presenter who knows little and cares less about reporting focusing his attentions instead on famous and getting laid, and Bel Rowley (Romola Garai), an ambitious producer who is dedicated to creating a great news show while being attracted to both her colleagues. It also concerns the impact of the controversial news program on British culture of the times.
In Season 1, the mysterious murder of an academic — the leading political thinker in the country at that time — is officially treated as a case-closed robbery, despite the fact that there's still money in his wallet and a watch on his wrist. And why would MI6 be poking around, slitting open the seams of all the dead man's clothes and warning people to forget the whole thing?
The Hour delivers plenty of Mad Men morals in fancy Fifties suits and The Newsroom (or any Aaron Sorkin show) expertise and professionalism, all spiced up with murder mystery and governmental conspiracy.
In The Hour: Season 2, it is 1957 and the team's passions and ambitions are played out in the context of the Cold War — with its looming possibility of nuclear annihilation — the hopes and fears of the Space Race, rapid mordernization and shift in morals, and murky governmental machinations.
The Hour was shot on an Arriflex D-21 digital camera.Season 1 provides images that are often gloomy and shallow focused but nonetheless sharp and visually interesting. Contrast is good with extremely bright white shirts, blouses, and dresses, deep black dinner jackets, overcoats, and sweaters, and a wide range of greys, pastels, and autumnal tones. Dazzlingly rich primaries are rare — the odd splash of scarlet lipstick or fingernail polish — but there are still rich and solid yellows, mustards, and mauves, just all in a restrained, English kind of way.
Plentiful detail reveals stocking creases, intricacies in patterns in ties and wallpaper, hairs on a leopard skin coat, and cracks and blemishes in distressed walls along with pores and crow's feet in faces. You can even read the writing on the wall in taped-up newspaper clippings — not just headlines and deck, but the body text, too. Season 2 has a brighter picture of even greater resolution, but where the higher production values of the now-successful series really spring out at you are in its much more dimensional images filled with rounded and solid features and faces. The improvement is striking adding a greater style and glamour to the show's look.
Season 1's lossless Linear PCM 2.0 provides some stereo separation in music — a mixture of jazz, calypso, rock 'n' roll, and other music of the era — but nowhere near as much as in Season 2's DTS-HD Master Audio 2.0 Stereo which has a far greater individuation of instruments. There's generally a fuller, more open, more vibrant and alive sound, with bassier oomph to the double bass. A 5.1 mix would have served the series well but Season 2's newsroom atmospherics are nonetheless convincing, with a telephone off to the left, a typewriter to the right, and general murmur floating here and there. Most importantly though, in both seasons the smart, pithy dialogue is clear and easy to understand.
Each of these two-disc sets contain eight 60-minute episodes.
Season 1, Video: 1.78:1. Audio: Linear PCM 2.0. Extras: "Behind the Scenes," and "Creating The Hour" featurettes. Season 2, Video: 1.78:1. Audio: DTS-HD Master Audio 2.0 Stereo. Extras: "Behind the Scenes" featurette. Studio: BBC.
Now You See Me
The Four Horsemen, a magic super-group, amaze audiences by performing high-profile, high-tech magic shows — such as remotely robbing a bank in Paris while still on stage in Las Vegas.
Sponsored by multibillionaire insurance magnate Arthur Tressler (Michael Caine), The Four Horsemen consist of illusionist and charismatic leader J. Daniel Atlas (Jesse Eisenberg), escapist Henley Reeves (Isla Fisher), sleight-of-hand illusionist Jack Wilder (Dave Franco), and mentalist Merritt McKinney (Woody Harrelson). And for their first trick, they will get a volunteer member of the audience, and teleport him off to a bank in Paris, where he will activate an air-duct which will vacuum up all the money and shower it down onto the heads of the amazed crowd in Las Vegas.
For their next trick, they will expose a white-collar criminal while channeling his millions into the bank accounts of audience members, without leaving a trace behind for the dumbfounded authorities to follow.
So, it's then up to FBI Special Agent Dylan Rhodes (Mark Ruffalo) and Interpol detective Alma Dray (Laurent) to reveal how the magic is achieved and stop the group before they pull off their proposed greatest prestigitation performance yet. Rhodes, being unimpressed by his unwelcome partner's operating procedure, out of desperation turns to a famed magic debunker, Thaddeus Bradley (Morgan Freeman) for help. Bradley believes that there isn't any magic to the groups amazing feats, just meticulously planned and prepared illusion, leading Dylan and Dray to wonder whether some outside mastermind is The Horsemen. If so, identifying him could (or her) could solve the whole mystery.
Now You See Me was directed by Louis Leterrier (Transporter 2, The Incredible Hulk, Clash of the Titans). Its surprising box office success — earning $117 million in US box office and $308 million worldwide on its $75 million budget — has resulted in a sequel being planned.
Both the theatrical and an extended director's cut (with 16 extra minutes of footage) are included on the Blu-ray Disc.
Video: 2.40:1. Audio: DTS-HD Master Audio 7.1, Dolby Digital 2.0. Extras: commentary by producer Bobby Cohen and Leterrier (theatrical cut only), "Now You See Me Revealed" and "A Brief History of Magic" featurettes, deleted scenes; DVD and UltraViolet digital copy for streaming/downloading. Studio: Summit.
Revolution: Season 1
Suddenly, one day, the lights go out. Not only that, but computers, cars, phones and every other electric device fails to function. All over the world. Planes fall out of the sky, water stops pumping, and civilization as we know it comes to an end.
Revolution is swashbuckling adventure TV series by creator Eric Kripke (Supernatural) and co-produced by J. J. Abrams (Lost, Fringe, Star Trek 3, Star Wars: Episode VII). Season 1 picks up 15 years after the blackout began when overgrown and flooded cities are too dangerous to live in and American government has collapsed being replaced by fiefdoms, mini republics ruled over by feudal lords through force of brutal, armed militias that roam the countryside searching for breakers of the oppressive laws, non payers of taxes, and rebels.
The story centers on a strong-willed young woman, Charlie Matheson, who has lost relatives including her mother. Her remaining family struggles to survive in the post-apocalyptic landscape, but one day the Monroe Republic Militia turn up at her village to take away her father, Ben Matheson (Tim Guinee). General Sebastian Monroe (David Lyons) has ordered his arrest because he believes Ben may know the cause of the electricity going away and could therefor maybe help make it come back. If Monroe were to gain control of the power he could use modern weaponry to conquer the other republics all across America.
Ben is accidently killed during his arrest, so Charlie's brother Danny (Graham Rogers) is taken instead by Major Tom Neville (Giancarlo Esposito), a former insurance adjuster, to use as bait flush out Charlie's uncle, Miles Matheson (Billy Burke), a former U.S. Marine Corps sergeant and skilled killing machine who also has knowledge of the power loss.
Now Charlie sets off on a quest to find and rescue her brother, aided by Maggie Foster (Anna Lise Phillips), her father's girlfriend who's a British medical doctor separated from her children, and Aaron Pittman (Zak Orth), an MIT graduated former Google executive who's been given a pendant by Ben containing a USB flash drive that could be the key to finding out what happened 15 years ago. On her journey, Charlie meets and is helped by Miles, Nora Clayton (Daniella Alonso), a warrior woman who has a history with Miles and is connected to the rebels, and Jason Neville (J.D. Pardo), a Lieutenant with the Monroe Militia who has the hots for Charlie and so saves her on several occasions.
Season 1 (2012–2013) includes all 20 episodes on 4 Blu-ray discs and 5 DVDs. Film director Jon Favreau (Iron Man, Iron Man 2, Cowboys & Aliens) directed the pilot episode.
Video: 1.78:1. Audio: DTS-HD Master Audio 5.1. Extras: Revolution cast and creative team at the 2013 Paley Festival, commentary on select episodes, "In-depth Look at the Revolution Pilot," "Assembling the Militias of Revolution," and "Creating a Revolution" featurettes, deleted scenes, NBC.com webisodes, gag reel; DVD and UltraViolet digital copy for streaming/downloading. Studio: Warner.
Cockneys vs Zombies
In this horror comedy from director Matthias Hoene, two cockney Londoners, Terry MacGuire (Rasmus Hardiker) and his younger brother Andy (Harry Treadaway) — with the help of their cousin Katy and idiot friends Davey Tuppence (Jack Doolan) and "Mental" Mickey (Ashley Bashy Thomas) — plot to rob a bank in order to save the retirement home of their retired gangster grandfather Ray (Alan Ford) from being demolished by property developers.
Meanwhile, construction workers discover a 17th century heavy metal door inscribed with the seal of King Charles II. After they jemmy it open, they find an ancient mass graveyard but some of the dead just won't lay down. The construction workers are bitten by animated corpses setting in motion the spread of the shambling undead.
Meanwhile, during the robbery, the bank manager sets off an alarm so that when the thieves attempt to leave they find the place surrounded by a large police force. After holing up in the bank for a time, the robbers decide to make a break for it using two hostages with them — Emma (Georgia King) and Clive (Tony Gardner) — as shields. But on getting outside they find that the coppers have been killed by the ever-increasing swarm of zombies and so the thieves are able to escape in their clapped-out van.
At the retirement home, the zombies attack the residence, but Ray and a group of fellow residents (played by aging British stars Honor Blackman, Tony Selby, Georgina Hale, Dudley Sutton, and Richard Briers) take refuge in the kitchen.
Will the gang be able rescue the residents of the retirement home and, with the help of war veteran Mental Mickey's large stash of weapons, have a hope in hell of stopping the zombie apocalypse from taking over the East End of London? Too bloody right, mate!
Cockneys vs Zombies co-stars Michelle Ryan, Alan Ford, Michelle Ryan, Lee Asquith-Coe. Subtitles to the Cockney slang are optional.
Video: 2.40:1. Audio: DTS-HD Master Audio 5.1. Extras: director's commentary, commentary with writer James Moran, "Original Look Behind the Scenes" 30-minute featurette, deleted scenes. Studio: Shout! Factory.
Person of Interest: Season 2
A mysterious billionaire software genius, Harold Finch (Michael Emerson), conscripts a homeless, presumed-dead, former Green Beret and ex-CIA hitman, John Reese (Jim Caviezel), to help prevent violent crimes before they happen.
Finch had built a computer system for the government that takes information from every surveillancecamera, cellphone, and Web-linked computer and processes it, finding patterns that help predict future terrorist attacks. Finch discovered, though, that "The Machine" is able to predict regular crimes as well. Since the government isn't interested in utilizing their special assets on ordinary criminal activities, Finch secretly uses a back door built into the system to divert the data and processing it toproduce social security numbers of citizens soon to be involved in violent crimes — perp or victim. This is where Reese comes in to conduct surveillance and use some old-school special-forces vigilantemayhem where needed to prevent the killing.
This with-a-twist procedural crime thriller was created by screenwriter Jonathan Nolan (co-writer with his brother Christopher Nolan of The Dark Knight, The Dark Knight Rises, and Memento) and co-executive producer J. J. Abrams. The 2012–2013 second season begins with Finch still missing having been kidnapped in Season 1's cliffhanger finale. So Reese asks for help from befriended NYPD homicide detective, Joss Carter (Taraji P. Henson), and a blackmailed corrupt cop, Lionel Fusco (Kevin Chapman), to join the search for his partner. Now they must find Finch before his kidnapper learns of The Machine's location.
This 10-disc set (4 BDs, 6 DVDs) features all 22 Season 2 episodes on Blu-ray, DVD, and UltraViolet digital copy for streaming/downloading.
Video: 1.78:1. Audio: DTS-HD Master Audio 5.1. Extras: "View From the Machine: 24 Hours Behind Person of Interest" featurette, commentary for Episode 222 (season finale), gag reel; DVD and UltraViolet digital copy for streaming/downloading. Studio: Warner.
The Iceman
The Iceman, directed by Ariel Vromen, is based on the true story of Richard Kuklinski, a notorious stone-cold contract killer who murdered over 100 people, each time going home afterwards to be with his beloved wife and daughters.
Inspired by the events as transcribed in the true-crime book, The Iceman,by Anthony Bruno, this gritty and chilling crime thriller biopic traces the career of Polish-American Richard Kuklinski (Michael Shannon). Kuklinski is producing porn videos while telling his Catholic wife Deborah Pellicotti (Winona Ryder) that he's working for Disney when he gets the chance to go onto the payroll of local mobster Roy Demeo (Ray Liotta) as an enforcer. From his early days in the mob, Kuklinski finds that he likes his new line of work amidst the New Jersey underworld, and that he's naturally good at his job, able to dispatch his victims with calm efficiency and deadly precision.
Living the American dream for most of his life, when this devoted family man was finally arrested in 1986 neither his wife nor his offspring had any idea of his true profession as a ruthless, emotionless assassin.
The Iceman co-stars Chris Evans, James Franco, Stephen Dorff, Michael Shannon, and David Schwimmer.
Video: 1.85:1. Audio: Dolby TrueHD 5.1, Dolby Digital 2.0. Extras: "The Making of The Iceman" and "The Iceman Behind the Scenes" featurettes; DVD. Studio: Millennium.
Da Vinci's Demons: Season 1
Written, directed, and executive produced by David S. Goyer (co-writer of The Dark Knight Rises trilogy, Man of Steel, and the upcoming Batman vs Superman), Da Vinci's Demons: Season 1 reveals the "untold story" of the early adult life of Leonardo, the original and the greatest Renaissance man of all time. As a 25-year old artist in Florence, this genius inventor, dreamer, and idealist struggles to live within the confines of his own time whilst visualizing the future.
Leonardo da Vinci (Tom Riley) is born into a world where belief, speech, and even thought are controlled by the church and state. The way he navigates these dangerous waters — allowing him the freedom to quest for knowledge, putting reason above faith to fulfill his aspirations and promise to propel an entire era out of darkness and into light — is to be useful to powerful people despite his heretical ideas.
When, in 1477, the Duke of Milan (Hugh Bonneville) is assassinated, da Vinci sells his designs for tanks, airplanes, and automatic-load canons to the new duke. Soon Da Vinci is working for the Medicis as a military engineer, building Lorenzo (Elliot Cowan) a sort of mortar. But, having been born an illegitimate child and having an antagonistic relationship with his father, this intellectual revolutionary becomes intent on exposing the lies and hypocrisy of religion and seeks to subvert the elitist society. In this, Da Vinci challenges the curator of the Vatican secret archives, Lupo Mercuri (Nick Dunning), by disproving the demon possession of some nuns, thereby getting the attention of Pope Sixtus IV (James Faulkner). In the course of his endeavors he's helped by a mystic who guides Leonardo in the unlocking of the hidden areas of his mind by accessing the Fountain of Memory through various ancient mystic texts.
The season also covers the shadowy wars of secret societies, a romance with an undercover spy, the political schemes of Florence and Milan fighting for power, and Da Vinci's search for the Book of Leaves. Most strange is Da Vinci's coming up against Vlad the Impaler, better known as Dracula (who actually died a year before the date the series opens).
Other characters in this adventure drama include Lucrezia Donati (Laura Haddock), Lord Girolamo Riario (Blake Ritson), Zoroaster (Gregg Chillin), Clarice Orsini (Lara Pulver), and Giuliano de' Medici (Tom Bateman).
This 3-disc set contains all 8 episodes of Season 1.
Video: 1.78:1. Audio: Dolby TrueHD 5.1. Extras: commentaries by David S. Goyer and actors Tom Riley, Laura Haddock, Blake Ritson, David Schofield and Tom Bateman, "Mastering Da Vinci," "Constructing Da Vinci," "Dressing Da Vinci," and "Worldwide Fanfare" featurettes, deleted scenes, Second Screen promo. Studio: Anchor Bay.
Stories We Tell
In this Canadian documentary from actress-director-screenwriter Sarah Polley (Away from Her, Take This Waltz), by simply interviewing her family members and friends she proves that truth depends on who is telling it.
In an attempt to shed some light on her roots and family secrets, she encourages them to speak of her mother who died of cancer when Polley was a young girl. Growing up, she was always teased by older siblings that she could be the child of someone her mother, Diane, might have had an affair with while away on a working trip. By asking each of them the same questions, she attempts to establish the truth.
However, the answers she elicits are candid but contradictory only highlighting the unreliability of different accounts of the same story. As each relates their version of the family mythology, they reveal the varying narratives that each member has created to explain the tangled past caused by a loved one leaving before mysteries are explained.
Using old home movies and a narration by her English actor father, Michael, Polley creates a deeply personal film about the universal nature of memory and truth and the way personal narratives help shape individuals and families.
Video: 1.78:1. Audio: DTS-HD Master Audio 5.1. Extras: none. Studio: Lionsgate.
The Office: Season 9
The Office, the American TV comedy series that is an adaptation of the BBC series created, written, and directed by Ricky Gervais and Stephen Merchant about the day-to-day lives of office employees in the Slough, England branch of the fictitious Wernham Hogg paper company. The faster-paced US TV version of the same name was adapted for American audiences by Greg Daniels (writer for Saturday Night Live, The Simpsons, andKing of the Hill. It follows the everyday interactions and relationships of a group of idiosyncratic/dysfunctional office employees at the Scranton branch of the fictitious Dunder Mifflin paper company as recorded by a documentary film crew (The series is shot in a single-camera set-up without a studio audience or a laugh track so as to simulate a real documentary series.)
In this, the farewell season of the Primetime Emmy-winning hit series, Jim (John Krasinski) receives a job opportunity from an old college friend at a Philadelphia sports marketing company called Athlead — along with Daryl (Craig Robinson) — putting a strain on his marriage with Pam (Jenna Fischer).
Regional Manager Andy (Ed Helms), with his increasing instability, abandons both Erin and the office to travel the world with his brother, pursuing an acting career, which leaves Erin (Ellie Kemper) free to get romantically involved with the new customer service rep Pete (Jake Lacy).
Angela (Angela Kinsey) — with her pregnancy and her marriage to a senator (Jack Coleman) whom Oscar (Oscar Nuñez) believes to be gay after he sleeps with him — must also deal with her lust for Dwight (Rainn Wilson). Dwight inherits his family's beet farm and also is chosen to be the new manager, offering to make Jim his assistant.
Kevin (Brian Baumgartner) continues with his ongoing personality challenges, Creed (Creed Bratton) with his chronic delusions, Stanley (Leslie David Baker) with his endless irritations, and Toby (Paul Lieberstein) with his attempts to woo Nellie (Catherine Tate).
And finally, at long last, we get to find out who's been filming the Scranton Branch all these years and why.
The ensemble cast includes Mindy Kaling, B.J. Novak and guest stars Roseanne Barr, Bob Odenkirk, and David Koechner.
The Office: Season 9 contains all 23 final episodes of the show.
Video: 1.78:1. Audio: DTS-HD Master Audio 5.1. Extras: 2003 casting audition tapes featuring the cast of the show plus Seth Rogen, Eric Stonestreet, and Jon Cho, over 2 hours of deleted scenes, "The Office: A Look Back" retrospective with the cast and their memories of the show, cast read-through for the series finale, blooper reel, "Autotune Andy" Autotune music video, The Office behind-the-scenes panel discussion; DVD and UltraViolet digital copy for streaming/downloading. Studio: Universal.
LATEST VIDEO