This Week in Movies & TV, September 17, 2013: Zombies, Mothers, & Other Horrors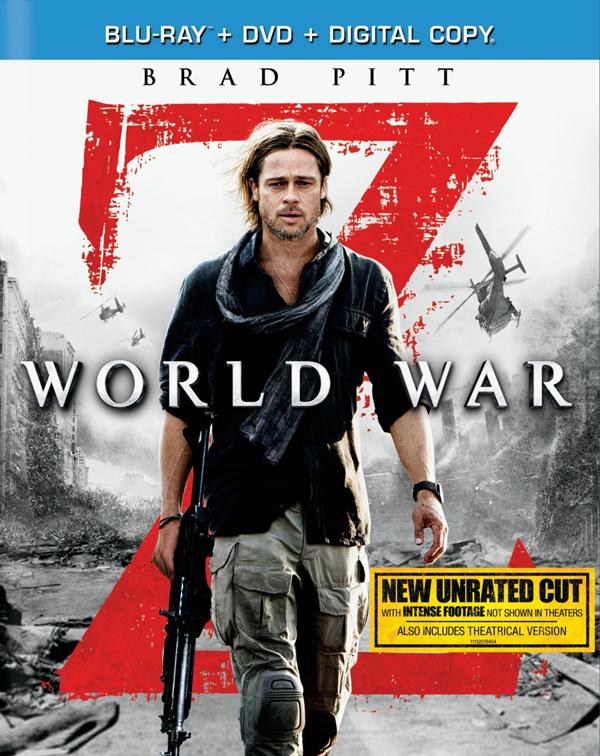 World War Z
Based on the novel by Max Brooks, this fast-paced, pulse-pounding, epic action-horror film directed by Marc Forster (
Quantum of Solace
,
Finding Neverland
,
Stranger Than Fiction
) finds a former United Nations investigator, Gerry Lane (Brad Pitt), his wife Karin (Mireille Enos), and their two daughters sitting stuck in heavy Philadelphia traffic when the city is suddenly attacked by hordes of zombies.
These aren't the cute, slow-shoe-shamble type zombies of day of yore, but the sprint-and-hurl-themselves-at-you variety that first appeared in Danny Boyle's fear-inducing 28 Days Later . . . And what's more, once bitten, it takes just 12 seconds for a person to change and immediately become rabidly driven to throw themselves wholeheartedly and single-mindedly into attacking people, too. This plague acts like an insanely rapid virus that can sweep across a city in hours, the infected individuals behaving like a swarm in order to fulfill their single function—to spread the attack wide and mutate as many healthy cells as it can.
Now Forster must race against time as he travels globe trying to keep himself and his family alive while seeking clues as to what mankind is fighting and what it will take to defeat the deadly zombie pandemic that could mean the end of the world.
In this unrated Blu-ray version (the theatrical version is included on a DVD), the transfer is spot-on accurate in its reproduction of the generally grim, drab, and unattractive picture. It's as if the filmmakers were declaring, "The apocalypse is here and it doesn't look good." Interiors are dim, with lighting failing or figures cowering in the murkiness, as bodies fly at then from the shadows. Yellow-green or blue casts over most of these sequences don't help make anything clearer. Exteriors fare better with brighter images, but this only serves to illuminate the scope of the zombie problem as streams of thousands of creatures can now be seen surging towards you. Interiors are flat, as are the figures in them, with nothing very distinct. Outside there's more resolution but, because of the danger coming from being exposed, everyone's dashing around and the scenes are shot in frantic shaky-cam style.
Colors are lost in the dimness and damped down anyway, the tints reducing the saturation further to faded or muted autumnal shades, as if life on Earth were already coming to an end one tone at a time. Grimm is the word that comes to mind. Within that there is a tonal range in the washes of gloom and drabness, just no rich colors or bright primaries.
Nonetheless, in the calmer scenes—as onboard the ship—when the camera's not in constant smearing motion, detail is fairly good, with craggy features revealing facial lines, even in Pitt, along with the bristles in his stubble and the striations in his jacket cuff (one of the rare deep blacks in the film). Individual hairs on others' arms and heads are also visible.
Although the picture is not that visually thrilling, the audio is. In the very full and open 7.1-channel soundtrack, the loud, bassy rock-based orchestral music fills the soundstage with exceedingly well-separated instruments all around. The rears are utilized mainly in atmospherics so that in the opening traffic jam you're immersed in the usual honking horns, police sirens, helicopters, screams, booming explosions, and the crunching rammings and slammings of a rampaging truck. This is accompanied by Psycho-shower-scene-like stabbing, slicing, and sawing strings from the surrounds. The general effect is a highly disconcerting, nerve-jangling mainline shot of adrenaline that boosts the general scariness of the images and the concept of a world gone mad that they evoke.
All channels are also engaged in putting you in convincing rain and helicopter environments, in grenades going off with much LFE oomph, and in the many airplane and chopper flybys and flyovers across the screen, from back to front, front to back, straight, diagonal, or just generally circling around. Almost all of these sound effects—except one that has some planes flying away into the screen while the roar continues coming from the rears—are accurately panned and realistic.
The film as a whole was also very realistic—unnervingly so—obviously highly effective and affecting since it has made $567 million in theaters worldwide on a $190 million budget. A sequel is in development.
World War Z is also available in a Blu-ray 3D set which comes with a 2D Blu-ray and DVD.
Video: 2.40:1.
Audio: DTS-HD Master Audio 7.1.
Extras: "Origins" featurette with the filmmakers discuss collaborating with actor-co-producer Pitt, "Looking to Science" featurette on the scientific realities of zombie behavior in nature and zombies in literature and film, "WWZ Production" featurette made up of episodes — "Outbreak" going behind-the-scenes at the first attack in Philadelphia, "The Journey Begins" on Lane's fight for survival during the escape in South Korea, "Behind The Wall" on the logistics of creating the elaborate stunts and crowd sequences for the scene in Jerusalem, and "Camouflage" on the final confrontation between Lane and the zombies; DVD and UltraViolet digital copy for streaming/downloading.
Studio: Paramount.
Autumn Sonata
In Autumn Sonata (Höstsonaten, 1978), the only collaboration between the Swedish actress Ingrid Bergman and director Ingmar Bergman (The Seventh Seal, Persona, Wild Strawberries), a famous but detachedly cold concert pianist, Charlotte Andergast (Bergman), comes for a rare visit to see her neglected eldest daughter, Eva (Liv Ullmann). She lives in her remote house with her husband, Viktor (Halvar Björk) and her sister, Helena (Lena Nyman), who is severely disabled and had been put in an institution by Charlotte but is now being taken care of by Eva.
Over the course of a partly cathartic, partly devastating, long day's journey into night, Eva and Charlotte finally face the bitter memories, truths, and recriminations that have been an unspoken part of their relationship. As Eva accuses her mother of wounding neglect and selfishness, Charlotte demonstrates and explains to her daughter, who's a fair pianist but not an artist, how Chopin's Prelude No. 2 in A minor should actually be interpreted.
Autumn Sonata was shot by the great cinematographer Sven Nykvist (Fanny and Alexander, Persona, Celebrity). It comes in a transfer from a new 2K digital film restoration with uncompressed monaural soundtrack.
Video: 1.66:1.
Audio: Swedish, LPCM Mono with English subtitles, English (dubbed), Dolby Digital Mono.
Extras: introduction by Bergman from 2003, commentary featuring Bergman expert Peter Cowie, The Making of Autumn Sonata three-and-a-half-hour program examining every aspect of the production, new interview with Ullmann, 1981 conversation between Bergman and critic John Russell Taylor at the National Film Theatre in London, booklet featuring an essay by critic Farran Smith Nehme.
Studio: The Criterion Collection.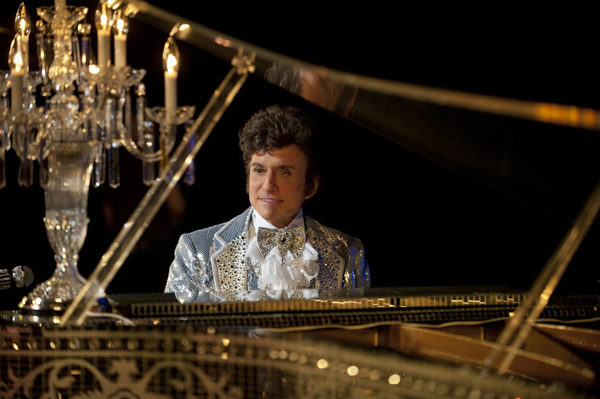 Behind the Candelabra
Based on the 1988 tell-all memoir of Liberace's long-term lover, Behind the Candelabra, the HBO TV movie directed by Steven Soderbergh (Che, Traffic, Erin Brockovich), tells of the glittery and tempestuous six-year relationship between the pianist and his younger "friend" Scott Thorson.
Liberace (Michael Douglas) — virtuoso pianist, showman, and extravagant entertainer — razzledazzles his audiences with his kitsch brilliance, unique, upbeat persona, and flamboyant onstage behavior, while offstage he looks for love in a mirror or the young men who reflect his youthful inner self.
In the summer of 1977, handsome young stranger Scott Thorson (Matt Damon) is introduced to Liberace in the famous musician's backstage dressing room at one of his shows and is instantly star-struck. Despite the huge difference in their ages, they're immediately attracted to each other. Thorson would like to be a veterinarian, but Liberace hires him Scott as his personal assistant and it's not long before the two have embarked on an openly secretive love affair.
Scott soon acclimatizes to Liberace's lavish lifestyle and the perks that sharing it affords. But it, and the larger-than-life star's eccentric self-obsession, insecure vulnerability, and Scott's inevitable need to have a life of his own despite his willingness to subjugate himself to the old queen's needs, begin to interfere with their romance.
Soon Scott is being encouraged by Liberace to have plastic surgery that makes him look like the pianist when he was young and to take drugs to lose the weight he's put on which, along with his questioning of his sexuality and identity, lead to confusion in the young man, despite his continuing trust and love of the enigmatic egoist.
This intimate, funny, and endearing TV film is an exceedingly honest account of an uneven relationship that's both utterly unique yet has many previously untold moments normal to any relationship. As it entertains and charms, it seduces its audience into conspiring with Liberace's suspension-of-disbelief fantasy and its own, creating a sort of schmaltzy, tacky, klutzy, glitzy, kitschy fairy tale.
Behind the Candelabra co-stars a scene-stealing Rob Lowe and Dan Aykroyd, Scott Bakula, Paul Reiser, Tom Papa, and Debbie Reynolds.
Video: 1.78:1.
Audio: DTS-HD Master Audio 5.1.
Extras: "The Making of Behind the Candelabra" 14-minute featurette exploring the legacy of Liberace through costumes, sets, locations, and prosthetics with several members of the cast and crew, including Douglas and Damon; DVD and digital copy.
Studio: HBO.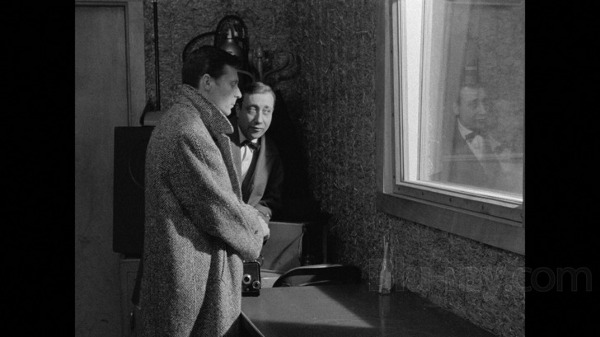 Two Men in Manhattan
In this rarely seen 1959 film, auteur Jean-Pierre Melville (Bob le Flambeur, Le Samourai, Army of Shadows, Les Enfants Terribles) creates a stylish, moody, crime thriller drama and a love letter to New York City and American cinema. The story concerns a missing French UN delegate and centers on the muckraking reporter, Moreau (Melville himself) and the hard-drinking, seedy photographer Delmas (Pierre Grasset) who set out to find him, traveling across the city one long, murky, melodrama-filled evening.
With its evocative jazz score and striking, stylized black-and-white cinematography by Nicolas Hayer (Le Corbeau, Orpheus, Le Doulos) that beautifully captures the gritty streets at night, Two Men in Manhattan (Deux hommes dans Manhattan 1959) is director Melville's homage to the cigarette-smoking-in-filled bars, world-weary-gangsters-and-detectives-in-trenchcoats-and-fedoras world of American noir. It displays Melville's typical panache, minimalist style, and use of real locations—here from nightlife exteriors ranging from Greenwich Village to Times Square—that was a major influence on the French New Wave.
This film has been fully restored for theatrical release and then remastered for this Blu-ray.
Video: 1.33:1.
Audio: French, LPCM Mono with English subtitles.
Extras: conversation between critics Jonathan Rosenbaum and Ignatiy Vishnevetsky, new essay by Melville scholar Ginette Vincendeau.
Studio: Cohen Film Collection.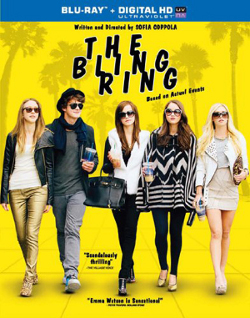 The Bling Ring
A group of teenagers, obsessed with high fashion and celebrity, burglarize famous people's homes in Los Angeles by tracking the whereabouts of them online and then breaking in while they're away to steal their expensive possessions. The kids don't do this for monetary gain, so much, but to take control of the designer label clothes and luxury brand goods that belonged to the objects of their fascination. Starting out with a Vanity Fair article by Nancy Jo Sales on actual events—"The Suspects Wore Louboutins"— screenwriter-director-producer Sofia Coppola (Lost in Translation, The Virgin Suicides, Marie Antoinette) satirizes how this behavior reflects the traditional naiveté and ignorance of youth along with unthinking lack of concern for consequence, but exaggerated by the present time's obsession with the cult of celebrity.
When Marc Hall (Israel Broussard) tells his new pal Rebecca Ahn (Katie Chang) about a rich acquaintance who's out of town, the fame-fascinated friend insists that they go check out acquaintance's house and Marc, despite his reservations, agrees to go along. Rebecca steals a handbag because Lindsay Lohan has one just exactly like it and in addition takes some money (presumably because Lindsay Lohan has some just exactly like it). The pair then making their getaway in a Porsche before setting off on a mad shopping spree with the stolen cash, emulating the crazy lavish lifestyle they'd read about in fashion magazines.
At a nightclub they hook up with Rebecca's friends Nicki (Emma Watson), Sam (Taissa Farmiga), and Chloe (Claire Julien) and mingle with the rich and famous types like Paris Hilton. This leads them to research Hilton on the Web where they learn that the celeb will be going out of town. . . .
Soon "The Bling Ring," as the media are now calling them, are not only flaunting their swag to friends but posting photographs it on social media sites gaining fame of their own — both with the public and the police.
The Bling Ring co-stars Leslie Mann, Gavin Rossdale, and G. Mac Brown, as well as celebrities Paris Hilton, Kirsten Dunst, Lindsay Lohan, Audrina Patridge, Rachel Bilson, Miranda Kerr, and Orlando Bloom playing themselves — or at least the personas they've constructed over the years.
Video: 1.85:1.
Audio: DTS-HD Master Audio 5.1.
Extras: "Making The Bling Ring: On Set with Sofia, the Cast, and Crew," "Behind the Real Bling Ring," and "Scene of the Crime with Paris Hilton" featurettes.
Studio: Lionsgate.
Fear Eats the Soul: The Horror Continues
Another slew of slaughter, savagery, and sinister silliness.
Dracula (1931)
The film that launched the Hollywood horror genre, Dracula, based on Bram Stoker's 1897 Gothic horror novel and directed by Tod Browning (Freaks, The Devil-Doll, London After Midnight), tells of an English solicitor, Johnathan Harker (David Manners), who travels to creepy Castle Dracula nestled high in the Carpathian Mountains of Transylvania. Count Dracula (Bela Lugosi) has summoned him to close a real estate deal of purchasing Carfax Abbey in England.
Soon, however, Harker discovers that he's a prisoner and that his host is actually a vampire. After Harker manages to escape the castle, he takes refuge in a convent where he has a mental breakdown. His fiancée, Mina Murray (Helen Chandler) goes to help nurse him back to health. She marries him there.
After returning home to England, Harker travels to London and spots Dracula waking the streets. And before long, the vampire's presence is being felt. First Lucy Weston (Frances Dade) becomes a victim of the seductive bloodsucker and then Dracula sets his sight on her best friend, Mina. Now only vampire expert Professor Van Helsing (Edward Van Sloan) can hope to save her and prevent Dracula from spreading his unholy, undead plague.
Dracula, with its German Expressionist-influenced, shadow-filled visuals, was the inspiration for hundreds of horror movies.
Video: 1.33:1.
Audio: DTS-HD Master Audio Mono.
Extras: Spanish language version of Dracula with an optional introduction by Lupita Tovar Kohner (who played Eva), alternate score track by minimalist composer Philip Glass performed by The Kronos Quartet in Dolby Digital Stereo, commentary by film historian David J. Skal, commentary by Steve Haberman (author of Dracula: Dead and Loving It), "The Road to Dracula" 35 minute making-of featurette hosted by Rebecca Isabelle Laemmle (niece of Universal Pictures founder Carl Laemmle), "Lugosi: The Dark Prince" 36 minute discussion on the actor, archive collection of poster artwork, marketing stills and other photos from the set, trivia track, trailers of Dracula, Dracula's Daughter, Son of Dracula, and House of Dracula.
Studio: Universal.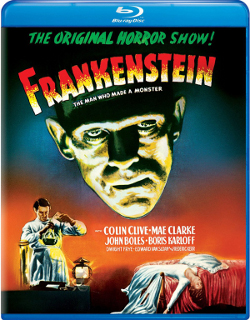 Frankenstein (1931)
Mad scientist, Henry Frankenstein (Colin Clive) is obsessed with creating new life. By stitching together body parts in his laboratory in an abandoned watchtower and using a ray and various electrical devices, he manages to animate what he has created— a creature (Boris Karloff)—the only member of a new race! Unfortunately, the brain he has accidentally given it, fetched by hunchback assistant Fritz— not Igor!—(Dwight Frye) is a criminal brain, from a jar labeled Abby Normal?
This horror classic directed by James Whale (The Old Dark House, The Invisible Man, Show Boat), adapted from the play by Peggy Webling, which in turn is based on the novel by Mary Shelley, co-stars Mae Clarke, and Edward Van Sloan.
Video: 1.37:1.
Audio: DTS-HD Master Audio Mono.
Extras: commentary by film historian Rudy Behlmer, commentary by historian Sir Christopher Frayling, Universal Horror 95-minute documentary hosted by actor-filmmaker Kenneth Branagh, "The Frankenstein Files: How Hollywood Made a Monster" 45-minute featurette in which film historian David J. Skal hosts an examination of Mary Shelley's book and Whale's film adaptation, "Karloff: The Gentle Monster" 38-minute featurette, "100 Years of Universal: Restoring the Classics" featurette, Boo! 1932 short film parody from writer-director Albert DeMond, archive collection of movie posters, campaign art, production stills and other images, trivia track, trailers of Frankenstein, The Bride of Frankenstein, The Ghost of Frankenstein, Frankenstein Meets the Wolf Man, and House of Frankenstein.
Studio: Universal.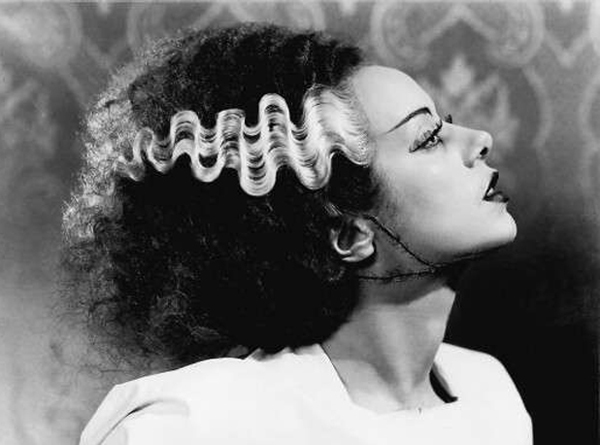 Bride of Frankenstein
In director James Whale's acclaimed, highly entertaining, high-camp 1935 sequel to Frankenstein, the man–made creature rises again having, it seems, survived the village people's fiery inferno. But now, as the only member of his new race, the creature (Boris Karloff reprising his role) longs for a mate of his own kind and Dr. Frankenstein (Colin Clive again), under pressure from the archest of arch deranged, demented, deliriously swish scientists, Dr. Pretorius (Ernest Thesiger), is only too happy to oblige by, creating The Bride (Elsa Lanchester).
Bride of Frankenstein co-stars Valerie Hobson and Dwight Frye.
Video: 1.33:1.
Audio: DTS-HD Master Audio Mono.
Extras: commentary by film historian Scott MacQueen, "She's Alive! Creating The Bride of Frankenstein" 39 minute featurette hosted by Joe Dante analyzing the film, "100 Years of Universal: Restoring the Classics" featurette, archive of movie posters, campaign art, and production stills, trailers of Frankenstein, The Bride of Frankenstein, The Ghost of Frankenstein, and House of Frankenstein.
Studio: Universal.
The Wolf Man
In this retelling of the werewolf legend — adapted by screenwriter Curt Siodmak (Frankenstein Meets the Wolf Man, I Walked with a Zombie, Earth vs. the Flying Saucers) and directed and produced by George Waggner (77 Sunset Strip, The Man from U.N.C.L.E. , Batman TV series)— a British nobleman, Larry Talbot (Lon Chaney, Jr.) learns of the death of his brother and returns to his ancestral home in Wales where his estranged father, Sir John Talbot (Claude Rains) lives. When he meets some gypsies and is bitten by a wolf, Larry, like most sons visiting their parents, undergoes a major change that brings out the beast in him.
The Wolf Man (1941) co-stars Evelyn Ankers as the woman who catches his eye, Maria Ouspenskaya as the fortune-teller with a dark secret, and Bela Lugosi as her cursed son. The cast also includes Evelyn Ankers, Ralph Bellamy, and Patric Knowles.
Video: 1.33:1.
Audio: DTS-HD Master Audio Mono.
Extras: commentary by film historian Tom Weaver, "Monster by Moonlight" 33-minute featurette hosted by John Landis, director of An American Werewolf in London, looking at all things werewoolfy, "Pure in Heart: The Life and Legacy of Lon Chaney, Jr." 37-minute featurette on the actor, "He Who Made Monsters: The Art and Life of Jack Pierce" 25-minute featurette on makeup artist, "From Ancient Curse to Modern Myth" featurette, "100 Years of Universal: The Lot" featurette on the Universal backlot, archive collection of movie posters, campaign art, and production stills, trailers of Werewolf of London, The Wolf Man, Frankenstein Meets the Wolf Man, House of Frankenstein, House of Dracula, and She-Wolf of London.
Studio: Universal.
The Devil Bat
Well-meaning scientist Dr. Carruthers (Bela Lugosi) gets awful mad at his greedy employers, Heath (Edward Mortimer) and Morton (Guy Usher), when they take a product he devised and make a fortune out of it for themselves and cheat Carruthers out of his share.
So, of course, he electrically enlarges bats, develops an aftershave lotion that causes the gigantic bats to kill the wearer, and sends them out to wreak vengeance on his bosses' families.
Eventually, though, an intrepid reporter, Johnny Layton (Dave O'Brien), figures out Carruthers' devious technique and gives the good doctor a spray of his own medicine.
The Devil Bat (1940) is directed by Jean Yarbrough and co-stars Suzanne Kaaren, Guy Usher, Yolande Donlan, and Dave O'Brien.
Video: 1.33:1.
Audio: Linear PCM 2.0 Mono.
Extras: commentary, stills gallery.
Studio: Kino.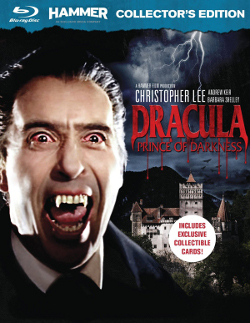 Dracula: Prince of Darkness
In this 1966 sequel from director Terence Fisher (The Devil Rides Out, The Curse of Frankenstein, The Hound of the Baskervilles) to the1958 Hammer Horror film Dracula, four English tourists are unwittingly holidaying in the Carpathian Mountains, Romania.
True, Dracula died in the previous film at the hands of Dr. Van Helsing (Peter Cushing), but when the four holidayers meet the Father Sandor (Andrew Keir) at an inn, Father Sandor still warns them in no uncertain terms that, whatever they do do, they must avoid Dracula's castle.
However, the very next day, while the tourists are riding through the mountains, their driver abandons them, leaving them stranded. So when a mysterious carriage without a driver arrives, they, naturally, climb aboard it to get a lift to the nearest village. Unfortunately, the carriage has other plans and takes them to the local castle. There they're greeted by Klove (Philip Latham), sinister servant of the now resurrected Count Dracula (Christopher Lee).
Dracula: Prince of Darkness co-stars Barbara Shelley, Andrew Keir, Francis Matthews, Suzan Farmer, and Charles "Bud" Tingwell.
Video: 2.35:1.
Audio: TBA.
Extras: commentary with Lee, Shelley, Farmer, and Matthews, gallery of never-before-released stills, restoration comparison, behind-the-scenes Super 8mm footage, "Back to Black" new featurette, World of Hammer episode "Hammer Stars: Christopher Lee," restored original trailer, printed memorabilia.
Studio: Millennium Entertainment.
Day of the Dead (1985)
In this recently remade cult classic zombie horror film, the concluding part of George A. Romero's trilogy, the undead roam the planet freely while the living survivors have been forced underground to a hidden missile silo. A small group of scientists there help Doctor Logan (Richard Liberty) in his experiments in domesticating the zombies while a military faction favor a final showdown.
Day of the Dead co-stars Lori Cardille, Terry Alexander, Joseph Pilato, Jarleth Conroy, Antone DiLeo, Jr., and Sherman Howard. This collector's edition comes with a new transfer and new extras.
Video: 1.78:1.
Audio: DTS-HD Master Audio Mono.
Extras: commentary by Romero, special make-up effects artist Tom Savini, production designer Cletus Anderson, and actress Lori Cardille, commentary by filmmaker Roger Avary, World's End: The Legacy of Day of the Dead new 90-minute documentary, "Underground: A Look into the Day of the Dead Mines," 30 minutes of behind-the-scenes footage from special make-up effects creator Savini's archives, Wampum Mine archival promotional video, photo galleries.
Studio: Shout! Factory.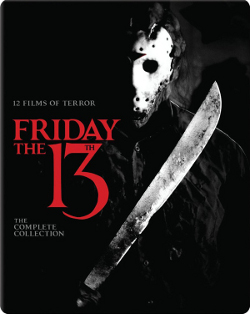 Friday the 13th: The Complete Collection
This 10-disc set collects the whole hockey-masked, machete-wielding Jason Voorhees slasher cycle of 12 films from 1980–2009 (7 of the films making their Blu-ray debuts) including Friday the 13th, Friday the 13th Part 2, Friday the 13th Part 3 in 3D, Friday the 13th: The Final Chapter, Friday the 13th Part V: A New Beginning, Friday the 13th Part VI: Jason Lives, Friday the 13th Part VII: The New Blood, Friday the 13th Part VIII: Jason Takes Manhattan, Jason Goes to Hell: The Final Friday, Jason X, Freddy vs. Jason, Friday the 13th (the 2009 theatrical version and the "Killer Cut" extended version). Each film has an UltraViolet digital copy for streaming/downloading. The set comes with a DVD of extras, a 40-page soft cover book, and an official Camp Crystal Lake embroidered counselor patch. It's all housed in a collectible tin case.
Video: various aspect ratios.
Audio: various soundtracks.
Extras: 11 hours of bonus features on the making of the franchise; UltraViolet digital copy for streaming/downloading.
Studio: Warner.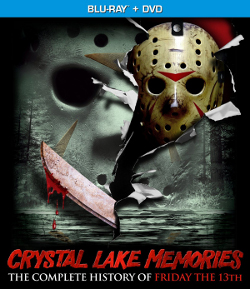 Crystal Lake Memories: The Complete History of Friday the 13th
And if that's not enough jabby Jason for you, this in-depth documentary on the Friday the 13th film series, inspired by Peter Bracke's book of the same name, consists of over 7 hours of film clips, outtakes, behind-the-scenes footage, photographs, archival documents, conceptual art, and anecdote-filled interviews with the stars and filmmakers behind this the longest-running and most successful horror franchises in film history. Crystal Lake Memories, directed Daniel Farrands, is narrated by Corey Feldman. It comes in a 2 Blu-ray Disc, 2 DVD set.
Video: 1.78:1.
Audio: Dolby Digital 5.1.
Extras: filmmaker's commentary; DVD.
Studio: 1428 Films.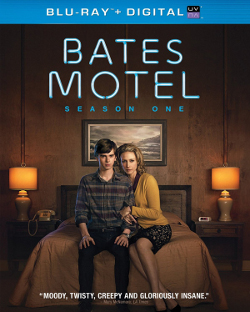 Bates Motel: Season 1
This reworking of Alfred Hitchcock's revolutionary, genre-altering classic horror film, Psycho (1960), imagines the formative years of Norman Bates (Freddie Highmore) and his relationship with his mother, Norma Bates (Vera Farmiga), in a contemporary, small-town setting.
This dark, twisted backstory takes us into the homicidal how — as in, "how does a young man get gradually turned by the influence of his mother, his surroundings, and the people he meets into a psychopathic serial killer?"
The cast of Bates Motel: Season 1 includes Max Thieriot, Nestor Carbonell, Keenan Tracey, Keegan Connor Tracy, Mike Vogel, Nicola Peltz, and Olivia Cooke. This 2-Blu-ray set contains all 10 Season 1 episodes plus a set of limited edition collector cards taken from artwork on the show ("Jiao's Sketchbook").
Video: 1.78:1.
Audio: DTS-HD Master Audio 5.1.
Extras: Paley Center panel discussion with cast and creative team, deleted scenes, set of limited edition collector cards taken from artwork on the show ("Jiao's Sketchbook"); UltraViolet digital copy for streaming/downloading.
Studio: Universal.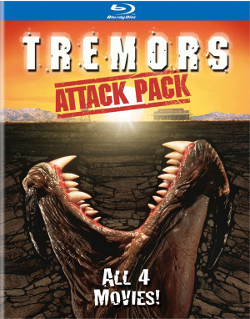 Tremors Attack Pack
Tremors Attack Pack collects all 4 underground crunchy critter films made from 1990 to 2004 including Tremors, Tremors 2: Aftershocks, Tremors 3: Back to Perfection, and Tremors 4: The Legend Begins on two double-sided Blu-ray Discs. The casts include Kevin Bacon, Fred Ward, Finn Carter, Michael Gross, Reba McEntire, Robert Jayne, Tony Genaro, Ariana Richards, Charlotte Stewart, and Bobby Jacoby
Video: various aspect ratios.
Audio: various soundtracks.
Extras: "The Making of Tremors" featurette, another making-of featurette, outtakes, "Kevin Bacon Profile," "Michael Gross Profile," "Reba McEntire Profile," production photographs.
Studio: Universal.