This Week in Movies & TV, October 22, 2013: Pure Talent—19 Movies in 3 Gift Sets
John Cassavetes: Five Films
These five John Cassavetes movies made between 1959 and 1977, along with the masses of extras included in the five Blu-ray set, give a complete portrait of the man, his world, and the artistic impulses that drove him to create such powerful, generous, and compassionate works that speak of a love of life and people in all their gloriously messy humanity.
Characters from all walks of life (and death) suffer, love, fantasize, fool around, care, don't care, get frustrated, and get inspired by each other in a beautiful honesty—not always with each other or themselves, but in their depiction by the writer-director. Using a cinéma vérité style and improvisation from a fiercely talented troupe in films he often self-financed from his Hollywood acting jobs in order to maintain complete artistic control, Cassavetes—the definition of independent—heroically mined the truth, exposing what it's like for these characters to live their lives, of what it is for anyone to live a life and struggle for personal authenticity.
Shadows

Cassavetes's 1959 directorial debut, is set solidly in New York City where it was shot in black-and-white with a 16 mm handheld camera in real streets, apartments, clubs, and cafés. The people who inhabit these places include Tony (Anthony Ray) and his goof-off friends and Lelia (Lelia Goldoni), a light-skinned black woman he meets and begins a romance with. The film also follows Lelia's darker-skinned jazz singer brother, Hugh (Hugh Hurd) and manager, Rupert (Rupert Crosse) as they struggle to find the few ill-paying gigs he's able to play in, his confidence systematically waning And then there's Hugh's younger hipster brother Benny (Ben Carruthers), who aimlessly cruises through Manhattan's beat scene looking for kicks and purpose, but finding only trouble. Their problems are exacerbated when their separate lives intersect and Tony realizes Leila's not the white woman he supposed she was. Faces, with its jazz score, ad-libbed dialogue, and free-and-easy unplanned style plays like an improvised piece with solos that make up a time and place.
Faces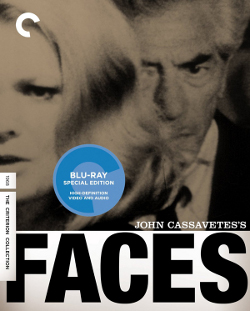 Shot in 1968 in high-contrast 16 mm shades of black-and-white, Cassavetes' harsh but sympathetic depiction of the lives of an unhappily married couple and the people they go to for physical and emotional comfort, is magical in its realism. After anguished business tycoon Richard Forst (John Marley) declares to his wife, Maria (Lynn Carlin), his desire for a divorce from their empty relationship, he goes out to seek relief with some business associates and party girls, and finds himself connecting with one of them, Jeannie Rapp (Cassavetes' wife Gena Rowlands) in an all-night vigil. Rowlands is gorgeous, intense, and admirably ballsy her performance matched by equally audacious acting from Marley, Carlin, and Cassavetes' regular Seymour Cassel, memorable as Maria's companion for the night, a beach-bum playboy she's picked up at a bar. The late-night conversations between the couples reveal the unhappiness and alienation of all concerned and illustrates the failure of the meaningless modern American lifestyle. Carlin and Cassel both received Academy Award nominations and Cassavetes was nominated for Best Original Screenplay.
A Woman Under the Influence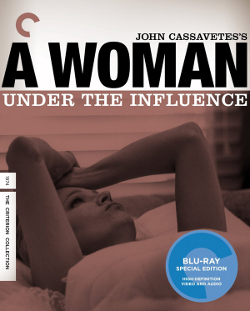 This 1974 film is an uncompromisingly harrowing portrait (this time in color) of the emotional breakdown of a Los Angeles suburban housewife, Mabel (Gena Rowlands), detailing the domestic turmoil her increasingly bizarre behavior in front of others causes her unsophisticated construction worker husband, Nick (Peter Falk), and her children. Although they deeply love each other, Mabel and Nick are unable to communicate with each other and eventually, believing she's become a threat to herself and possibly others, Nick reluctantly commits her to an institution for psychiatric treatment. Left alone with the three kids for six months, Nick finds himself acting just as insane as his wife in dealing and interacting with the three kids suddenly left in his charge and in trying to cope with other new challenges Mabel had previously shouldered.
Cassavetes was forced to mortgaged his house and borrowed from family and friends (Falk investing $500,000 in the project) in order to make the film and used students from the American Film Institute as part of his crew. Rowlands (who had to do her own hair and makeup) received a Best Actress Oscar nomination for her astonishing performance, while Cassavetes was nominated for Best Director.
The Killing of a Chinese Bookie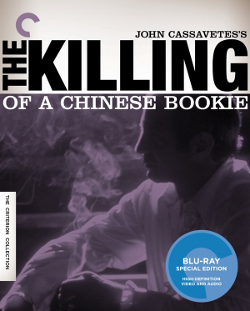 The writer-director created a gritty Californian film noir with this 1976 film, but one that is still 100 percent Cassavetes. Small-time gentleman's club owner, Cosmo Vitelli (Ben Gazzara), tries to hold on to own his sense of being a bon vivant, a purveyor of savoire faire, and also to the classiness of his establishment despite seediness of its clientele and the sleaziness of his talentless stripper/performers staff and tacky, but dignified MC, Mr. Sophistication (Meade Roberts). But the crummy club is Cosmo's empire and his girls are his family. When, trying to impress three of his favorite dancers one night, he loses heavily at a mob-run casino. Soon thereafter, Cosmo is offered the choice by Mort Weil (Cassel) and his associates of killing the titular Chinese bookie or losing everything. But, when he gets to the guy's house, the Chinese bookie turns out to be a rival mob boss, head of the Chinese mafia, who's surrounded by armed bodyguards.
Chinese Bookie was originally released in a 135-minute cut in 1976. It was a commercial disappointment and pulled from distribution. Eventually, in 1978, Cassavetes decided to re-edited it, creating a cut nearly 30 minutes shorter. Both versions are presented here.
Opening Night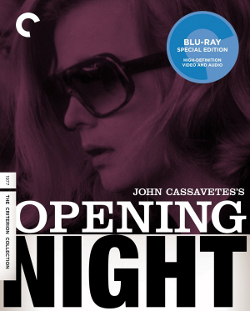 This 1977 film is the story of a middle-aged Broadway actress, Myrtle Gordon (Rowlands), who, on the opening night of her latest play, sees one of her adoring young fans killed in an accident while chasing her car. The event and the play—about a woman unable to accept that she's getting older—causes her to spiral into her own personal and professional chaos, questioning her very ability to act at all. Rowlands gives a masterful, heart-wrenching performance, demonstrating the suffering and emotional challenges a performer must go through to truly inhabit a character, simultaneously, in her fight for personal survival, refusing to conform to the role she herself has been given. Opening Night co-stars Cassavetes, Ben Gazzara, Joan Blondell, Paul Stewart, and Zohra Lampert.
All five films come as high-definition digital restorations with uncompressed monaural soundtracks. Amongst its many fascinating extras, the set includes a 200-minute documentary by Charles Kiselyak, A Constant Forge: The Life and Art of John Cassavetes (2000).
Studio: The Criterion Collection
All, Audio: LPCM Mono.
Shadows, Video: 1.33:1. Extras: video interviews with actress Lelia Goldoni and associate producer Seymour Cassel, rare silent 16mm footage of Cassavetes and Burt Lane's acting workshop rehearsals, restoration demonstration, stills gallery featuring dozens of behind-the-scenes production photos.
Faces, Video: 1.66:1. Extras: 17-minute alternate opening sequence, from an early edit of the film, 48-minute episode from the French television series Cinéastes de notre temps (1968) dedicated to Cassavetes featuring rare interviews and behind-the-scenes footage, "Making Faces" featurette including interviews with actors Carlin, Cassel, and Rowlands, and director of photography Al Ruban, "Lighting & Shooting the Film" interview with Ruban illustrated with specific sequences from the film on how he and the crew achieved the distinct look of Faces.
Influence, Video: 1.85:1. Extras: commentary by longtime Cassavetes collaborators sound recordist and composer Bo Harwood and camera operator Mike Ferris, new video conversation between Rowlands and Falk from 2004, stills gallery featuring dozens of behind-the-scenes production photos.
Bookie, Video: 1.85:1. Extras: new video interviews with Gazzara and producer Al Ruban, audio interview with Cassavetes by film historians Michel Ciment and Michael Wilson conducted after the film's release, stills gallery featuring rare behind-the-scenes production photos.
Opening Night, Video: 1.85:1. Extras: 22-minute conversation between Rowlands and Gazzara from 2004, interview with Ruban from 2004, 30-minute Cassavetes audio interview from the 1970s. Set Extras: A Constant Forge: The Life and Art of John Cassavetes (2000) 200-minute documentary by Charles Kiselyak, booklet featuring essays by Gary Giddins, Kent Jones, Charles Kiselyak, Stuart Klawans, Dennis Lim, and Phillip Lopate, writings by and interviews with Cassavetes, and tributes to the filmmaker by director Martin Scorsese, former Cassavetes' secretary, actor, and writer Elaine Kagan, and novelist Jonathan Lethem.
The Vincent Price Collection
The six films from 1960-1971 in this four-disc set include
House of Usher
(a.k.a.
The Fall of the House of Usher
),
The Pit and the Pendulum
,
The Haunted Palace
,
The Masque of the Red Death
,
Witchfinder General
, and
The Abominable Dr. Phibes
.
After making several low-budget B-movies in the 1950s, director Roger Corman convinced American International Pictures (AIP) to give him a slightly bigger budget so that he could have an extravagant 15-day shooting schedule and film in color. The result was House of Usher (1960), based upon the short story The Fall of the House of Usher by Edgar Allan Poe adapted for the screen by fantasy, sci-fi, and horror author Richard Matheson, directed by Corman, and starring an actor who'd started his career as a character actor (Laura, Leave Her to Heaven, The Baron of Arizona) and had also performed a few memorable roles in the horror genre (House of Wax, The Fly, House on Haunted Hill)—Vincent Price.
House of Usher
Philip Winthrop (Mark Damon) travels to the Usher mansion, a dreary, desolate relic surrounded by a fog-filed swamp, to visit his beloved fiancée, Madeline Usher (Myrna Fahey). But her brother, Roderick Usher (Price), warns Philip of the Usher family's cursed bloodline, telling him that whenever more than one Usher child is born, all of the siblings go on to become completely mad and die a truly horrible death. So, the future of the marriage may be a little rocky. But Philip nonetheless decides to take Madeline away from her brother, but before he can, during a terrible argument with Roderick, she suddenly drops dead.
After helping entomb her in the family crypt, Philip is preparing to leave when the butler, Bristol (Harry Ellerbe), happens to mention that Madeline suffered from catalepsy, which can make a person appear dead. . . .
The unsettling performance of Price, the eerie cinematography of Floyd Crosby, and the magnificent, moody sets of Daniel Haller all help Corman create the doom-ridden, melancholic atmosphere of the film that made House of Usher a surprise smash and thus began the eight-film series of films based on Poe's stories, directed by Corman and featuring Price.
The Pit and the Pendulum
This 1961 film is another Matheson adaptation of a Poe short story, when the wife, Elizabeth (Barbara Steele), of a 16th century Spanish nobleman, Don Nicholas Medina (Vincent Price), dies suddenly, her brother, Francis Barnard (John Kerr) visits Don Medina's forbidding castle to find out just what happened to her. The mournful widower claims he has no explanation of what she died from, only that his life has ended since losing her.
Don Medina's sister, Catherine (Luana Anders), talks about her brother's traumatic childhood, revealing that their father was Sebastian Medina, a notorious member of the Spanish Inquisition, and that, as a child, Nicholas had witnessed terrible horrific events. During a meal with family physician Dr. Leon (Antony Carbone), it is revealed that Elizabeth had died of massive heart failure, literally dying of fright in the castle's torture chamber.
Once again the sets of Haller help create the atmosphere of apprehension and make the panic and terror of death as palpable as the pendulum swings.
The Haunted Palace
Although the title was taken from one of Poe's poems and the film was marketed as another Poe adaptation, the supposed sixth entry in the Corman-directed series, it wasn't. Instead, Charles Beaumont's script is based (loosely) on the novella The Case of Charles Dexter Ward by H. P. Lovecraft.
In this 1963 film, Charles Dexter Ward (Price) travels with his lovely wife, Anne (Debra Paget), to a strange, fog-carpeted small New England village called Arkham to renovate a mansion that he's inherited from an ancestor who'd died there over 100 years before. Unfortunately, that ancestor, the original lord of the manor, Joseph Curwen (Price), was a devil worshipper who, as he was burned him at the stake, placed a terrible curse on the villagers who were executing him. Slowly Ward begins to change, believing that the spirit of his Great Grandfather is starting to possess him in order, with the help of his sinister assistant Simon (Lon Chaney, Jr.), to commit vengeance on the descendants of those the villagers who put him to death.
Once again, the combination of the stage designs of Haller and the lush, photography of Floyd aids in creating an evocating and chilling atmosphere.
The Masque of the Red Death
The seventh in Corman's adaptations of Poe's tales, shot in 1964 and adapted by Charles Beaumont and R. Wright Campbell, finds Price playing a European Satanist, Prince Prospero (Price), who terrorizes the local peasantry. He invites several dozen of the wealthy local nobility to his castle to take refuge against the Red Death plague that lays waste to the populace outside. Prospero orders his guests to attend a masked ball and, while they indifferently celebrate the bacchanalia of debauchery, cruel games, and depravity, outside the castle walls villagers are dying in agony.
When Prospero notices the entrance of a mysterious stranger dressed all in red, wearing a cloak and hood, the mean-spirited and callous host assumes the mysterious figure to be his master, The Devil, but before the end of the night, Prospero will be in for a surprise. Co-stars include Hazel Court, Jane Asher, Patrick Magee, Skip Martin, and David Weston.
Shot by cinematographer Nicolas Roeg (Fahrenheit 451, Far from the Madding Crowd, Petulia)—who would later go on to direct Performance, Walkabout, Don't Look Now, and The Man Who Fell to Earth—and with Haller doing the set designs again, The Masque of the Red Death is a striking visual feast with a splendiforous array of colors.
Witchfinder General
Directed by Michael Reeves from a script by Tom Baker which was based on Ronald Bassett's novel about the times, this 1968 film takes us back to a 17th-century England torn by civil war. The Puritans have appointed Matthew Hopkins (Price, delivering one of the best, most restrained performances of his career) who, with the help of his henchmen heavies, travels across the country hunting down supposed slaves of Satan—the Witchfinder General. But this man, given the legal authority to arrest and execute anyone it takes his fancy to, uses his powers to invoke fear by sentencing innocent people to death in order to bend the general population to his will. After forcing a young girl, Sara (Hilary Dwyer), to give way to his advances, her fiancé, the Royalist Richard Marshall (Ian Ogilvy) vows vengence.
The film's cult status is partly attributable to Reeves' 1969 death from a drug overdose at the age of 25, nine months after Witchfinder's release.
The Abominable Dr. Phibes
In this dark 1971 comedy from director Robert Fuest (The Avengers TV series, Dr. Phibes Rises Again), a demented organ-playing scientist (Price), aided by is mute assistant, Vulnavia (Virginia North), seeks revenge on the nine doctors he believes are responsible for his wife's accidental death. He decides to inflict elaborate, bizarre deaths upon them based upon the nine Biblical plagues of Egypt including bats, bees, frogs, and other oddball manifestations.
Using elements such as Phibes' art-deco home where he plays the pipe organ that serves as an elevator to his underground lair, cinematographer Basil Kirchin and director Fuest create a moody, surreal sense to the whole film. The Abominable Dr. Phibes co-stars Joseph Cotton, Hugh Griffith, Terry-Thomas, Virginia North, Peter Jeffrey, and Norman Jones.
Studio: Shout! Factory.
Video, Usher, Pendulum, Palace, Masque: 2.35:1. Video, Witchfinder, Dr. Phibes: 1.85:1
Audio, All: DTS-HD Master Audio Mono.
Extras: vintage and rare introduction and conclusion from Price on all movies except Dr. Phibes, 24-page liner-notes booklet with color photos and an essay. Usher, Extras: commentary by director-producer Corman, Price retrospective commentary by author Lucy Chase Williams featuring Pitor Michael as the voice of Price, 41-minute audio interview with Price by historian David Del Valle, still gallery.
Pendulum, Extras: rare prologue scene shot for the movie's TV debut, commentary by Corman, still gallery.
Haunted Palace, Extras: 40-minute commentary by author Lucy Chase Williams (The Complete Films of Vincent Price) and Richard Heft, 30-minute commentary by author Tom Weaver, "A Change of Poe" interview with Corman, still gallery.
The Masque, Extras: commentary by author Steve Haberman (Silent Screams: The History of the Silent Horror Film), interview with Corman, still gallery.
Witchfinder General, Extras: commentary by producer Philip Waddilove and actor Ian Ogilvy, "Witchfinder General: Michael Reeves' Horror Classic" 25-minute featurette, vintage interview with Price conducted by film historian David Del Valle (1987), "Vincent and Victoria" 47-minute interview with Victoria Price, trailer and additional Vincent Price trailers, still gallery.
Dr. Phibes, Extras: commentary by director Fuest, commentary by author Justin Humphreys (Names You Never Remember, With Faces You Never Forget), "Introductory Price: Undertaking The Vincent Price Gothic Horrors" featurette, still gallery.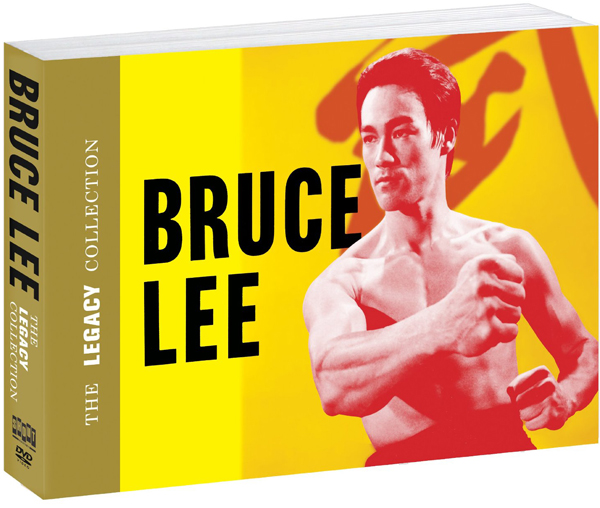 Bruce Lee: The Legacy Collection
This 11-disc set (4 BDs, 7 DVDs) offers four of the five martial arts action movies Bruce Lee starred in from 1971–1978 including The Big Boss, Fist of Fury, Way of the Dragon, and Game of Death (Enter the Dragon having already been released on Blu-ray by Warner). Also included are the documentaries The Man and the Legend, Bruce Lee: The Legend, and I Am Bruce Lee on 3 bonus DVDs.

Lee was born in Chinatown, San Francisco in 1940 to parents from Hong Kong and raised in Kowloon where he appeared in several films as a child actor. After beating the son of a feared triad family in a street fight, Lee's father decided it would be best if the 18-year-old left Hong Kong for the United States where he began teaching martial arts and continued his acting career.

Performing in his breakout role as Kato in the American television show The Green Hornet and guest starring in other TV series all led to him being able to move on to making the few films he starred in before his very early death at the age of 32 in 1973 at the height of his fame. Following his death, Lee quickly became even more of a legend, turning into a pop culture icon.

The Big Boss
In director Lo Wei's 1971 film, Cheng Chao-en (Lee), a Chinese man who moves to Thailand to live with his uncle and work in an ice factory. When several of Cheng's cousins are murdered after they refused to co-operate, Chao-en seeks vengeance on infamous drug lord Hsiao Mi (Han Ying-Chieh) who is using the factory as a front for his drug smuggling and his henchmen.

Big Boss showed the young star developing his unique fighting and acting style, but it was Lo Wei's Fist of Fury (1972) that catapulted Lee into mainstream fame with his persona, moves, and superstar charisma. The film tells of famed martial artist Chen Zhen (Lee) who, in the early 20th century in Shanghai, gets involved in the dispute between China and Japan, fighting to defend the honor of the Chinese in the face of foreign aggression after Zhen's master is murdered.

The Way of the Dragon
Lee not only starred but wrote, directed, and co-produced this 1972 action comedy. Tang Lung (Lee), goes to Rome to help Uncle Wang and his niece Chen Ching-hua whose restaurant is being targeted by the Mafia, taking on one Costa Nostra killer after another as well as assorted foreign martial artists ending in final battle against Chuck Norris as Colt.

Game of Death
Lee broke off filming on this project, also written and directed by Lee, in order to take on Enter the Dragon (1973), the first kung fu film to be produced by a Hollywood studio (Warner). But before Enter the Dragon's release and before Lee could return to complete Game of Death, he unexpectedly died of cerebral edema. Nonetheless, five years later in 1978, Game of Death was completed without him, Enter the Dragon's director, Robert Clouse, being brought in to expand on the original 100 minutes plus of footage shot in 1973 by shooting more using two other actors as stand-ins for Lee and in addition stealing other scenes shot earlier in Lee's career. The finished film has Lee as a retired martial arts champion who takes on the Korean underworld gangs after they kidnap his younger sister and brother in order to force him to do a job for them.

Shout! Factory's initial attempt at releasing Bruce Lee: The Legacy Collection, was marred by the fact that the source materials they'd been supplied with were not the recently restored transfers used for the Blu-rays in Hong Kong and Japan, but rather the masters created a few years before in Canada. And there was a mix up in the labeling of some of the discs. So, the company acquired the improved masters of three of the films (feeling that the master for Game of Death was not appreciably different), recalled all copies of the first set, and reissued them with correct labeling.

Studio: Shout! Factory.
All, Video: 2.35:1.
The Big Boss, Audio: Mandarin, DTS-HD Master Audio 5.1 (with subtitles), Mandarin, Dolby Digital Mono (with subtitles), English, DTS-HD Master Audio 5.1, English, Dolby Digital Mono. Fist of Fury, Audio: Mandarin, Dolby Digital Mono (with subtitles), Mandarin, DTS-HD Master Audio 5.1 (with subtitles), Cantonese, Dolby Digital 2.0 (with subtitles), Cantonese, DTS-HD Master Audio 5.1 (with subtitles), English, Dolby Digital 2.0, English, DTS-HD Master Audio 5.1.
Way of the Dragon, Audio: Mandarin, Dolby Digital Mono (with subtitles), Mandarin, DTS-HD Master Audio 5.1 (with subtitles), Cantonese, Dolby Digital Mono (with subtitles), Cantonese, Dolby Digital 5.1 (with subtitles), English, Dolby Digital Mono, English, DTS-HD Master Audio 5.1.
Game of Death, Audio: English, DTS-HD Master Audio 5.1, English, DTS-HD Master Audio 2.0, English, Dolby Digital Mono.
Extras: commentary on each film by Hong Kong Film Expert Mike Leeder, Bruce Lee: The Man, The Legend 92-minute Hong Kong documentary from 1973 made in the wake of the shock after Lee's shocking early death. Bruce Lee: The Legend 86-minute biographical documentary from 1977, I Am Bruce Lee 86-minute talking-heads documentary, "Backyard Training" 12 minutes of Lee's personal films, "Inspiration—Bruce Lee's Global Impact," "Bruce Lee in Action," "Lee's Hollywood audition," "Game of Death Revised," "Way of the Dragon," "Return of the Dragon in 60 Seconds" and "Master of the Game with Dan Inosanto" featurettes, Legacy of the Dragon 47-minute British television documentary on Lee, The Grandmaster and the Dragon: William Cheung and Bruce Lee 55-minute documentary, Bruce Lee Remembered 51-minute documentary featuring interviews with Anthony Delongis, Bryan Mann, Dustin Nguyen, Director Gareth Evans, and Jason McNeil, 43 minutes of interviews of Fist of Fury with include Nora Miao Riki Hashimoto and Jun Katsumura, still galleries of Lee's films and TV appearances, blooper reels, outtakes; DVDs.