This Week in Movies & TV, October 1, 2013: End of the Rainbow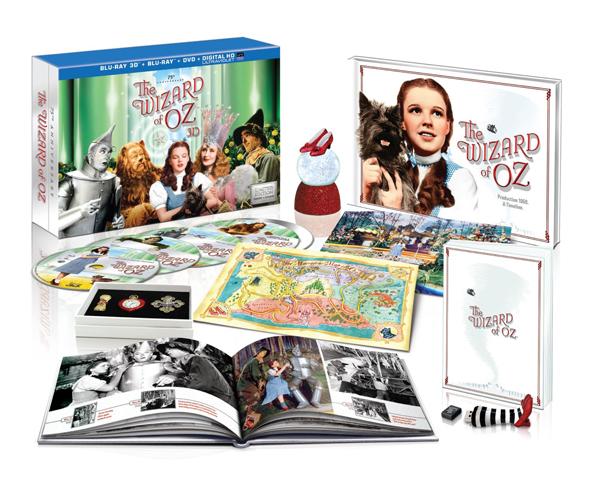 The Wizard of Oz 3D 75th anniversary Collector's Edition
This stupendous-looking transfer is based on the 2D one originally created in honor of the Hollywood classic's 70th anniversary Blu-ray edition. The film was scanned at 8K resolution of the three-strip Technicolor negatives and restored at the 4K level removing all dirt and damage. The result is excellent contrast and sharpness combining to reveal a picture of great depth and dimension. It's particularly striking in the Munchkinland scenes. Often, Judy Garland's Dorothy is in the midground, flowers and crowds of Munchkins are in the foreground, and buildings are in the background — yet everything remains distinct and solid. In fact, it all seems so physical that you feel like you could walk into the image and stroll down the Yellow Brick Road.
The Munchkins' costumes are vivid in their richly saturated primary colors, as is the intense green face of the Wicked Witch of the West (whose cape is also a deep, inky black). There's a wide range of shading in other faces, despite the overall Technicolor glow. As demonstrated in clips from the accompanying documentaries, the Blu-ray image trumps that of the best DVD incarnation because it exhibits no bleeding at all, whereas the standard-def skin tones looked smeary.
What's more, there's fresh detail in every shot, with each yellow brick discernible, each Munchkin-actor expression standing out from the crowd, and those darn slippers sparkling like, well, real rubies. Birds I'd never noticed are suddenly visible — chickens clucking in the sepia barnyard backgrounds, peacocks preening in the forest. The painted backdrops and previously unseen elements of each character's costume and makeup now give images the appearance of picture-book illustrations. Why, you can even see hairs in the Witch's wart!
The most surprising thing about this much-heralded restoration is the quantity of large grain included in the picture — especially surprising for audiences used to the finer-grain stocks of contemporary films. However, this is not akin to the veil of grain that builds up over multiple generations of a movie and is seen in transfers from bad sources. Rather, this is sharp grain in a very sharp film, and it doesn't cloud or otherwise interfere with the beauty of the images at all.
Viewers who have seen the 2005 restoration on DVD will recall that most of the grain there was removed and the picture resharpened afterward. For this Blu-ray release, however, and to create a 4K master identical to the negative, Warner felt it couldn't get away with such processing, because eliminating the grain would mean losing information that should remain visible. And so we're rewarded with a terrific picture that has marvelous resolution and color accuracy — and an amount of grain appropriate to the era.
Both the original mono track and a DTS-HD Master Audio 5.1 soundtracks (which replaces the 70th Anniversary Edition's Dolby TrueHD 5.1 mix) are included, and each is crisp and clear. The surround version is unsurprisingly restrained. But occasionally it's immersive, as when we are greeted by enveloping, heavenly choirs or frightened by the reverberating voice of the great and powerful Oz. A music-and-effects track allows for a better appreciation of the subtle inflections and influences of the score and songs of Harold Arlen and E.Y. "Yip" Harburg, which have fullness and nice bass. A certain amount of hiss remains, but not enough to be intrusive.
With every Oz anniversary, the dream factory manufactures a few more documentaries and other extras. If your budget requires, you can opt for the two-disc 3D (list price: $36) set that includes 2D Blu-ray and UltraViolet digital copy for streaming/downloading or a one-disc 2D set ($20). Both come with two hours of extras including "The Making of The Wonderful Wizard of Oz" documentary in high def with John Fricke and Sam Wasson, composers Stephen Schwartz and Marc Shaiman, critics Leonard Maltin and Michael Sragow, Bert Lahr's son John as well as revealing interview clips with Garland, Ray Bolger, Buddy Ebsen, Margaret Hamilton, and Mervyn LeRoy. There's also commentary by John Fricke with the film's cast and crew, a sing-a-long with subtitles and timing cues for all the songs, and more.
But the five-disc Collector's Edition under review here ($105) has "The Making of The Wonderful Wizard of Oz" plus all the extras (except The Making of a Movie Classic 1990 documentary) from the 70th Anniversary Edition — almost 20 hours of them. Most have been created with the attention and intelligence you'd expect from the important reissue of such a universally beloved movie, and all of the extras are well worth a watch. Amongst them is an excellent documentary on director Victor Fleming, with insightful Hollywood tidbits and many thrilling clips from his other films, such as Red Dust, Captains Courageous, Test Pilot, and of course, Gone with the Wind.
Other pleasures include two restored 1914 silent films (unfortunately, with no musical accompaniment) produced by L. Frank Baum and based on his other Oz stories, a 1910 (short) and 1925 (feature-length) versions of The Wizard of Oz plus the hour-long His Majesty, the Scarecrow of Oz from 1914 (all three with stereo musical accompaniment) as well as a 1933 Technicolor animated version with sound. My favorite is the 1910 short, which makes up for its techno-logical and financial shortcomings with artistry, imagination, and dancing girls. If you're not too Baumed out by this point, there are oodles of other documentaries, featurettes, and radio versions. If you have time left to dream even more, there's the in-depth 6-hour documentary series on MGM Studios — for the first time in high def! — narrated by Patrick Stewart as if he were telling of the rise and fall of the Roman Empire. Supported by Louis B. Mayer, Irving Thalberg, and as many stars as there are in the heavens, it makes for an engrossingly melodramatic story.
The Collector's Edition also contains a number of real-world collectibles. There's a high-quality replica of the film's original 1939 campaign book (for the first time reproduced in its entirety), a budget sheet for the production, a 52-page hardbound commemorative book, frameable heavy-stock photo card (10.5" x 7.5"), a map of Oz, a 75th Anniversary journal, the Ruby Slippers Sparkle Globe, and 3-piece enamel pin set by The Noble Collection. And if you buy the set on Amazon, you additionally get a 4 GB Wicked Witch of the East flash drive. Oh, my!
Video: 1.33:1. Audio: DTS-HD Master Audio 5.1. Extras: commentary hosted by the late Sydney Pollack featuring noted Oz historian and author John Fricke as well as rare interview clips with Barbara Freed-Saltzman (the daughter of associate producer-writer Arthur Freed), actress Margaret Hamilton (the Wicked Witch of the West) and son Hamilton Meserve, actor Ray Bolger (the Scarecrow), actor Jack Haley (the Tin Man), John and Jane Lahr (children of actor Bert Lahr, the Cowardly Lion), uncredited co-director Mervyn LeRoy, assistant choreographer Dona Massin (who worked directly under Bobby Connolly), assistant make-up artist William Tuttle, performer Buddy Ebsen, and surviving Munchkin actors, "The Art of Imagination: A Tribute to Oz" 30-minute 2005 featurette narrated by Sydney Pollack with Peter Jackson, Randy Newman, Howard Shore, and others, "The Legacy of Oz 25-minute 2005 featurette on Oz as a 1950s and '60s television phenomenon, "Memories of Oz" 28-minute 2001 featurette, Jukebox (70 minutes of original recordings and outtakes), 105 minutes of stills galleries, "We Haven't Really Met Properly" 2-3 minute actor biographies narrated by Angela Lansbury on Frank Morgan, Ray Bolger, Bert Lahr, Jack Haley, Billie Burke, Margaret Hamilton, Charley Grapewin, and Clara Blandick, "The Wonderful Wizard of Oz Storybook" 11-minutes reading by Lansbury of an excerpt of Baum's work, "Prettier Than Ever: The Restoration of Oz" featurette, music and effects track in Dolby Digital mono, Leo Is on the Air 12-minute radio promo, Good News of 1939 61-minute Maxwell House Coffee radio show presenting host Robert Young interviewing the cast and playing the music of the film, Lux Radio Theater Broadcast 61-minutes 1950 Christmas radio broadcast of The Wizard of Oz with Garland, sing-a-long subtitle feature with the lyrics and timing cues to the songs, Another Romance of Celluloid: Electrical Power 11-minute archive black-and-white short on electrical power's use in making films introduced by Lansbury, 2-minute excerpt reel from the 1940 Academy Awards, "Texas Contest Winners" visiting to Hollywood in the 1930s, montage of clips from ABC's Off to See the Wizard series, Harold Arlen's home movies (5 minutes of 16mm footage of the cast), 14 minutes of outtakes and deleted scenes, "It's a Twister! It's a Twister! The Tornado Tests" 8 minutes of raw footage of the tornado special effects, "Victor Fleming: Master Craftsman" 34-minute featurette on the director, "L. Frank Baum: The Man Behind the Curtain" 28 minute featurette on the writer, "Hollywood Celebrates its Biggest Little Stars!" 10-minutes tribute to the Munchkin actors that includes interviews with surviving cast members, The Dreamer of Oz 92-minute 1990 NBC Baum fictionalized biopic starring the late John Ritter as Baum, Annette O'Toole as his dutiful wife, and Rue McClanahan as her mother, The Wizard of Oz (1933) 8-minute animated adaptation by Ted Eshbaugh of Baum's original work, The Wizard of Oz (1925) 71-minute silent adaptation of Baum's The Wonderful Wizard of Oz with some monochromatic color (Oliver Hardy as the Tin Man), The Patchwork Girl of Oz 51-minute 1914 silent film based on Baum's book, The Magic Cloak of Oz (1914) 43-minute silent film by J. Farrell MacDonald written and produced by Baum based on his book Queen Zixi of Ix, His Majesty, The Scarecrow of Oz (1914) 59-minute silent film written and produced by Baum, The Wonderful Wizard of Oz (1910) silent film adaptation of Baum's book, "The Making of The Wonderful Wizard of Oz" featurette (in HD), When the Lion Roars 6-hour documentary (in HD) about the history of MGM, narrated by Patrick Stewart, 6 trailers for various releases of the film. Packaging and Collectibles: numbered limited edition outer box packaging, 5-disc case, 52-page hardbound commemorative book, frameable heavy-stock photo card (10.5" x 7.5"), a map of Oz, a 75th Anniversary hardcover journal, Light-Up Ruby Slippers Sparkle Globe, 3-piece enamel pin set by The Noble Collection, high-quality replica of the film's original 1939 campaign book (for the first time reproduced in its entirety), a budget sheet for the production, exclusive-to-Amazon 4 GB Wicked Witch of the East flash drive; Blu-ray, DVD and UltraViolet digital copy for streaming/downloading. Studio: Warner.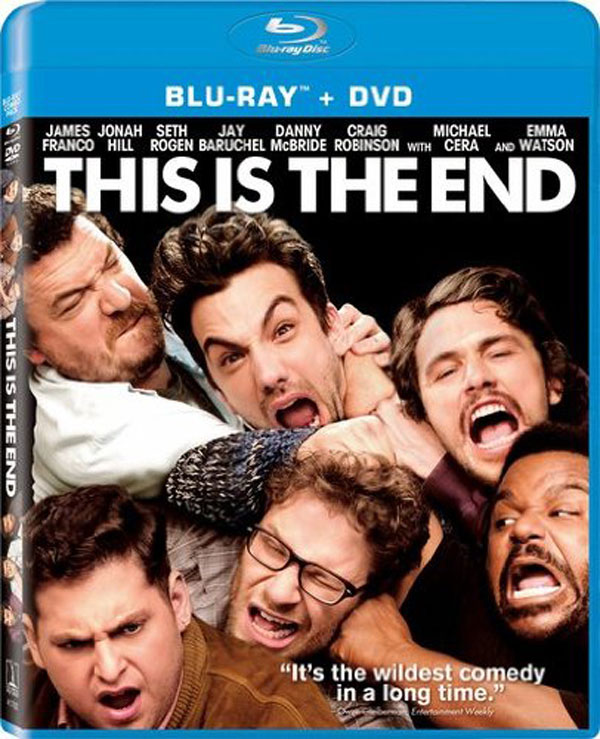 This is the End
This is the End, the raunchy, irreverent hit apocalyptic comedy produced, written, and directed by Seth Rogen (writer of Pineapple Express, Superbad, and The Watch), is based on the short film Jay and Seth vs. The Apocalypse that was co-written and directed by Jason Stone (upcoming The Calling) and co-written by Rogen and Evan Goldberg.
On going to Los Angeles to visit his old friend and fellow actor, Seth Rogen (Seth Rogen), Jay Baruchel (Jay Baruchel) is invited to attend a housewarming party hosted by James Franco (James Franco). Some of the other attendees will be more of their mutual friends — fictional versions of actual actor friends also played by themselves including Jonah Hill, Danny McBride, and Craig Robinson.
The party — a rowdy, raucous, and bawdy affair, filled with strangers, yet more celebrities (including Jonah Hill, Christopher Mintz-Plasse, Michael Cera, Craig Robinson, and Emma Watson), and plenty of sex, drugs, and rock 'n' roll — is all too much for Baruchel, so, accompanied by Rogen, he takes a walk to a convenience store to get some cigarettes. It's there that the pair notice customers being plucked into the air by blue light beams. This is soon followed by explosions and general chaos outside.
So Rogen and Baruchel rapidly return to the house to find that everyone is still partying on, completely oblivious, so much so that attempts to raise the alarm are merely met with laughter. It's only when the earthquakes and raging fires in the Hollywood Hills eventually catch the attention of the revelers that the music stops, but by then it's kinda too late, since a giant crack appears and swallows most of them up.
Now the six remaining friends — Rogen, Baruchel, Franco, Hill, McBride, and Robinson — are trapped in Franco's house as a series of catastrophic events devastate Los Angeles and the rest of the globe. This leads them, in their cabin-fever-fueled boredom and despair between facing a series of improbable attacks, to get cranky at having to ration their booze and drugs. This is the End.
Video: 2.40:1. Audio: DTS-HD Master Audio 5.1. Extras: commentary by Rogen and Evan Goldberg, deleted scenes, gag reel, blooper reel, "Directing Your Friends," "This Is The Marketing – Marketing Outtakes, Cast," "Let's Get Technical" (on the visual effects and technical aspects of the film), "Party Time" (behind-the-scenes look at the making of the party scene), "The Cannibal King" (Channing Tatum and McBride take us on set to show us how it really was filming their scenes together), "Jay & Seth vs. The Apocalypse the Original Short" (on the short film that inspired This is the End), and "The Making of "The Making of Pineapple Express 2,"' featurettes, Redband sizzle trailer, 4 additional confessionals; DVD. Studio: Sony.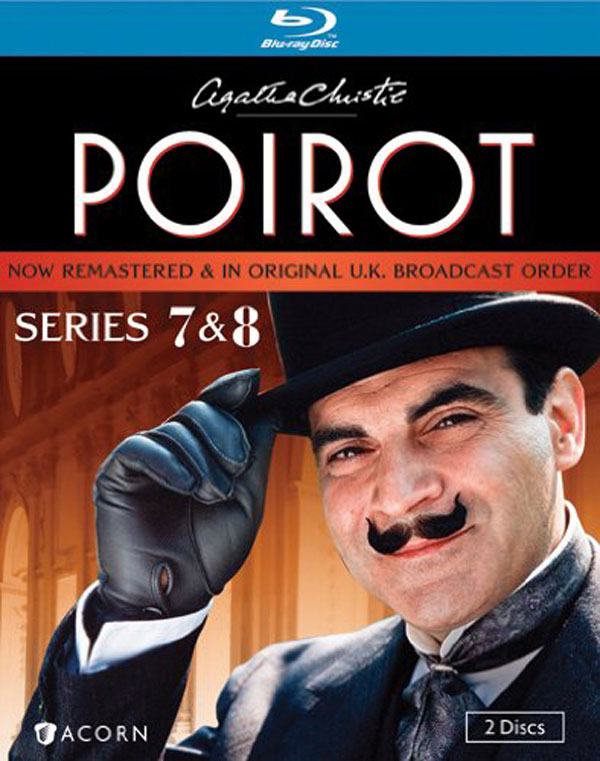 Poirot: Series 7 & 8
Jack Irish
Poirot: Series 7 & 8
This 2 Blu-ray Disc set consists of four feature-length Brit-hit TV series adaptations of Agatha Christie's greatest mystery novels featuring her beloved Belgian detective, Hercule Poirot.
Poirot (David Suchet), with the help and inspiration of his fearless-but-slightly-dim sidekick Captain Hastings (Hugh Fraser), intrepid Scotland Yard investigator Chief Inspector Japp (Philip Jackson), and canny private secretary Miss Lemon (Pauline Moran), sets to work solving an assortment of complex and despicable murders amongst 1930s Art Deco elegance of his surroundings, swank hotels, and the still-stately homes of England.
By sifting through all the facts, seeing what's there that wouldn't usually belong and what's missing that would normally be present, Poirot is able to see a web of what's invisible to others and put it all together in his masterful mind until the murderers emerge.
Amongst the newly remastered episodes from 2000–2002 is The Murder of Roger Ackroyd, in which Poirot's retirement to the sleepy English village of King's Abbot is, not surprisingly, brought to an end by the killing of a wealthy industrialist who has more money than friends.
In Lord Edgware Dies a nasty member of the nobility who doesn't believe much in oblige demises, posing a particular challenge to Poirot's little grey cells since all of his potential suspects have unbreakable alibis.
Murder in Mesopotamia finds the mustachioed mystery-solver traveling in Iraq where he is called in to examine a death at an archaeological dig and unearths a hotbed of jealousy, rivalry, and revenge that can only lead to further murder. In Evil Under the Sun, a pleasant trip to a secluded hotel in Devon turns into an investigation for Poirot when a beautiful, vain married woman who enjoys flirting with other women's husbands is found strangled.
ITV Studios' Poirot has aired in the U.K. since 1989 and on PBS and A&E in the U.S. In partnership with producer Brian Eastman, Clive Exton adapted the original pilot and wrote and produced Series 1–8. (Exton and Eastman then left Poirot in 2003, when they began work on Rosemary & Thyme.) Lord Edgware Dies and Evil Under the Sun were adapted by Anthony Horowitz, who is not only a prolific writer for the series, adapting three novels and nine short stories, but also of many episodes of Midsomer Murders and of Foyle's War which he also created.
Series 7 & 8 guest stars include Jamie Bamber, Oliver Ford Davies, Michael Higgs, and Russell Tovey.
Jack Irish
These, the first two feature-length Jack Irish mysteries, Bad Debts and Black Tide, follow the hard-boiled misadventures of former Australian criminal lawyer Jack Irish (Guy Pearce) whose life has fallen apart in the wake of his wife's devastating murder.
Lately, Jack spends his time as a part-time investigator and debt collector and full-time drinker. In Bad Debts, when an old client dies after leaving several desperate messages on Jack's voicemail, Jack realize that, as much as he tries to break away from the underworld that took his beloved, it's a world where he thrives, sifting amongst the seedy lowlifes and their lives of corruption, violence, and retribution.
In Black Tide, Des Connors (Ronald Jacobson), a friend of Jack's father, seeks out Jack's help to find Des' missing son, Gary (Nicholas Coghlan). But as Jack starts poking around, he soon discovers that there's more to the case than simply finding a missing person and that Gary is involved in darker things than Des ever suspected.
The world-weary antihero of Australian writer Peter Temple's crime thrillers — adapted by screenwriters Andrew Knight and Matt Cameron, and directed by Jeffrey Walker — appears in two further novels, Dead Point and White Dog, with feature-length TV-movie adaptation installments already in the works.
The cast that appears in both telefilms includes Marta Dusseldorp, Aaron Pedersen, Roy Billing, Shane Jacobson, Damien Richardson, Vadim Glowna as Charlie Taub, Colin Friels, Steve Bisley, Emma Booth, Marshall Napier, Rhys Muldoon, and Tottie Goldsmith.
Both, Video: 1.78:1. Audio: DTS-HD Master Audio 2.0. Poirot: Series 7 & 8, Extras: none. Jack Irish, Extras: "Behind the Scenes of Black Tide" 17-minute featurette; DVD. Studio: Acorn Media.
The Big Parade
In this groundbreaking 1925 classic silent film from director King Vidor (The Crowd, Duel in the Sun, War and Peace), Jim Apperson (John Gilbert), the idle son of a wealthy businessman (Hobart Bosworth), impulsively joins the US Army's Rainbow Division when America enters World War I and experiences the horrors of trench warfare.
Initially, Jim had no intention of enlisting, and was happy to stay home and laze his days away. But, running into his patriotic friends, he is persuaded to do the right thing and join up, much to the joy of his father and sadness of his mother.
During training, he becomes friends with two working-class soldiers — Bull (Tom O'Brien), a bartender, and Slim (Karl Dane), a construction worker. Their unit ships out to France, where they are billeted at a farm in the village of Champillon. There, each of them is attracted to the French farmer's daughter, Melisande (Renée Adorée), who initially rejects them all, but gradually a love grows between Melisande and Jim, despite their inability to communicate through words because of their language differences. Unfortunately, all too soon Jim's unit is ordered to the front forcing him to leave his love behind.
Even on their march to the front lines, the soldiers are given a taste of what's to come by being strafed by aircraft. And as soon as they arrive, during their very first attack, they must face machine guns, artillery, snipers, and poison gas. Jim settles in with Slim and Bull, sheltering in a shady shell-hole that seems hospitable and habitable to them, but when Slim goes on a mission to eliminate a mortar crew, he's wounded and when Jim and Bull try to rescue him, Bull is killed and Jim badly wounded in the leg.
On eventually being sent to hospital, Jim hears that Champillon is constantly under attack and, fearing for Melisande, he sneaks out and goes back to the farmhouse, only to learn that Melisande and her mother (Rosita Marstini) have fled, becoming refugees. Jim sets out after them but collapses from his wounds.
After the war ends, Jim goes home to America, but cannot forget Melisande, and, though having lost a leg, must return once again to search for his love.
The Big Parade was adapted by Harry Behn and an uncredited King Vidor from the play by Joseph Farnham and the autobiographical novel Plumes by Laurence Stallings. It co-stars Claire Adams, and Robert Ober, Claire McDowell, Robert Ober, Kathleen Key, Julanne Johnston, and George Beranger.
The film grossed $18–$22 million worldwide against a $382,000 budget making it one of the most successful film of the silent era.
Video: 1.33:1. Audio: DTS-HD Master Audio 2.0. Extras: commentary by historian Jeffrey Vance with Vidor, The Men Who Made the Movies: King Vidor documentary, 1925 Studio Tour vintage short, 64-Page Digibook. Studio: Warner.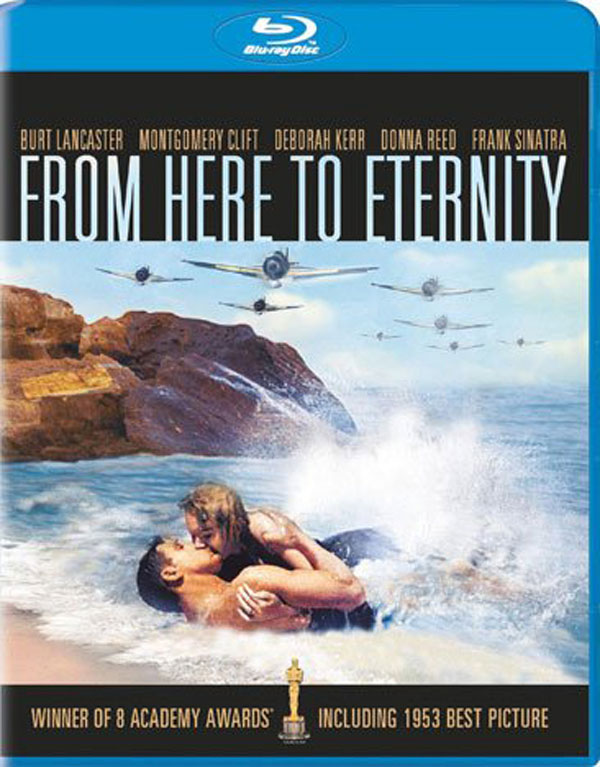 From Here to Eternity
Restored from a 4K scan for its 60th Anniversary Blu-ray release, this romantic war drama from 1953, based on the novel of the same name by James Jones, directed by Fred Zinnemann (High Noon, A Man for All Seasons, The Day of the Jackal), depicts life on an army base in Hawaii just weeks before the Japanese attack on Pearl Harbor.
It focuses on the day-to-day lives of three soldiers. Private Prewitt (Montgomery Clift) is a talented former middleweight boxer who's quit and just wants to play bugle but is being pressured by his fellow soldiers and manipulated by his superior officer, Captain Dana "Dynamite" Holmes (Philip Ober) to compete for the regimental team. He's befriended by Angelo Maggio (Frank Sinatra) who tries to help him survive the punishingly unpleasant duties that he's given by his superiors in an attempt to force Prewitt to give up on his refusal fight. Maggio, in turn, is bullied and threatened by an Italian-hating loudmouth, Sergeant Fatso (Ernest Borgnine), who's ruler of the stockade and is dying to get Maggio in and under his thumb so he can crush him. Sergeant Warden (Burt Lancaster), looks on sympathetically but remains uninvolved, kept busy actually running the company while his irresponsible commanding officer drinks, gambles, and runs around with women, leaving his unhappily neglected wife, Karen Holmes (Deborah Kerr), at home to cast her eye at the strong, handsome, but cynical Warden. Passion and surf collide as the day that will live on in infamy draws ever closer.
From Here to Eternity was an instant with critics and public alike and was nominated for 13 Oscars, winning 8 including Best Picture, Director, Screenplay (Daniel Taradash), Supporting Actor (Sinatra), Supporting Actress (Donna Reed), Black-and-White Cinematography (Burnett Guffey), Film Editing, and Sound Recording. In addition, the film received two Best Actor nominations (Clift and Lancaster) and nominations for Best Actress (Kerr), Black-and-White Costume Design, and Scoring.
Video: 1.37:1. Audio: DTS-HD Master Audio 5.1, Dolby Digital Mono. Extras: commentary by Tim Zinnemann and actor Alvin Sargent (longtime collaborator of Fred Zinnemann), "The Making of From Here to Eternity" behind-the-scenes vintage featurette, "Fred Zinnemann: As I See It," vintage featurette, "Eternal History" graphics-in-picture track telling the complete story of 1953's Best Picture winner, five collectible lobby cards. Studio: Sony.