Warcraft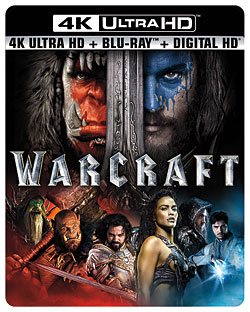 Warcraft is a visual tour de force, and the 4K picture is exemplary; so good, in fact, that it actually serves as a detriment to the film. Textures and details are so vividly sharp, they make human characters look like fresh-faced actors who just stepped out of the makeup trailer onto a newly constructed set on the Universal backlot. What's more, the green-screen delineation between CGI characters and their fabricated backgrounds is so blatant, it gives off the appearance of paper cut-outs against a cardboard diorama. The result is truly distracting because nothing about the Warcraft universe has that lived-in look. You can say all you want to about Peter Jackson's overblown Hobbit saga, but at least Jackson bothered to take these ever-important factors into consideration. Ironically, it's the accompanying Blu-ray that sports the more consistently realistic picture. Color tones are more subdued, and textures aren't quite so polarizing. Both human and CGI characters are more seamlessly integrated into their backgrounds.
If you're one who likes big movies with big sound, this audio mix will not disappoint. You'll experience a veritable cavalcade of rousing audio pulsating through your speakers at a potent pitch. Sound effects, dialogue, and symphonic score are expertly meshed together to create a thoroughly enveloping mix.
The Dolby Atmos soundtrack is the headliner, but for those not so well equipped, the sound will defer to a 7.1 Dolby True HD, and it serves quite well as a poor man's substitute. Either way, you're adequately covered.
Extras are plentiful and are featured on the accompanying Blu-ray. They include deleted and extended scenes, theatrical trailer, gag reel, and numerous featurettes detailing the making of the film and its evolution from video game to cinema. Digital Copy included.
Blu-Ray
Studio: Universal, 2016
Aspect Ratio: 2.40:1
Audio Format: Dolby Atmos / TrueHD 7.1 core
Length: 123 mins.
MPAA Rating: PG-13
Director: Duncan Jones
Starring: Ben Foster, Travis Fimmel, Paula Patton
The world of the battle-bred Orcs is dying. They must find a new domain to inhabit, which requires brutal conquest. Their chief sorcerer, Gul'dan, has devised a way to open a mystic portal into the human world of Azeroth and… oh, who cares? We've seen all this before. Warcraft follows the paint-by-numbers formula for wizards, warriors, and witchcraft, taken from the sacred scrolls of the Dungeons & Dragons playbook; shamelessly lifting countless elements from the Hobbit and Lord of the Rings sagas, and vainly trying to replicate the dramatic scope and gravitas of Game of Thrones. And all while trying to carve its own niche in the genre.
LATEST VIDEO