Vizio's New 4K TV Lineup Has 10 Quantum-Dot Models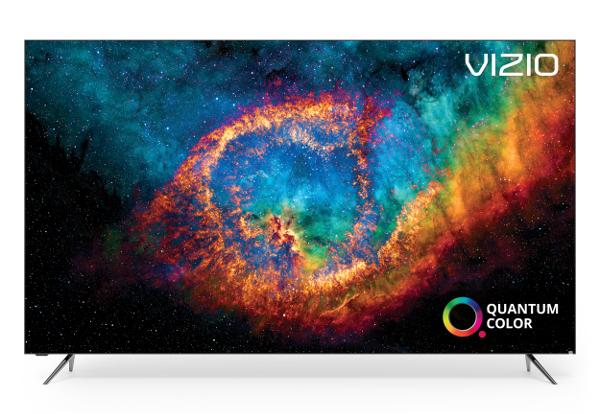 Vizio today rolled out a new 4K Ultra HDTV line that offers more models with wide-color-gamut quantum-dot technology, raises color gamut to up to 84% of the Rec. 2020 standard, and boosts peak brightness levels to up to 3,000 nits.
The number of quantum-dot models jumps to 10 from one, migrating down in price from a suggested $2,199 for a 65-inch TV in last year's line to $399 for a 43-inch model in this year's line. Quantum-dot displays also move up in price point up to $3,499 for a 75-inch model.
The 4K models also feature higher contrast ratios than before, thanks to an increase in the number of LED back-lit local-dimming zones to up to 480 in select models. All but eight of Vizio's 21 new 4K TVs feature back-lit local dimming, with the number of zones starting at 10. The eight models with LED back lighting but without local dimming appear in the 11-model opening-price V Series, which features 4K resolution but lacks quantum-dot technology.
The quantum-dot series are the M Series Quantum, P Series Quantum, and P Series Quantum X, all delivering "class-leading" color gamut and contrast, claimed product marketing director Carlos Angullo (pictured below, at right, with product planning SVP John Schindler).
With the rollout, Vizio is pushing down the price of non-quantum-dot 4K TVs to $259 for a 40-inch model from a 2018 opening price of $329 for a 43-inch 4K TV.
The 2019 line is available at Amazon, Best Buy, Costco, Sam's Club, Target, Walmart, and other retailers.
SmartCast 3.0 Abounds
All 4K models are smart TVs featuring Vizio's new SmartCast 3.0 OS, which gets a firmware update sometime in the summer to add Apple Siri voice control, Apple HomeKit smart-home integration, and Apple AirPlay 2 to play audio and video content streamed from Apple devices.
The TVs will also get the Apple TV video-streaming app at an unspecified time in the future, joining Samsung TVs that have begun offering the app. Other TV brands are also expected to offer the app.
With the addition of Siri, Vizio said it expects to be the first TV maker to offer TVs compatible with the three most broadly used voice assistants: Amazon Alexa, Google Assistant, and Apple Siri.
Consumers will control multiple functions by voice command, including app launching and content searches, through Alexa- and Google Assistant-equipped smart speakers and through Siri-equipped mobile devices. Via Apple's HomePod smart speaker, however, voice control will be limited initially to turning the Vizio TVs on and off.
With HomeKit, Vizio's TVs can be included in automated smart-home scenes that include other HomeKit-compatible smart-home products.
SmartCast 3.0 delivers such improvements as faster screen loading, more on-screen rows of content recommendations, more detailed content descriptions, and a "trending now" row. Later in the year, SmartCast will be updated to let you select favorite streaming apps so that on-screen rows can be dedicated to recommended content available through those apps.
Like before, all 4K models feature HDR 10, Dolby Vision, and Hybrid-log Gamma high-dynamic-range (HDR) technologies as well as embedded smart-TV apps and mirroring of a mobile device's Chromecast-enabled audio and video apps.
Here's how Vizio's 4K TVs stack up:
P Series Quantum X: The flagship series of quantum-dot TVs consists of the $3,499 75-inch PX75-G1 and $2,199 65-inch PX65-G1, both delivering 84% of the Rec. 2020 color-gamut standard, up from 80% of Rec. 2020 (and 98% of the DCI P3 standard) in Vizio's sole 2018 quantum-dot TV.
Peak brightness soars from 2,000 nits in last year's quantum-dot TV to 3,000 in the 65-inch model and 2,700 in the 75-inch model. Likewise, the number of back-lit local-dimming zones soars from 192 zones in last year's sole quantum-dot TV to 480 in this year's 75-inch TV and 384 in the 65-inch TV. Both models are bezel-less on all four sides.
P Series Quantum: This quantum-dot series also comes in two screen sizes — 65 and 75 inches — at suggested retail prices of $1,399 and $2,499, respectively. They display 80% of the Rec. 2020 color-gamut standard and feature peak brightness of 1,100 nits and 1,200 nits, respectively, and 200 and 240 zones of local dimming, respectively.
In contrast, last year's P Series TVs delivered 73% of the Rec. 2020 standard (93% of P3), peak brightness up to 1,000 nits, and 56 and 120 zones of back-lit local dimming.
The new models are bezel-less on all sides but the bottom.
M Series Quantum: Six models in this quantum-dot series are split between the M7 and M8 sub series, both of which deliver 80% of the Rec. 2020 gamut standard.
The M7 series consists of four models with screen sizes of 43, 50, 55 and 65 inches at $399, $549, $699, and $899, respectively. They feature from 12 to 20 local dimming zones with 400 nits of peak brightness.
The M8 sub series delivers step-up performance in 55- and 65-inch screen sizes at $799 and $899. Each features 90 dimming zones and 600 nits of peak brightness.
All M Series models feature a narrow frame on all four sides.
V Series:Quantum-dot displays are not available in any of the 11 models in this series, so they display the more limited Rec. 709 color gamut. Only three feature back-lit local dimming, and those three also deliver peak brightness of 400 nits.
Those three models are the 43-inch V436-G1 ($300) with 10 local dimming zones, the 55-inch V556-G1 ($469) with 10 local dimming zones, and the V656-G4 ($629) with 12 zones.
The eight V Series models without local dimming are available in 40-, 43-, 50-, 55-, 60-, 65- 70-, and 75-inch sizes at $259 to $1,199. Brightness specs for the eight models were not available.
The company's D series had been trimmed to feature only HD and Full HD TVs in small screen sizes.
8K, HDMI 2.1, ATSC 3.0 Await
The company hasn't announced plans for 8K TVs, HDMI 2.1 connections, or HDMI 2.1's wide-bandwidth enhanced Audio Return Channel (eARC). HDMI 2.1 offers such key features as variable refresh rates (VRR) for smoother gameplay and 4K frame rates up to 120fps, but compliance-testing procedures for most 2.1 functions, excluding eARC, haven't been published.
It isn't clear whether the TVs' HDMI 2.0b connections can be firmware upgraded to HDMI 2.1.
Vizio also didn't announce plans to incorporate Internet Protocol-based ATSC 3.0 over-the-air TV tuners in its 2019 TVs. Select broadcasters have begun testing ATSC 3.0 broadcasts, which are capable of 4K delivery, interactivity, improved reception, and other enhancements. Broadcasters plan ATSC 3.0 rollouts in 40 cities by the end of 2020.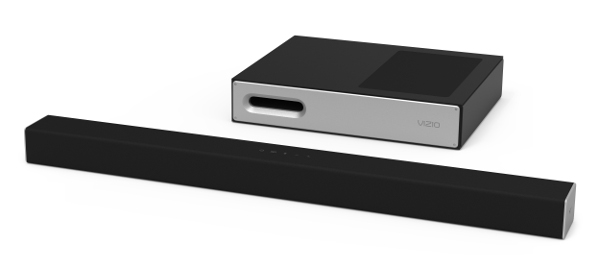 Surround-Focused Soundbars Lead Audio Rollout
In audio, the number of soundbars equipped with both Dolby Atmos decoding and DTS Virtual:X post processing expands to five models from three. Vizio is also bringing down the opening price of DTS Virtual:X sound bars to a suggested $69 from $179.
All five of the company's Dolby Atmos soundbars can be firmware-upgraded to add eARC, but Vizio didn't say when that would happen. In future soundbars, the company is still evaluating the use of DTS:X decoding, the rival to Dolby Atmos decoding.
The two new Dolby Atmos/DTS Virtual:X bars, slated to ship in June, are the $699 SB36514-G6 and the $469 SB36312-G6 (pictured above).
The 36-inch-wide $699 model delivers a 5.1.4 soundfield through three front-channel speakers and two upfiring height-channel speakers in the main chassis, complemented by two wireless surround speakers that incorporate surround drivers and upfiring height drivers. The 36-inch-wide SB36312-G6 is a 3.1.2 soundbar with two upfiring drivers in the main chassis and no wireless surround speakers. Phantom surround channels are delivered via post processing.
Both models also feature a separate volume control for the height drivers to adjust the intensity of the height effect.
The two new soundbars join three carryover Dolby Atmos/DTS Virtual:X models: a 46-inch $999 model with 5.1.4 speaker system (including two wireless speakers), a 46-inch $799 model with 3.1.2 speaker system and no wireless surrounds, and a 36-inch $499 model with 5.1.2 speaker system (including wireless surrounds).
Three other new soundbars include the 20-inch 2.0-channel SB2020n-G6, which features DTS Virtual:X, lacks Dolby Atmos, and comes with a subwoofer output and Bluetooth. In the 2018 line, DTS Virtual:X started at $179 for a 36-inch 2.1 soundbar with an outboard subwoofer.
In another audio change, the company's $179 Virtual:X soundbar is being replaced by a $149 2.1 model that also features DTS Virtual:X. The replacement's major change is the inclusion of a slim outboard subwoofer that fits under the couch and is said to perform as well as the boxier subwoofer that it replaces. It features Dolby Digital and DTS 5.1 surround.
DTS Virtual:X post processing creates a virtual sense of height and surround in home theater systems lacking up-firing speakers and surround speakers. Virtual:X works with 2.0 and multichannel sound tracks.