Vizio GV42L LCD HDTV
Our budget entry hails from a company that's devoted to producing inexpensive flat-panel displays: Vizio, formerly known as V, Inc. The 42-inch GV42L is a 768p LCD HDTV that costs just $1,500. You can buy the GV42L direct from
www.viziotv.com
, but it's fitting that you can also find this TV on the shelf at Costco; like everybody's favorite wholesaler, the GV42L gives you a lot for your dollar.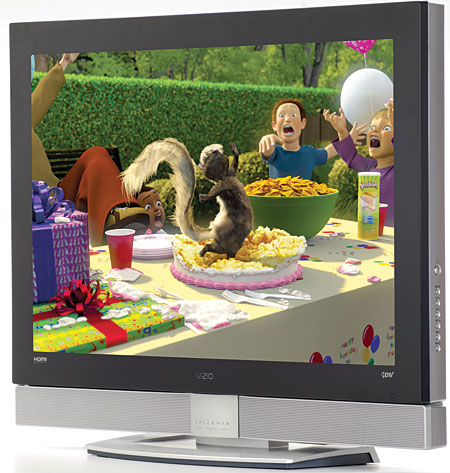 Many of Vizio's design and performance choices show an understanding of the entry-level shopper. The GV42L comes with a Quick Start Guide that thoroughly explains the various connection possibilities, and the company also provides multiple levels of professional installation, should you prefer to let someone else handle it for you. The owner's manual is quite thorough, with many illustrations to aid setup and daily use.
The GV42L certainly doesn't look like a budget TV, in front or back. Its piano-black frame and silver accents make for a simple but attractive look, and you can further reduce its wallprint by removing the bottom-panel speakers if you plan to send audio to an external receiver via the optical digital output. The front-panel Vizio logo is illuminated, and there's no setting to shut it off, which is a little distracting and self-promotional for my taste.
Many budget displays shortchange you in the high-end-connection department, but not the GV42L, which sports two HDMI, two component video, and one RGB input. These inputs run along the bottom panel, which isn't my favorite choice, as it's hard to see what you're doing when you plug in the cables. The TV also includes ATSC, NTSC, and Clear QAM tuners, but they all share a single RF input, so you must choose whether to connect an antenna or a cable feed. In conjunction with my Terk HDTVi antenna, the internal ATSC tuner quickly picked up all of the major HD broadcasts in my area and provided a stable signal. If you subscribe to digital cable service, the Clear QAM tuner allows you to tune in both analog and digital signals, including some locally broadcast HDTV stations, without going through your set-top box. This is a nice perk if you plan to use this TV in a secondary room and don't want to order another cable box.
The GV42L is generous in its picture adjustments, offering three preset picture modes and one Custom mode that's adjustable for each input. Color-temperature options are Cool, Normal, the warmest Warm I think I've ever seen (measuring around 4,000 Kelvin), and Custom, which allows for basic adjustments of red, green, and blue, similar to what a professional calibrator would do via a service menu. For our measurements, we used the Normal mode for our "before" tests and adjusted the RGB controls for our "after." As you can see, the before and after settings are somewhat similar and not too far off from the desired 6,500 K mark, except at the darkest and brightest points.
Not a given at this price point are the GV42L's adjustable backlight, in increments from 0 to 100, and several advanced picture controls that allow for automatic adjustment of black level, white level, colors, fleshtones, adaptive luma, and dynamic gamma from scene to scene. For review purposes, we turned these settings off. Other noteworthy features include both traditional and split-screen PIP functionality, a program guide for tuned content, and dedicated PC picture adjustments. Interestingly, the GV42L's remote is the only one in this roundup to offer both backlighting and direct access to each type of input. In all, it's an impressively thorough features list that you're not likely to find in other budget LCDs.

That's all well and good, but how does it perform? The GV42L earns good marks in the all-important areas of color, bit depth, and detail, but it has some limitations common to LCDs in general and budget TVs in particular. While colors are vibrant without being exaggerated, and skintones look natural, the TV doesn't have the bit depth to smoothly render every step between black and white. So, I did see some noise in dark grays and solid colors, but not enough to be distracting.
At first glance, the GV42L looks exceptionally detailed. Test patterns confirm that it has the resolution needed to render the detail in both DVD and HDTV sources, but that's not why it looks so sharp. Edge enhancement is creating the illusion of increased detail, especially through the component video inputs. It doesn't surprise me that Vizio went this route; edge enhancement can really make an image pop, and that's how you sell TVs at big-box retailers. Many people don't know or care what edge enhancement is. The good news for those of you who do is that it's much less pronounced through the HDMI inputs, so the picture looks more natural, with fewer false lines and less errant noise. And here's another HDMI perk for you: These inputs accept a 1080p signal, something many 1080p panels don't do.
The TV does only an average job deinterlacing film- and video-based signals; I saw a fair amount of jaggies with both test discs and real-world DVDs, so you may want to mate this with a good progressive-scan or upconverting DVD player. It did a respectable job upconverting standard-def TV signals, but DVD and HDTV are its strong suits.
Probably the most obvious performance issue involves the GV42L's screen. Light leakage is evident around the edges of the screen, and brightness uniformity is very poor thanks to noticeable waves of uneven brightness that flow across the entire screen. Combine this with the TV's higher black level, general lack of black detail, and modest viewing angle, and you've got a TV that's really a better fit for a brighter room—but, hey, that's true of many LCDs on the market.
Vizio clearly understands their target audience and has put together a package that will appeal to the average consumer yet has enough advanced features to satisfy the blossoming but financially challenged video enthusiast. While by no means perfect from a picture-quality standpoint, the GV42L serves up a clean, colorful, detailed image that does a good job with a variety of sources.
JH and GM Comment
Vizio has done a wonderful job getting into the display market at a low price point. Overall, their products perform as you would expect—decently. I found the edge enhancement to be distracting; I thought it made people look plasticky. A black screen was a little uneven, especially off axis. Still, for the price, it's a good entry-level choice.—JH
It's funny—at first glance, this set seems more detailed than the others despite having half the pixels. I understand the need to appear bright and detailed on the Costco floor, but please let us who don't like edge enhancement turn it off. For the money, it's not too bad.—GM
Highlights
• Five HD-capable inputs
• Detachable speakers
• Solid performance
LATEST VIDEO