Vizio Brings SmartCast to Entry-Level 4K Displays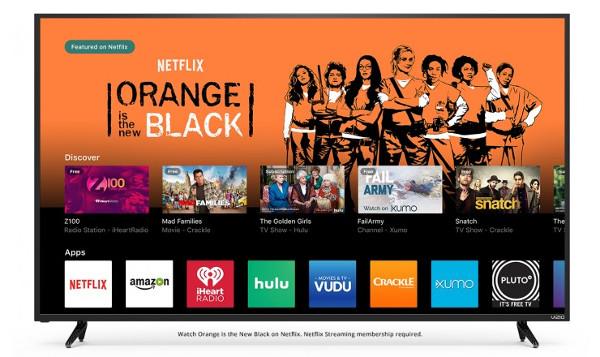 Vizio is rolling out a SmartCast TV update to its entry-level E-Series 4K/Ultra HD displays, the company announced yesterday.
The update adds a home screen with content recommendations and enables owners of E-Series models to access content — including titles in 4K Ultra HD and HDR, where available — from popular apps such as Amazon Video, Crackle, Hulu, iHeartRadio, Netflix, Pluto TV, Vudu, and XUMO using the TV's remote control or the free Vizio SmartCast Mobile app.
The SmartCast interface includes a Discover section where popular and trending content from multiple sources is aggregated for easier browsing.
To use the new interface some owners of previously purchased E-Series models may need a new SmartCast remote, which has the V-button needed to access to the SmartCast interface and short-cut keys for direct access to some of the apps, Vizio said. Owners of eligible E-Series models can receive the new remote free or for a nominal fee for a limited time and while supplies last by visiting the support page on vizio.com.
The latest version of the SmartCast Mobile app has a new navigational menu that lets viewers browse the SmartCast interface from their mobile device. With some SmartCast TV apps, including Netflix, viewers can start playback using the TV remote and use the SmartCast mobile app to pause the show from any room in the house or continue playback using Google Assistant voice control on devices like the Google Home smart speaker. The mobile app also lets users search for content across multiple apps.
The E-Series has 13 models, ranging in price from $470 for the 50-inch E50-E1 to $2,900 for the new 80-inch E80-E3.
For more information, visit vizio.com