Vizio 5.1.4 Atmos Soundbar Review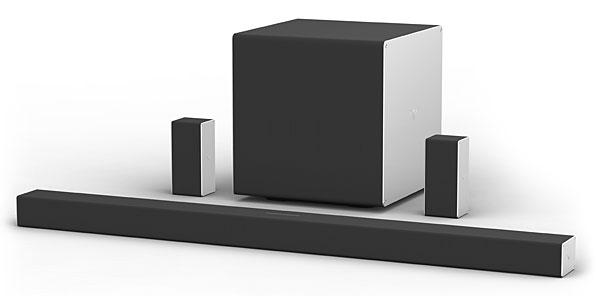 PRICE
$999
AT A GLANCE
Plus
Potent sound for the price
5.1.4 Atmos playback
Chromecast built-in for music streaming
Minus
No wireless surround speaker option
No DTS:X decoding
THE VERDICT
Vizio's 5.1.4 soundbar system delivers powerful, immersive sound plus Chromecast built-in streaming at a reasonable price.
Vizio's top-of-the-line Atmos soundbar comes with a cumbersome model number: SB46514-F6. Outside of that, this $1,000 Atmos system is a sleek, well-designed package that delivers surprisingly potent sound for the money. The addition of Chromecast built-in and Bluetooth streaming, along with Google Assistant compatibility, make it a compelling option for anyone seeking an all-in-one immersive audio solution to pair with their new TV.
Overhead effects with Vizio's 5.1.4 Atmos system are delivered through upfiring drivers embedded in the top surface of the soundbar and satellites. The package also includes a wireless ported subwoofer with a 10-inch driver that does the heavy lifting for bass and LFE. Unlike some other all-in-one systems such as the Sony HT-Z9F that I reviewed in the September 2018 issue, the satellites aren't wireless—you'll need to connect them to the subwoofer with the included set of speaker wires. Depending on the size of your room, this may or may not limit subwoofer placement options.
The two-tone look of Vizio's system is a cut above average for its price point. Black metal mesh covers the drivers on the soundbar and subwoofer, and the ends of both are capped with solid aluminum plates. Soundbar connections include a 4K and HDR10-compatible HDMI-ARC port, optical and coaxial digital inputs, an analog stereo minijack input, and a USB type-A port for playback of WAV and MP3 music files stored on a thumb drive. Network connections are made via Wi-Fi or the soundbar's Ethernet jack.
Setup
With the Vizio linked to a TV's HDMI-ARC input, initial setup can be carried out using the tiny black-and-white display on the included remote control in combination with indicator LEDs on the soundbar's front. A far better option is provided by the company's SmartCast app, however. Once you've linked the app—something you do by holding your phone near the left side of the soundbar's front panel for few seconds—you can use it to link up to your Wi-Fi network, select between Movie, Music, and Direct (stereo) EQ modes, and adjust the center, surround, and subwoofer level. You can also adjust surround balance, but there's no control to separately adjust the height (overhead) effects level. (The company says this capability will be added in a future firmware update.) Vizio's app can also be used for input switching and volume adjustment, and it provides volume leveler and night playback mode options.
For my physical setup, I placed the soundbar angled up slightly on a low stand beneath a projection screen in my 16 x 12-foot home theater room, the satellites on high speaker stands directly behind and to either side of my couch, and the subwoofer in the room's left rear corner so the satellite speakers could be easily wired up to it. (Vizio also includes wall-mounting hardware for the soundbar and satellites.) After a few hours of use, however, I found having the subwoofer up-close to my listening position made it too easy to localize its sound. Fortunately, the included cables were long enough to accommodate placement in the front of my room, where I was able to get a better sonic balance between the soundbar and sub.
Performance
To evaluate the system, I went straight for a few demo-worthy Atmos moments on the Guardians of The Galaxy Vol. 2 Ultra HD Blu-ray. Watching the Berhert ambush scene, the Vizio provided a good sense of envelopment in the forest environment. The gunshots fired by the Ravagers had a muscular bass wallop, and when Rocket raccoon detonated explosives under the intruding group, the sound of bodies plummeting back down through the trees had a notably "vertical" effect.
Chapter-skipping ahead to a scene where the Guardians arrive on Ego's planet, I was impressed by the scale of the presentation when George Harrison's "My Sweet Lord" swelled up on the soundtrack. Both the song's strummed guitars and the vocals had a full, warm quality. Even so, movie dialogue was consistently clear, crisp, and unstrained, even when boosted to a loud volume level.
Encouraged by what I heard with the Harrison track, I next tapped the soundbar's Chromecast built-in feature to stream music from Tidal. Playing "Exilic Excursions" by folk/acoustic guitarist Nathan Salsburg, I heard a clean, full-bodied tone that was detailed but not edgy. Overall, I found I preferred the system's stereo-only Direct mode to its Music EQ mode, which tended to soften the dynamic impact of many music tracks. That said, Music EQ mode, which spreads the sound out generously to the surround and height speakers, did reveal advantages with certain recordings. Listening to the first movement of Mahler's Symphony No. 1 played by the Florida Philharmonic Orchestra (Harmonia Mundi CD), the strings had a smooth, warm tone, and there was an appealing sense of concert hall ambience. When the bowed basses and tympani rolled in toward the movement's end, the sound was dynamic and full, with good bass extension and detail.
Conclusion
Vizio's 5.1.4 soundbar isn't the last word in object-based Atmos surround—the sense of immersion provided by its compact surround/elevation satellites didn't exactly match what I've heard from component-based systems that use in-ceiling speakers for overhead effects. (It also doesn't support DTS:X, if that's important to you.) In the end, though, I was surprised by how few complaints I had about its performance. With its SB46514-F6 (yikes, that model number), Vizio has delivered an easy way to dive into Atmos that is also surprisingly easy on the ears for an affordable all-in-one system.