Vizio's Announces Upscale, Atmos-Enabled Soundbars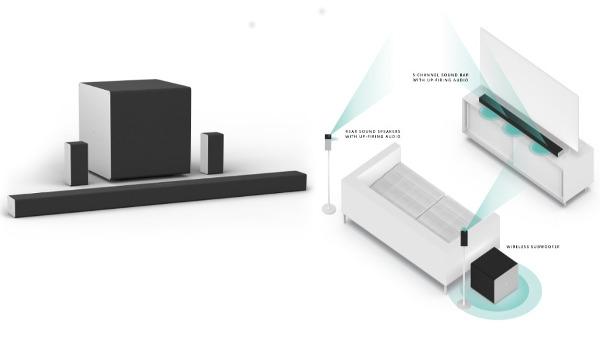 Vizio today announced the availability and pricing of three Dolby Atmos-enabled soundbar systems, ranging in price from $500 to $1,000 and featuring upward firing drivers to support 3.1.2-, 5.1.2-, and 5.1.4-channel Dolby Atmos configurations.
The new lineup kicks off with the 5.1.2 Home Theater Sound System ($500) featuring a 36-inch-wide soundbar with two up-firing drivers that bounce sound off the ceiling to expand the soundstage with a height dimension, two rear surround speakers, and a standalone subwoofer. The system supports a 5.1.2 Dolby Atmos setup with its five-channel soundbar and is available starting today at Best Buy, Costco, and Sam's Club.
Systems supporting 3.1.2 and 5.1.4 Atmos configurations will be available later this year at retailers including Amazon.com, Best Buy, and Walmart, Vizio said.
The 3.1.2 Home Theater Sound System ($800) features a 46-inch-wide soundbar with five channels of sound, including two up-firing speakers, and a stand-alone subwoofer. The system supports a simplified 3.1.2 Dolby Atmos configuration.
The flagship 5.1.4 Home Theater Sound System (shown above, $1,000) features four upward-firing speakers — two from the 46-inch-wide soundbar and two from set of standalone rear surround speakers — and a standalone subwoofer.
All models feature Bluetooth streaming and Google "Chromecast built-in" for Wi-Fi-based music streaming from a Chromecast-enabled app and support Google Assistant voice control. The systems can be operated via Vizio's SmartCast Mobile app or a traditional remote control for basic functions
For more information, visit Vizio.com.