Vincent Electronics Home Theater Gear
Since our CES reports are no longer laundry lists of products, over the next few weeks my news reports will feature some new and interesting gear that slipped through the
UAV
show coverage cracks. Like the home theater components shown by Vincent Electronics.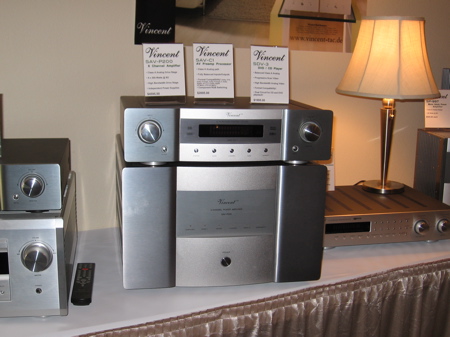 Vincent's SAV-C1 processor and P200 Power Amp
Aside from sharing the name of my oldest dog, Vincent Electronics are designed in Europe and manufactured in China. Although the company is known for its two-channel audio products, Vincent's American distributor Q-USA displayed a rather full line of home theater products at CES 2006. The entire Vincent line is full of handsomely styled components at prices that are a fraction of what you'd guess looking at them, knowing they're essentially a European import.
There are two six-channel AV receivers in the line (called "integrated processors" by Vincent), the SV-382 ($1595) and SV-388 ($2495). Power ratings are the difference, with the SV-382 weighing in at 180-watts per channel, and the SV-388 bumping that up to a robust 210-watts per channel.
The SV-388 AV Receiver
There are two separate, six-channel surround pre/pros, the single-ended SAV-C2 ($1995) and the balanced SAV-C1 ($2695). Special attention was paid by Vincent's designers to the analog preamplifier sections of these processors resulting in performance that rivals the company's dedicated stereo components (this is a claim I've heard from many manufacturers, and substantiated by very few, if any). Complementing these controllers is brawn and beauty of the SAV-P200, a six-channel, 200-watt per channel power amp. The P200 boasts independent power supplies for each channel and balanced inputs for $4595.
The surround processors and AVRs feature the standard Dolby and DTS processing, up to DTS-ES and ProLogic II, but not the very latest accoutrements such as ProLogic IIx. And while component video is featured in these Vincent products, HDMI switching is not. What these Vincent surround processors/AVRs lack in bells and whistles they purport to make up for in purist performance. Rest assured that UAV will investigate these claims with reviews in 2006.
LATEST VIDEO