The Usual Suspects (Blu-ray)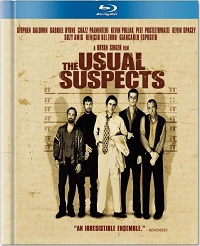 A $91 million cocaine heist...a devastating boat explosion...two survivors. U.S.Customs agent David Kujan (Chazz Palminterir) is determined to find out who and what's behind the melee. As he pieces the clues together with the help of a half-charred Hungarian gangster and an outspoken, crippled con man from New York (Kevin Spacy), Kujan soon finds out this story actually begins with five criminal minds and one infamous mastermind.
Second-time director Bryan Singer showed he had the chops to direct feature films with this classic hit from 1995. The ensemble cast includes Stephen Baldwin, Kevin Pollack, and Benicio Del Toro, but it's Spacey who steals the show as the con man Verbal Kint. Like The Sixth Sense, this is a movie that actually gets better the second time around because you start to notice the subtle hints that point towards the surprising resolution at the end of the film.
Video Highlights

MPEG-2/1080p encode on a BD-25 disc
Retread of the 2007 Blu-ray release
Occasional edge enhancement
Veil of film grain
Bold color palette
Deep blacks and stable contrast
Audio Highlights

DTS-HD MA 5.1 soundtrack
Pedestrian sound design
Tepid bass
Engaging score from John Ottman
Intelligible dialog
The MPEG-2 encode is a dead giveaway that this is a rerelease of the same disc from 2007 with the addition of the digibook packaging. The video encode is serviceable but the pedestrian sound design won't woo the audience.
Bonus Materials

I'm a huge fan of this film and still believe that it's Spacey's finest performance of his career. The presentation is a decent upgrade over the DVD and this definitely is a movie I can watch over and over again. Recommended.
Release Date: May 10, 2011
Studio: Fox
Movie: 10/10
Picture: 8/10
Sound: 7/10

Review System
Source
Oppo BDP-93 Blu-ray player

Display
JVC DLA-RS40 projector
Stewart FireHawk screen (76.5" wide, 16:9)
Electronics
Integra DTC-80.2 pre/pro
Anthem PVA-7 power amplifier
Belkin PVA-PF60 power conditioner
Speakers
M&K S-150s (L, C, R)
M&K SS-150s (LS, RS, SBL, SBR)
SVS PC-Ultra subwoofer
Cables
Monoprice HDMI cables (source to pre/pro)
Best Deal analog-audio cables
PureLink HDC Fiber Optic HDMI Cable System (15 meters) from pre/pro to projector

Acoustical treatments from GIK Acoustics
LATEST VIDEO