Uncut Gems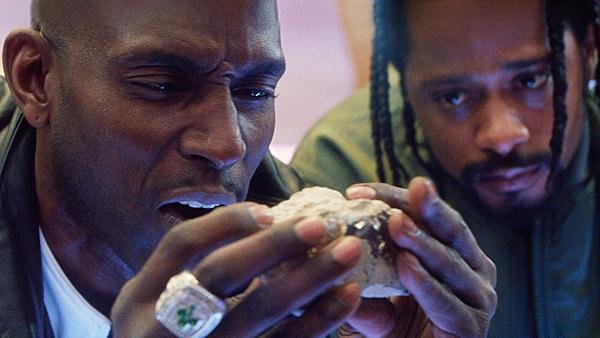 Uncut Gems
, like its lead character, Howard Ratner (Adam Sandler), is challenging. A brash, lying, motor-mouthed, but charming hustler trading in precious gems and jewelry from a store he owns in Manhattan's Diamond District, Howard's real talent is upsetting people—along with other self-destructive behavior like pissing off the loan sharks he's heavily in debt to. Always sure the big score's just around the corner, his latest scheme is to convince a wealthy, posse-toting basketball star that the "110 million-year-old" Ethiopian rock embedded with color-filled black opals he's come into possession of will, through its ancient mystical powers ("Middle-Earth shit!"), guarantee the player beats his opponents on the court. Howard does this because he too is a believer—in the magic of himself. He desperately needs to throw off the expectations and responsibilities placed upon him by his family, his Jewish community, his backstabbing friends and cohorts, and prove he is A Winner to escape their judgments and disrespect. Like a scuzzy cousin to skeevey Sidney Falco in
Sweet Smell of Success
, Howard's got to live on his own terms—even if it kills him.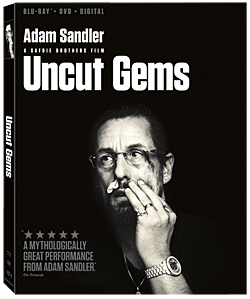 Picture contrast on Lionsgate's Blu-ray is excellent throughout. Bright images in the opening scene in Africa are filled with the intensely rich primaries of workers uniforms, mine interiors, and gems trapped within the rock. Back in NYC, blue-and-pink-tinted stores and stalls in the Diamond District come across with a rich glow, leather jackets look deep black, and an intensely orange hoody and bright white dress dazzle in a black light-lit nightclub scene. Shot on 35mm film, grain is visible without being intrusive and fine detail can be seen throughout.
The masterful electronic score by Warp label artist Daniel Lopatin (AKA Oneohtrix Point Never)—the best thing about the film—brings all channels into full swing in the opening sequence. As we get into Howard's life in Manhattan, the score recedes behind endless, overlapping dialogue—all of it distinct and full-sounding—with only occasional moody keyboard and vocal used to punctuate scenes and raise tension. During dramatic sequences, though—as when Howard is chased by bat-wielding hoods—organ music takes off and is completely immersive and mesmerizing. It brings to mind Walter Carlos' turned-on-Beethoven from A Clockwork Orange, as if it had been arranged by Ennio Morricone.
The Blu-ray disc's only extra is a promotional featurette that intercuts plentiful intimate and informative interviews with clips from the film.
Blu-ray Disc
Studio: Lionsgate, 2019
Aspect Ratio: 2.39:1
Audio Format: DTS-HD Master Audio 5.1
Length: 134 mins.
Directors: Benny Safdie, Joshua Safdie
Starring: Adam Sandler, Julia Fox, Kevin Garnett, Eric Bogosian, Lakeith Stanfield, Idina Menzel