Unbroken
Zamperini (Jack O'Connell) is an Olympic runner whose career is interrupted by the war. While fighting the Japanese, his bomber crash-lands, and Zamperini is left adrift at sea for 47 days with two of his fellow pilots. Eventually captured by the enemy, Zamperini spends the remainder of the war as a POW under the watch of sadistic Japanese Corporal Watanabe (Takamasa Ishihara). Watanabe tries everything he can to defeat Zamperini's spirit, but Zamperini refuses to break under the torture. Working from a script by Joel & Ethan Coen as well as Richard LaGravenese and William Nicholson, Jolie has crafted a powerful biopic with gorgeous imagery and strong performances from a cast of relatively young actors.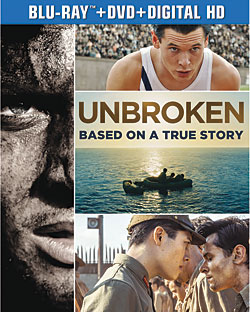 Unbroken has the clean and crisp look one would expect from a modern production. Digital it may be, but there is still a beautiful, filmic aspect to the 1080p AVC transfer. We get amazingly nuanced shadow details, spot-on fleshtones, and no instances of compression noise, banding, or other anomalies to interfere with what is a very pleasurable viewing experience.
Universal includes an Atmos mix for this Blu-ray release, but if you are not so enabled, you can still enjoy a wonderful Dolby TrueHD 7.1 mix. The sound varies from bombastic action sequences over the Pacific to quiet passages in the POW camps. The mix variably engulfs us with bombs and machine-gun fire, a swelling rainstorm, or just the din of prison camp workers. The surrounds are active throughout, with solid effects or subtle atmospherics, and dialogue always remains intelligible. Low end is beefy when it needs to be without overwhelming the rest of the soundtrack.
We have the honor of getting to know the real Louis Zamperini by way of his on- camera interview among the fine bonus features, along with a substantial making-of program, and, in one of the most dramatic footnotes, a look at how Zamperini finally had his chance to run in the Olympics, in Japan.
Blu-Ray
Studio: Universal, 2014
Aspect Ratio: 2.40:1
Audio Format: Dolby Atmos/True HD 7.1
Length: 137 mins.
MPAA Rating: PG-13
Director: Angelina Jolie
Starring: Jack O'Connell, Takamasa Ishihara, Domhnall Gleeson
The incredible true story of Olympian and World War II veteran Louis Zamperini languished in Hollywood for decades. It was initially licensed as a project for Tony Curtis, who later abandoned it to star in Spartacus. Then came Laura Hillenbrand's bestselling book, Unbroken, which caught the attention of producer/director Angelina Jolie and others, and Zamperini's moving story has finally found its moment to shine.