The Unbearable Heaviness of Being HD DVD
"As you can imagine, this is a tough day for me," said Jodi Sally, VP of Marketing Digital A/V for Toshiba. "I've had better."
Sally's better days, to be more specific, were right before last Friday, when Warner Bros. abandoned Toshiba's HD DVD format, going Blu-ray exclusive. But, as they say here at CES, the press conference must go on!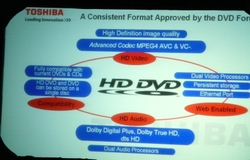 A few choice additional quotes from Sally: "I came here to share successes of this past year's performance of HD DVD . . . and we still firmly believe HD DVD is the best format for the consumer . . . Only HD DVD has delivered on its promises again and again." She's got a point, since HD DVD has been delivering format-finished machines since the beginning while Blu-ray is still in the process of making its full specs come true.
But this was as dramatic as Toshiba's press conference got. No actual sobs. No, "We surrender!" So let's keep on fighting that format war.
On the brighter side, Toshiba also unveiled its new Regza line with improvements in picture processing speeds, contrast, etc. (Stay tuned for more details).
And finally, with its Cinema series Regza line, the company's introducing the "super narrow bezel design." That means one of their 42-inchers can fit in the space of a current 37-incher. Between this new model and Pioneer's future concept bezel-free model, looks like the fat bezel is out!
--Rob Medich
WHERE TECHNOLOGY BECOMES ENTERTAINMENT